12 Versetti della Bibbia sulla Bellezza
«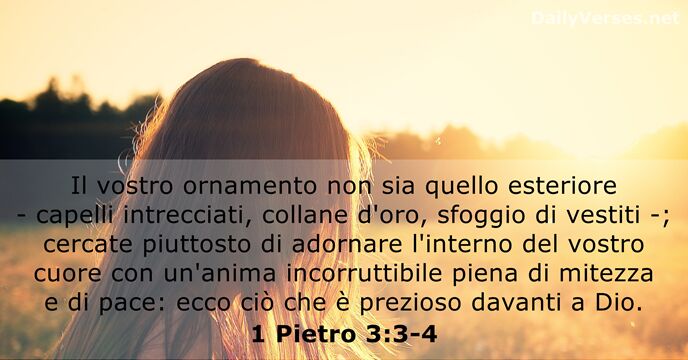 »
Il vostro ornamento non sia quello esteriore - capelli intrecciati, collane d'oro, sfoggio di vestiti -; cercate piuttosto di adornare l'interno del vostro cuore con un'anima incorruttibile piena di mitezza e di pace: ecco ciò che è prezioso davanti a Dio.

Your beauty should not come from outward adornment, such as elaborate hairstyles and the wearing of gold jewelry or fine clothes. Rather, it should be that of your inner self, the unfading beauty of a gentle and quiet spirit, which is of great worth in God's sight.

Tutta bella tu sei, amica mia, in te nessuna macchia.

You are altogether beautiful, my darling; there is no flaw in you.

Fallace è la grazia e vana è la bellezza, ma la donna che teme Dio è da lodare.

Charm is deceptive, and beauty is fleeting; but a woman who fears the L

ord

is to be praised.

Alzati, rivestiti di luce, perché viene la tua luce, la gloria del Signore brilla sopra di te.

Arise, shine, for your light has come, and the glory of the L

ord

rises upon you.

Sei tu che hai creato le mie viscere e mi hai tessuto nel seno di mia madre. Ti lodo, perché mi hai fatto come un prodigio; sono stupende le tue opere, tu mi conosci fino in fondo.

For you created my inmost being; you knit me together in my mother's womb. I praise you because I am fearfully and wonderfully made; your works are wonderful, I know that full well.

Il Signore rispose a Samuele: «Non guardare al suo aspetto né all'imponenza della sua statura. Io l'ho scartato, perché io non guardo ciò che guarda l'uomo. L'uomo guarda l'apparenza, il Signore guarda il cuore».

But the L

ord

said to Samuel, "Do not consider his appearance or his height, for I have rejected him. The L

ord

does not look at the things people look at. People look at the outward appearance, but the L

ord

looks at the heart."

Alla stessa maniera facciano le donne, con abiti decenti, adornandosi di pudore e riservatezza, non di trecce e ornamenti d'oro, di perle o di vesti sontuose, ma di opere buone, come conviene a donne che fanno professione di pietà.

I also want the women to dress modestly, with decency and propriety, adorning themselves, not with elaborate hairstyles or gold or pearls or expensive clothes, but with good deeds, appropriate for women who profess to worship God.

Per questo non ci scoraggiamo, ma se anche il nostro uomo esteriore si va disfacendo, quello interiore si rinnova di giorno in giorno.

Therefore we do not lose heart. Though outwardly we are wasting away, yet inwardly we are being renewed day by day.

Secca l'erba, appassisce il fiore, ma la parola del nostro Dio dura sempre. Veramente il popolo è come l'erba.

The grass withers and the flowers fall, but the word of our God endures forever.

Perciò vi dico: per la vostra vita non affannatevi di quello che mangerete o berrete, e neanche per il vostro corpo, di quello che indosserete; la vita forse non vale più del cibo e il corpo più del vestito?

Therefore I tell you, do not worry about your life, what you will eat or drink; or about your body, what you will wear. Is not life more than food, and the body more than clothes?

Siamo infatti opera sua, creati in Cristo Gesù per le opere buone che Dio ha predisposto perché noi le praticassimo.

For we are God's handiwork, created in Christ Jesus to do good works, which God prepared in advance for us to do.

Dio creò l'uomo a sua immagine; a immagine di Dio lo creò; maschio e femmina li creò.

So God created mankind in his own image, in the image of God he created them; male and female he created them.
Il quale ha dato se stesso per noi, per riscattarci da ogni iniquità e formarsi un popolo puro che gli appartenga, zelante nelle opere buone.
La carità non abbia finzioni: fuggite il male con orrore, attaccatevi al bene.
Leggi altro
Il quale ha dato se stesso per noi, per riscattarci da ogni iniquità e formarsi un popolo puro che gli appartenga, zelante nelle opere buone.
Piano di lettura personale della Bibbia
Crea un account per configurare il tuo piano di lettura della Bibbia, potrai vedere i tuoi progressi e il prossimo capitolo da leggere qui!
Consigliati
Consigliati