Versetti della Bibbia sulla Preghiera
«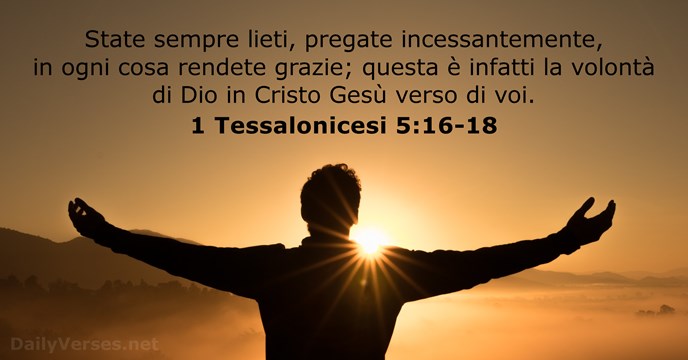 »
State sempre lieti, pregate incessantemente, in ogni cosa rendete grazie; questa è infatti la volontà di Dio in Cristo Gesù verso di voi.

Rejoice always, pray without ceasing, give thanks in all circumstances; for this is the will of God in Christ Jesus for you.

Non angustiatevi per nulla, ma in ogni necessità esponete a Dio le vostre richieste, con preghiere, suppliche e ringraziamenti; e la pace di Dio, che sorpassa ogni intelligenza, custodirà i vostri cuori e i vostri pensieri in Cristo Gesù.

Do not be anxious about anything, but in everything by prayer and supplication with thanksgiving let your requests be made known to God. And the peace of God, which surpasses all understanding, will guard your hearts and your minds in Christ Jesus.

Questa è la fiducia che abbiamo in lui: qualunque cosa gli chiediamo secondo la sua volontà, egli ci ascolta.

And this is the confidence that we have toward him, that if we ask anything according to his will he hears us.

Perseverate nella preghiera e vegliate in essa, rendendo grazie.

Continue steadfastly in prayer, being watchful in it with thanksgiving.

Per questo vi dico: tutto quello che domandate nella preghiera, abbiate fede di averlo ottenuto e vi sarà accordato.

Therefore I tell you, whatever you ask in prayer, believe that you have received it, and it will be yours.

Voi mi invocherete e ricorrerete a me e io vi esaudirò.

Then you will call upon me and come and pray to me, and I will hear you.

Siate lieti nella speranza, forti nella tribolazione, perseveranti nella preghiera.

Rejoice in hope, be patient in tribulation, be constant in prayer.

Il Signore è vicino a quanti lo invocano, a quanti lo cercano con cuore sincero.

The L

ord

is near to all who call on him, to all who call on him in truth.

Invocami e io ti risponderò e ti annunzierò cose grandi e impenetrabili, che tu non conosci.

Call to me and I will answer you, and will tell you great and hidden things that you have not known.

Pregando poi, non sprecate parole come i pagani, i quali credono di venire ascoltati a forza di parole.

And when you pray, do not heap up empty phrases as the Gentiles do, for they think that they will be heard for their many words.

Perché dove sono due o tre riuniti nel mio nome, io sono in mezzo a loro.

For where two or three are gathered in my name, there am I among them.

Accostiamoci dunque con piena fiducia al trono della grazia, per ricevere misericordia e trovare grazia ed essere aiutati al momento opportuno.

Let us then with confidence draw near to the throne of grace, that we may receive mercy and find grace to help in time of need.

Verso mezzanotte Paolo e Sila, in preghiera, cantavano inni a Dio, mentre i carcerati stavano ad ascoltarli.

About midnight Paul and Silas were praying and singing hymns to God, and the prisoners were listening to them.

Nel mio affanno invocai il Signore, nell'angoscia gridai al mio Dio: dal suo tempio ascoltò la mia voce, al suo orecchio pervenne il mio grido.

In my distress I called upon the L

ord

; to my God I cried for help. From his temple he heard my voice, and my cry to him reached his ears.

Tu invece, quando preghi, entra nella tua camera e, chiusa la porta, prega il Padre tuo nel segreto; e il Padre tuo, che vede nel segreto, ti ricompenserà.

But when you pray, go into your room and shut the door and pray to your Father who is in secret. And your Father who sees in secret will reward you.

E se sappiamo che ci ascolta in quello che gli chiediamo, sappiamo di avere gia quello che gli abbiamo chiesto.

And if we know that he hears us in whatever we ask, we know that we have the requests that we have asked of him.

Confessate perciò i vostri peccati gli uni agli altri e pregate gli uni per gli altri per essere guariti. Molto vale la preghiera del giusto fatta con insistenza.

Therefore, confess your sins to one another and pray for one another, that you may be healed. The prayer of a righteous person has great power as it is working.

La domandi però con fede, senza esitare, perché chi esita somiglia all'onda del mare mossa e agitata dal vento.

But let him ask in faith, with no doubting, for the one who doubts is like a wave of the sea that is driven and tossed by the wind.

Non voi avete scelto me, ma io ho scelto voi e vi ho costituiti perché andiate e portiate frutto e il vostro frutto rimanga; perché tutto quello che chiederete al Padre nel mio nome, ve lo conceda.

You did not choose me, but I chose you and appointed you that you should go and bear fruit and that your fruit should abide, so that whatever you ask the Father in my name, he may give it to you.

La fine di tutte le cose è vicina. Siate dunque moderati e sobri, per dedicarvi alla preghiera.

The end of all things is at hand; therefore be self-controlled and sober-minded for the sake of your prayers.

Qualunque cosa chiederete nel nome mio, la farò, perché il Padre sia glorificato nel Figlio.

Whatever you ask in my name, this I will do, that the Father may be glorified in the Son.

Tutti questi erano assidui e concordi nella preghiera, insieme con alcune donne e con Maria, la madre di Gesù e con i fratelli di lui.

All these with one accord were devoting themselves to prayer, together with the women and Mary the mother of Jesus, and his brothers.

A lui ho rivolto il mio grido, la mia lingua cantò la sua lode.

I cried to him with my mouth, and high praise was on my tongue.

Ma a voi che ascoltate, io dico: Amate i vostri nemici, fate del bene a coloro che vi odiano, benedite coloro che vi maledicono, pregate per coloro che vi maltrattano.

But I say to you who hear, Love your enemies, do good to those who hate you, bless those who curse you, pray for those who abuse you.

Bramate e non riuscite a possedere e uccidete; invidiate e non riuscite ad ottenere, combattete e fate guerra! Non avete perché non chiedete.

You desire and do not have, so you murder. You covet and cannot obtain, so you fight and quarrel. You do not have, because you do not ask.
Il frutto dello Spirito invece è amore, gioia, pace, pazienza, benevolenza, bontà, fedeltà, mitezza, dominio di sé; contro queste cose non c'è legge.
Piano di lettura personale della Bibbia
Crea un account per configurare il tuo piano di lettura della Bibbia, potrai vedere i tuoi progressi e il prossimo capitolo da leggere qui!
Consigliati