12 Versetti della Bibbia sulla Salute
«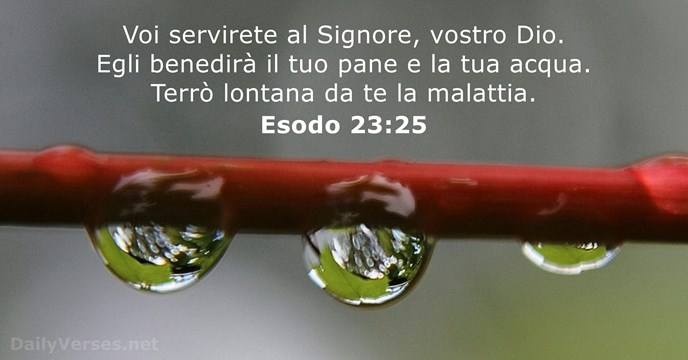 »
Voi servirete al Signore, vostro Dio. Egli benedirà il tuo pane e la tua acqua. Terrò lontana da te la malattia.

Worship the L

ord

your God, and his blessing will be on your food and water. I will take away sickness from among you.

Carissimo, faccio voti che tutto vada bene e che tu sia in buona salute, come va bene per la tua anima.

Dear friend, I pray that you may enjoy good health and that all may go well with you, even as your soul is getting along well.

Risana i cuori affranti e fascia le loro ferite.

He heals the brokenhearted and binds up their wounds.

Un cuore lieto fa bene al corpo, uno spirito abbattuto inaridisce le ossa.

A cheerful heart is good medicine, but a crushed spirit dries up the bones.

Guarite gli infermi, risuscitate i morti, sanate i lebbrosi, cacciate i demòni. Gratuitamente avete ricevuto, gratuitamente date.

Heal the sick, raise the dead, cleanse those who have leprosy, drive out demons. Freely you have received; freely give.

O non sapete che il vostro corpo è tempio dello Spirito Santo che è in voi e che avete da Dio, e che non appartenete a voi stessi? Infatti siete stati comprati a caro prezzo. Glorificate dunque Dio nel vostro corpo!

Do you not know that your bodies are temples of the Holy Spirit, who is in you, whom you have received from God? You are not your own; you were bought at a price. Therefore honor God with your bodies.

Favo di miele sono le parole gentili, dolcezza per l'anima e refrigerio per il corpo.

Gracious words are a honeycomb, sweet to the soul and healing to the bones.

Non credere di essere saggio, temi il Signore e stà lontano dal male. Salute sarà per il tuo corpo e un refrigerio per le tue ossa.

Do not be wise in your own eyes; fear the L

ord

and shun evil. This will bring health to your body and nourishment to your bones.

Gesù li udì e disse: «Non sono i sani che hanno bisogno del medico, ma i malati».

On hearing this, Jesus said, "It is not the healthy who need a doctor, but the sick."

Caccia la malinconia dal tuo cuore, allontana dal tuo corpo il dolore, perché la giovinezza e i capelli neri sono un soffio.

So then, banish anxiety from your heart and cast off the troubles of your body, for youth and vigor are meaningless.

Un'attesa troppo prolungata fa male al cuore, un desiderio soddisfatto è albero di vita.

Hope deferred makes the heart sick, but a longing fulfilled is a tree of life.

Esèrcitati nella pietà, perché l'esercizio fisico è utile a poco, mentre la pietà è utile a tutto, portando con sé la promessa della vita presente come di quella futura.

For physical training is of some value, but godliness has value for all things, holding promise for both the present life and the life to come.
Il mio Dio, a sua volta, colmerà ogni vostro bisogno secondo la sua ricchezza con magnificenza in Cristo Gesù.
La grazia del Signore Gesù Cristo sia con il vostro spirito.
Leggi altro
Il mio Dio, a sua volta, colmerà ogni vostro bisogno secondo la sua ricchezza con magnificenza in Cristo Gesù.
Piano di lettura personale della Bibbia
Crea un account per configurare il tuo piano di lettura della Bibbia, potrai vedere i tuoi progressi e il prossimo capitolo da leggere qui!
Consigliati
Consigliati