«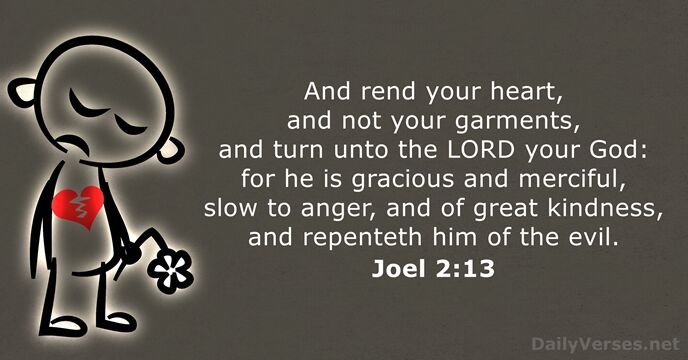 »
And rend your heart, and not your garments, and turn unto the L

ord

your God: for he is gracious and merciful, slow to anger, and of great kindness, and repenteth him of the evil.

مَزِّقُوا قُلُوبَكُمْ لَا ثِيَابَكُمْ. ارْجِعُوا إِلَى الرَّبِّ إِلَهِكُمْ لأَنَّهُ رَؤُوفٌ وَرَحِيمٌ بَطِيءُ الْغَضَبِ وَكَثِيرُ الرَّأْفَةِ، وَلا يُسَرُّ بِالْعِقَابِ.

Therefore also now, saith the L

ord

, turn ye even to me with all your heart, and with fasting, and with weeping, and with mourning.

وَالآنَ، يَقُولُ الرَّبُّ: ارْجِعُوا إِلَيَّ مِنْ كُلِّ قُلُوبِكُمْ بِصَوْمٍ وَبُكَاءٍ وَنَوْحٍ.

The vine is dried up, and the fig tree languisheth; the pomegranate tree, the palm tree also, and the apple tree, even all the trees of the field, are withered: because joy is withered away from the sons of men.

قَدْ ذَوَى الْكَرْمُ وَذَبُلَ التِّينُ وَالرُّمَّانُ وَالنَّخِيلُ وَالتُّفَّاحُ وَيَبِسَتْ سَائِرُ أَشْجَارِ الْحَقْلِ، وَزَالَتِ الْبَهْجَةُ مِنْ أَبْنَاءِ الْبَشَرِ.
The Lord is with you, while ye be with him; and if ye seek him, he will be found of you; but if ye forsake him, he will forsake you.
Personal Bible reading plan
Create an account to configure your Bible reading plan and you will see your progress and the next chapter to read here!
Read more...