«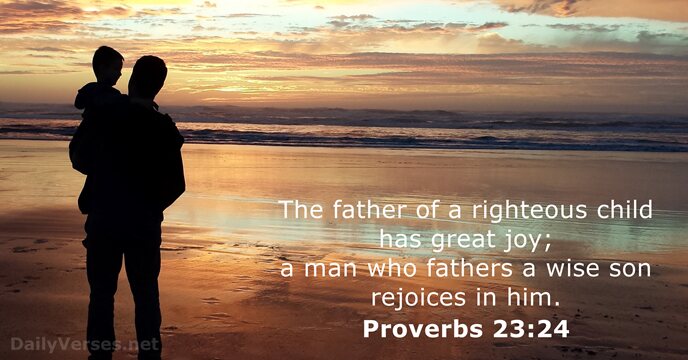 »
The father of a righteous child has great joy; a man who fathers a wise son rejoices in him.

Kunnon poika on isänsä ilo, onnellinen se, jolla on viisas poika.

A cheerful heart is good medicine, but a crushed spirit dries up the bones.

Iloinen sydän pitää ihmisen terveenä, synkkä mieli kuihduttaa ruumiin.

I have no greater joy than to hear that my children are walking in the truth.

Mikään ei tuota minulle suurempaa iloa kuin se, että kuulen lasteni elävän totuudessa.

I will be glad and rejoice in you; I will sing the praises of your name, O Most High.

Minä iloitsen ja riemuitsen sinusta, ylistän sinun nimeäsi, Korkein.

When times are good, be happy; but when times are bad, consider this: God has made the one as well as the other. Therefore, no one can discover anything about their future.

Hyvänä päivänä iloitse ja pahana päivänä muista, että Jumala on antanut ne molemmat. Ei ihminen voi moittia Jumalaa.

While he was still speaking, a bright cloud covered them, and a voice from the cloud said, "This is my Son, whom I love; with him I am well pleased. Listen to him!"

Pietarin vielä puhuessa loistava pilvi verhosi heidät ja pilvestä kuului ääni: »Tämä on minun rakas Poikani, johon minä olen mieltynyt. Kuulkaa häntä!»

I know that there is nothing better for people than to be happy and to do good while they live. That each of them may eat and drink, and find satisfaction in all their toil—this is the gift of God.

Minä oivalsin, ettei ihmisellä ole muuta onnea kuin iloita ja nauttia elämän hyvyydestä. Mutta Jumalan lahja on sekin, että ihminen saa vaivannäkönsä keskellä syödä ja juoda ja nauttia elämän antimista.

Nehemiah said, "Go and enjoy choice food and sweet drinks, and send some to those who have nothing prepared. This day is holy to our Lord. Do not grieve, for the joy of the L

ord

is your strength."

Ja Esra jatkoi: »Menkää koteihinne, nauttikaa hyviä ruokia ja juomia ja lähettäkää maistiaisia niille, joilla ei itsellään ole mitään. Tämä päivä on pyhitetty meidän Herrallemme! Älkää siis olko murheellisia, vaan iloitkaa, sillä Herra on teidän voimanne.»

Not only so, but we also glory in our sufferings, because we know that suffering produces perseverance; perseverance, character; and character, hope.

Me riemuitsemme jopa ahdingosta, sillä tiedämme, että ahdinko saa aikaan kestävyyttä, kestävyys auttaa selviytymään koetuksesta ja koetuksesta selviytyminen antaa toivoa.

Sorrowful, yet always rejoicing; poor, yet making many rich; having nothing, and yet possessing everything.

Murheellisia mutta aina iloisia. Olemme köyhiä, mutta teemme monia rikkaiksi; meillä ei ole mitään, mutta omistamme kaiken.

Go, eat your food with gladness, and drink your wine with a joyful heart, for God has already approved what you do.

Syö siis leipäsi iloiten ja juo viinisi hyvillä mielin, sillä jo kauan sitten Jumala on hyväksynyt nuo tekosi.

But for you who revere my name, the sun of righteousness will rise with healing in its rays. And you will go out and frolic like well-fed calves.

Mutta teille, jotka pelkäätte minun nimeäni, on nouseva pelastuksen aurinko, ja te parannutte sen siipien alla. Te astutte ulos, hypitte riemusta kuin vasikat laitumella.

However, do not rejoice that the spirits submit to you, but rejoice that your names are written in heaven.

Mutta älkää siitä iloitko, että henget teitä tottelevat. Iloitkaa siitä, että teidän nimenne on merkitty taivaan kirjaan.

My son, if your heart is wise, then my heart will be glad indeed.

Poikani, jos sydämesi viisastuu, minun sydämeni iloitsee.

But the angel said to them, "Do not be afraid. I bring you good news that will cause great joy for all the people."

Mutta enkeli sanoi heille: »Älkää pelätkö! Minä ilmoitan teille ilosanoman, suuren ilon koko kansalle.»

Deceit is in the hearts of those who plot evil, but those who promote peace have joy.

Itsensä pettää, joka pahoja hautoo, iloita saa, joka hyviä neuvoja antaa.

Remember your Creator in the days of your youth, before the days of trouble come and the years approach when you will say, "I find no pleasure in them".

Muista Luojaasi nuoruudessasi, ennen kuin pahat päivät tulevat ja joutuvat ne vuodet, jotka eivät sinua miellytä.

I tell you that in the same way there will be more rejoicing in heaven over one sinner who repents than over ninety-nine righteous persons who do not need to repent.

Minä sanon teille: näin on taivaassakin. Yhdestä syntisestä, joka kääntyy, iloitaan siellä enemmän kuin yhdeksästäkymmenestäyhdeksästä hurskaasta, jotka eivät ole parannuksen tarpeessa.

Moreover, when God gives someone wealth and possessions, and the ability to enjoy them, to accept their lot and be happy in their toil—this is a gift of God.

Jumalan lahja on sekin, että hän antaa rikkautta ja omaisuutta ja sallii ihmisen käyttää sitä ja saada siitä osansa ja iloita kaiken vaivannäön keskellä.

In the same way, I tell you, there is rejoicing in the presence of the angels of God over one sinner who repents.

Yhtä lailla, sen sanon teille, iloitsevat Jumalan enkelit yhdestäkin syntisestä, joka tekee parannuksen.

A wise son brings joy to his father, but a foolish son brings grief to his mother.

Viisas poika on isänsä ilo, tyhmä poika on äitinsä murhe.

The vine is dried up and the fig tree is withered; the pomegranate, the palm and the apple tree— all the trees of the field—are dried up. Surely the people's joy is withered away.

Viiniköynnös kuihtuu, viikunapuu lakastuu. Lakastuu granaattiomenapuu, omenapuu ja taatelipalmu ja jokainen metsän puu. Ilo on ihmisiltä kadonnut.

The prospect of the righteous is joy, but the hopes of the wicked come to nothing.

Hurskaan odotus johtaa iloon, jumalattoman toivo pettää.

The precepts of the L

ord

are right, giving joy to the heart. The commands of the L

ord

are radiant, giving light to the eyes.

Herran käskyt ovat oikeat, ne ilahduttavat sydämen. Herran määräykset ovat kirkkaat, ne avaavat silmäni näkemään.
Yet to all who did receive him, to those who believed in his name, he gave the right to become children of God.
Personal Bible reading plan
Create an account to configure your Bible reading plan and you will see your progress and the next chapter to read here!
Read more...