25 Bible Verses about Judgement
«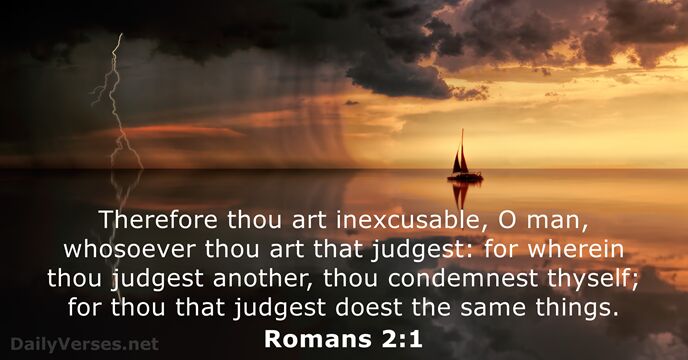 »
Therefore thou art inexcusable, O man, whosoever thou art that judgest: for wherein thou judgest another, thou condemnest thyself; for thou that judgest doest the same things.

Misschien zegt iemand: 'Al die dingen gaan niet over mij.' Maar dan zeg ik tegen hem: Luister, jij oordeelt over andere mensen en je hebt kritiek op hun gedrag. Maar de dingen waar jij kritiek op hebt, die doe je zelf ook. Zo laat je zelf zien dat je straf verdient.

Judge not, that ye be not judged.

Veroordeel andere mensen niet, dan zal God jou ook niet veroordelen.

Every way of a man is right in his own eyes: but the L

ord

pondereth the hearts.

Mensen denken altijd van zichzelf dat ze goed leven, maar de Heer kijkt of ze echt eerlijk zijn.

Let us not therefore judge one another any more: but judge this rather, that no man put a stumblingblock or an occasion to fall in his brother's way.

Vrienden, we moeten elkaar niet meer veroordelen. Laten we afspreken dat we het andere gelovigen niet moeilijk maken. En dat we hun geloof niet in gevaar brengen.

But I say unto you, That every idle word that men shall speak, they shall give account thereof in the day of judgment.

Luister naar mijn woorden: God zal rechtspreken over de wereld. En dan bekijkt hij of mensen verkeerde dingen gezegd hebben.

And why beholdest thou the mote that is in thy brother's eye, but considerest not the beam that is in thine own eye?

Jullie letten goed op de fouten van anderen. Maar je eigen fouten zie je niet. Het is alsof je een splinter ziet in het oog van een ander, maar niet ziet dat er in je eigen oog een balk zit. Je zegt tegen die ander: 'Kom, ik haal die splinter wel even uit je oog.' Doe niet zo schijnheilig! Haal eerst die balk uit je eigen oog. Dan kun je zelf weer goed zien. En pas dan kun je de splinter uit het oog van de ander halen.

Judge not, and ye shall not be judged: condemn not, and ye shall not be condemned: forgive, and ye shall be forgiven.

Veroordeel andere mensen niet, dan zal God jou ook niet veroordelen. Zeg niet dat andere mensen slecht zijn, dan zegt God dat ook niet over jou. Vergeef mensen als ze fouten maken, dan doet God dat ook.

Who art thou that judgest another man's servant? to his own master he standeth or falleth. Yea, he shall be holden up: for God is able to make him stand.

Wie beoordeelt of een slaaf zijn werk goed doet? Alleen zijn eigen meester. Net zo worden wij alleen door onze Heer beoordeeld. En hij zorgt ervoor dat ieder van ons vasthoudt aan zijn geloof.

No weapon that is formed against thee shall prosper; and every tongue that shall rise against thee in judgment thou shalt condemn. This is the heritage of the servants of the L

ord

, and their righteousness is of me, saith the L

ord

.

'Geen enkel wapen zal jou raken. En iedereen die jou aanklaagt, zal zelf gestraft worden. Jeruzalem, jij bent de stad van mijn dienaren. De stad waar ze goed en eerlijk met elkaar zullen leven. Jij bent de stad die ik hun beloofd heb.'

Marriage is honourable in all, and the bed undefiled: but whoremongers and adulterers God will judge.

Slaap alleen met de man of vrouw met wie je getrouwd bent. Wie verboden seks heeft of vreemdgaat, zal door God gestraft worden.

For as many as have sinned without law shall also perish without law: and as many as have sinned in the law shall be judged by the law.

De niet-Joden kennen Gods wet niet. Maar ook zonder wet geldt: als je verkeerd leeft, loopt het slecht met je af. De Joden kennen Gods wet wel. Voor hen geldt: wie verkeerd leeft, wordt volgens de regels van de wet gestraft.

Let not him that eateth despise him that eateth not; and let not him which eateth not judge him that eateth: for God hath received him.

Geloof je dat je alles mag eten? Prima. Maar denk niet dat je beter bent dan iemand die geen vlees eet. Geloof je dat je geen onrein vlees mag eten? Prima. Maar zeg niet dat het verkeerd is als een ander dat wel doet. Want bij God zijn jullie allebei welkom.

For God sent not his Son into the world to condemn the world; but that the world through him might be saved.

God heeft zijn Zoon naar de wereld gestuurd om de mensen te redden. Niet om hen te veroordelen.

Let no man therefore judge you in meat, or in drink, or in respect of an holyday, or of the new moon, or of the sabbath days: Which are a shadow of things to come; but the body is of Christ.

Luister niet naar mensen die jullie veroordelen om wat je eet en drinkt. En laat je niet veroordelen omdat je je niet aan de regels van de sabbat houdt. Of omdat je geen feesten viert, zoals het Feest van Nieuwe Maan. Die dingen zijn nu niet belangrijk meer. Er is nog maar één ding belangrijk, en dat is Christus.

There is therefore now no condemnation to them which are in Christ Jesus, who walk not after the flesh, but after the Spirit. For the law of the Spirit of life in Christ Jesus hath made me free from the law of sin and death.

De mensen die bij Jezus Christus horen, zijn bevrijd van Gods straf. Wij waren in de macht van de zonde en de dood. Maar de heilige Geest heeft ons uit die macht bevrijd. En dankzij Jezus Christus krijgen we het eeuwige leven.

There is one lawgiver, who is able to save and to destroy: who art thou that judgest another?

Maar er is er maar één die wetten maakt en als rechter een oordeel uitspreekt, en dat is God. Hij beslist over leven en dood. Wie zijn jullie dan, dat jullie oordelen over anderen en kritiek hebben op hun gedrag?

And I saw the dead, small and great, stand before God; and the books were opened: and another book was opened, which is the book of life: and the dead were judged out of those things which were written in the books, according to their works. And the sea gave up the dead which were in it; and death and hell delivered up the dead which were in them: and they were judged every man according to their works.

Voor de troon van God stonden alle mensen die gestorven waren, belangrijke en onbelangrijke mensen. Ze waren teruggehaald uit het land van de dood. Ook de zee had de mensen teruggegeven die verdronken waren. Er werden boeken opengedaan waarin de goede en slechte daden van mensen opgeschreven stonden. En alle doden werden beoordeeld op hun daden. Ook het boek van het leven werd geopend.

But I keep under my body, and bring it into subjection: lest that by any means, when I have preached to others, I myself should be a castaway.

En daarom ben ik streng voor mezelf, en verdraag ik alles wat me overkomt. Want ik wil niet alleen dat anderen door mijn werk het eeuwige leven krijgen. Nee, ik wil ook zelf het eeuwige leven krijgen!

With my soul have I desired thee in the night; yea, with my spirit within me will I seek thee early: for when thy judgments are in the earth, the inhabitants of the world will learn righteousness.

Wij verlangen naar u, dag en nacht verlangen we naar uw komst. Als u de aarde komt straffen, leren de mensen hoe ze moeten leven.

He that believeth on him is not condemned: but he that believeth not is condemned already, because he hath not believed in the name of the only begotten Son of God.

Want wie in de Zoon gelooft, zal niet veroordeeld worden. Maar de mensen die niet in hem willen geloven, die zijn al veroordeeld. Zij zullen gestraft worden, omdat ze niet willen geloven in de enige Zoon van God.

He that believeth and is baptized shall be saved; but he that believeth not shall be damned.

Iedereen die gelooft en gedoopt wordt, zal gered worden. Maar iedereen die niet gelooft, zal door God gestraft worden.

But above all things, my brethren, swear not, neither by heaven, neither by the earth, neither by any other oath: but let your yea be yea; and your nay, nay; lest ye fall into condemnation.

Vrienden, weten jullie wat het allerbelangrijkste is? Dat jullie nooit zeggen over iets: 'Dat is zo zeker als de Heer leeft!' En zeg ook nooit over iets: 'Dat is zo zeker als de hemel bestaat', of: 'Dat is zo zeker als de aarde bestaat'. Zeg ja als het ja is en zeg nee als het nee is. Anders zal God jullie straffen.

For the wages of sin is death; but the gift of God is eternal life through Jesus Christ our Lord.

Wie gehoorzaam is aan de zonde, krijgt als beloning de dood. Maar wie bij God hoort, krijgt het geschenk dat God ons wil geven: het eeuwige leven, dankzij onze Heer Jezus Christus.

The Lord knoweth how to deliver the godly out of temptations, and to reserve the unjust unto the day of judgment to be punished.

Ook nu zal de Heer de mensen redden die eerbied voor hem hebben en die hun geloof niet verliezen. Maar slechte mensen zal hij gevangen houden tot de dag dat hij zal rechtspreken. Dan zal hij hen straffen.

I have fought a good fight, I have finished my course, I have kept the faith: Henceforth there is laid up for me a crown of righteousness, which the Lord, the righteous judge, shall give me at that day: and not to me only, but unto all them also that love his appearing.

Ik heb gevochten voor het ware geloof. Ik heb de opdracht die ik van God gekregen heb, helemaal uitgevoerd. En ik heb mijn geloof niet verloren. Het enige waar ik nog op wacht, is het eeuwige leven. Dat zal de Heer mij als beloning geven op de dag dat hij komt als rechtvaardige rechter. Dan geeft hij het eeuwige leven niet alleen aan mij, maar aan alle mensen die naar zijn komst verlangd hebben.
And base things of the world, and things which are despised, hath God chosen, yea, and things which are not, to bring to nought things that are: That no flesh should glory in his presence.
With all lowliness and meekness, with longsuffering, forbearing one another in love.
Read more
And base things of the world, and things which are despised, hath God chosen, yea, and things which are not, to bring to nought things that are: That no flesh should glory in his presence.
Personal Bible reading plan
Create an account to configure your Bible reading plan and you will see your progress and the next chapter to read here!
Read more...