Bible Verses about the Kingdom
«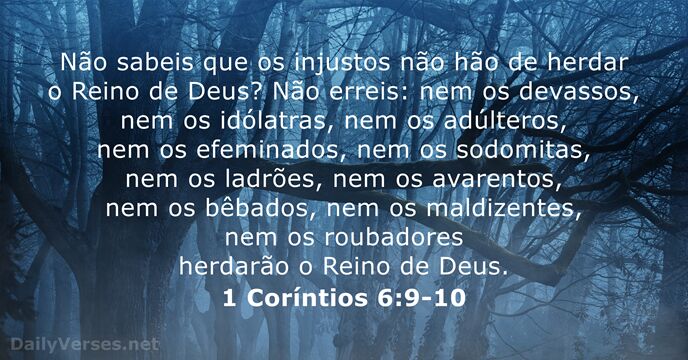 »
Do you not know that the unrighteous will not inherit the kingdom of God? Do not be deceived. Neither fornicators, nor idolaters, nor adulterers, nor homosexuals, nor sodomites, nor thieves, nor covetous, nor drunkards, nor revilers, nor extortioners will inherit the kingdom of God.

Não sabeis que os injustos não hão de herdar o Reino de Deus? Não erreis: nem os devassos, nem os idólatras, nem os adúlteros, nem os efeminados, nem os sodomitas, nem os ladrões, nem os avarentos, nem os bêbados, nem os maldizentes, nem os roubadores herdarão o Reino de Deus.

But seek first the kingdom of God and His righteousness, and all these things shall be added to you.

Mas buscai primeiro o Reino de Deus, e a sua justiça, e todas essas coisas vos serão acrescentadas.
Yours, O L

ord

, is the greatness, The power and the glory, The victory and the majesty; For all that is in heaven and in earth is Yours; Yours is the kingdom, O L

ord

, And You are exalted as head over all.
Tua é, S

enhor

, a magnificência, e o poder, e a honra, e a vitória, e a majestade; porque teu é tudo quanto há nos céus e na terra; teu é, S

enhor

, o reino, e tu te exaltaste sobre todos como chefe.

Do not fear, little flock, for it is your Father's good pleasure to give you the kingdom.

Não temas, ó pequeno rebanho, porque a vosso Pai agradou dar-vos o Reino.

From that time Jesus began to preach and to say, "Repent, for the kingdom of heaven is at hand."

Desde então, começou Jesus a pregar e a dizer: Arrependei-vos, porque é chegado o Reino dos céus.

But Jesus said, "Let the little children come to Me, and do not forbid them; for of such is the kingdom of heaven."

Jesus, porém, disse: Deixai os pequeninos e não os estorveis de vir a mim, porque dos tais é o Reino dos céus.

Jesus answered and said to him, "Most assuredly, I say to you, unless one is born again, he cannot see the kingdom of God."

Jesus respondeu e disse-lhe: Na verdade, na verdade te digo que aquele que não nascer de novo não pode ver o Reino de Deus.

Now, therefore, you are no longer strangers and foreigners, but fellow citizens with the saints and members of the household of God, having been built on the foundation of the apostles and prophets, Jesus Christ Himself being the chief cornerstone.

Assim que já não sois estrangeiros, nem forasteiros, mas concidadãos dos Santos e da família de Deus; edificados sobre o fundamento dos apóstolos e dos profetas, de que Jesus Cristo é a principal pedra da esquina.

And the L

ord

shall be King over all the earth. In that day it shall be— "The L

ord

is one," And His name one.
E o S

enhor

será rei sobre toda a terra; naquele dia, um será o S

enhor

, e um será o seu nome.

And heal the sick there, and say to them, 'The kingdom of God has come near to you.'

E curai os enfermos que nela houver e dizei-lhes: É chegado a vós o Reino de Deus.

The time is fulfilled, and the kingdom of God is at hand. Repent, and believe in the gospel.

O tempo está cumprido, e o Reino de Deus está próximo. Arrependei-vos e crede no evangelho.

And I will give you the keys of the kingdom of heaven, and whatever you bind on earth will be bound in heaven, and whatever you loose on earth will be loosed in heaven.

E eu te darei as chaves do Reino dos céus, e tudo o que ligares na terra será ligado nos céus, e tudo o que desligares na terra será desligado nos céus.

How beautiful upon the mountains Are the feet of him who brings good news, Who proclaims peace, Who brings glad tidings of good things, Who proclaims salvation, Who says to Zion, "Your God reigns!"

Quão suaves são sobre os montes os pés do que anuncia as boas-novas, que faz ouvir a paz, que anuncia o bem, que faz ouvir a salvação, que diz a Sião: O teu Deus reina!

Therefore, brethren, be even more diligent to make your call and election sure, for if you do these things you will never stumble; for so an entrance will be supplied to you abundantly into the everlasting kingdom of our Lord and Savior Jesus Christ.

Portanto, irmãos, procurai fazer cada vez mais firme a vossa vocação e eleição; porque, fazendo isto, nunca jamais tropeçareis. Porque assim vos será amplamente concedida a entrada no Reino eterno de nosso Senhor e Salvador Jesus Cristo.

Blessed are those who are persecuted for righteousness' sake, For theirs is the kingdom of heaven.

Bem-aventurados os que sofrem perseguição por causa da justiça, porque deles é o Reino dos céus.

For the L

ord

is our Judge, The L

ord

is our Lawgiver, The L

ord

is our King; He will save us.
Porque o S

enhor

é o nosso Juiz; o S

enhor

é o nosso Legislador; o S

enhor

é o nosso Rei; ele nos salvará.

Jesus answered, "Most assuredly, I say to you, unless one is born of water and the Spirit, he cannot enter the kingdom of God."

Jesus respondeu: Na verdade, na verdade te digo que aquele que não nascer da água e do Espírito não pode entrar no Reino de Deus.

Who is this King of glory? The L

ord

of hosts, He is the King of glory. Selah
Quem é este Rei da Glória? O S

enhor

dos Exércitos; ele é o Rei da Glória. (Selá)
Blessed and holy is he who has part in the first resurrection. Over such the second death has no power, but they shall be priests of God and of Christ, and shall reign with Him a thousand years.

Bem-aventurado e santo aquele que tem parte na primeira ressurreição; sobre estes não tem poder a segunda morte, mas serão sacerdotes de Deus e de Cristo e reinarão com ele mil anos.

Whoever therefore breaks one of the least of these commandments, and teaches men so, shall be called least in the kingdom of heaven; but whoever does and teaches them, he shall be called great in the kingdom of heaven.
Qualquer, pois, que violar um destes menores mandamentos e assim ensinar aos homens será chamado o menor no Reino dos céus; aquele, porém, que os cumprir e ensinar será chamado grande no Reino dos céus.
Now to the King eternal, immortal, invisible, to God who alone is wise, be honor and glory forever and ever. Amen.

Ora, ao Rei dos séculos, imortal, invisível, ao único Deus seja honra e glória para todo o sempre. Amém!

He has delivered us from the power of darkness and conveyed us into the kingdom of the Son of His love, in whom we have redemption through His blood, the forgiveness of sins.
Ele nos tirou da potestade das trevas e nos transportou para o Reino do Filho do seu amor, em quem temos a redenção pelo seu sangue, a saber, a remissão dos pecados.

Not everyone who says to Me, 'Lord, Lord,' shall enter the kingdom of heaven, but he who does the will of My Father in heaven.

Nem todo o que me diz: Senhor, Senhor! entrará no Reino dos céus, mas aquele que faz a vontade de meu Pai, que está nos céus.
In this manner, therefore, pray: Our Father in heaven, Hallowed be Your name. Your kingdom come. Your will be done On earth as it is in heaven.
Portanto, vós orareis assim: Pai nosso, que estás nos céus, santificado seja o teu nome. Venha o teu Reino. Seja feita a tua vontade, tanto na terra como no céu.
Nor is there salvation in any other, for there is no other name under heaven given among men by which we must be saved.
Personal Bible reading plan
Create an account to configure your Bible reading plan and you will see your progress and the next chapter to read here!
Read more...