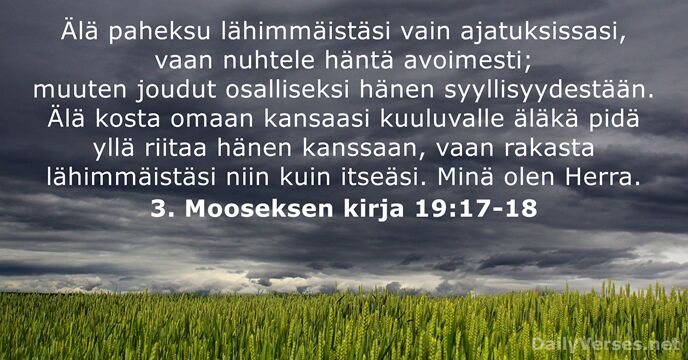 You shall not hate your brother in your heart, but you shall reason frankly with your neighbor, lest you incur sin because of him. You shall not take vengeance or bear a grudge against the sons of your own people, but you shall love your neighbor as yourself: I am the L

ord

.

Älä paheksu lähimmäistäsi vain ajatuksissasi, vaan nuhtele häntä avoimesti; muuten joudut osalliseksi hänen syyllisyydestään. Älä kosta omaan kansaasi kuuluvalle äläkä pidä yllä riitaa hänen kanssaan, vaan rakasta lähimmäistäsi niin kuin itseäsi. Minä olen Herra.

You shall be holy to me, for I the L

ord

am holy and have separated you from the peoples, that you should be mine.

Pysykää aina minulle pyhitettyinä, sillä minä, Herra, olen pyhä, ja minä olen tehnyt eron teidän ja muiden kansojen välillä ja ottanut teidät omaksi kansakseni.

When he realizes his guilt in any of these and confesses the sin he has committed, he shall bring to the L

ord

as his compensation for the sin that he has committed.

Kun joku on joutunut syynalaiseksi jonkin tällaisen teon vuoksi, hänen tulee tunnustaa rikkomuksensa.

You shall keep my Sabbaths and reverence my sanctuary: I am the L

ord

.

Pitäkää kunniassa sapatti ja määräykset, jotka olen siitä antanut. Pelätkää ja kunnioittakaa minun pyhäkköäni. Minä olen Herra.

Six days shall work be done, but on the seventh day is a Sabbath of solemn rest, a holy convocation. You shall do no work. It is a Sabbath to the L

ord

in all your dwelling places.

Kuutena päivänä viikossa tehtäköön työtä, mutta seitsemäs päivä on sapatti, lepopäivä, pyhä kokouspäivä. Silloin ette saa tehdä mitään työtä, sillä sen päivän tulee olla Herran sapatti, missä sitten asuttekin.

If anyone sins, doing any of the things that by the L

ord

's commandments ought not to be done, though he did not know it, then realizes his guilt, he shall bear his iniquity.

Jos joku tietämättään rikkoo Herran käskyjä vastaan ja tekee jonkin kielletyn teon, hän joutuu syynalaiseksi ja hänen on hyvitettävä tekonsa.

If you walk in my statutes and observe my commandments and do them, then I will give you your rains in their season, and the land shall yield its increase, and the trees of the field shall yield their fruit.

Jos te elätte minun säädöksieni mukaan ja noudatatte minun käskyjäni, minä annan teille sateet ajallaan, ja maa tuottaa niin paljon satoa ja puut niin paljon hedelmää.

So you shall keep my commandments and do them: I am the L

ord

.

Pitäkää kaikki minun käskyni ja täyttäkää ne. Minä olen Herra.
But to all who did receive him, who believed in his name, he gave the right to become children of God.
Personal Bible reading plan
Create an account to configure your Bible reading plan and you will see your progress and the next chapter to read here!
Read more...