«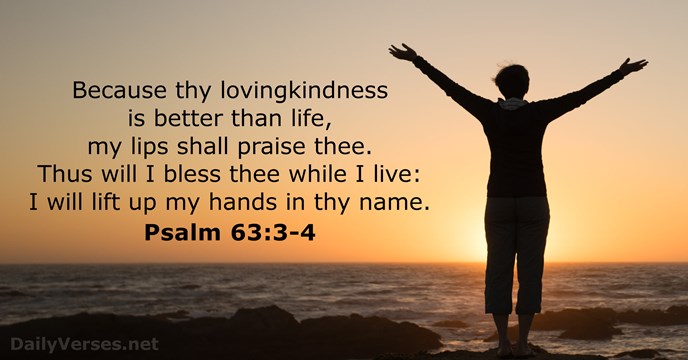 »
Because thy lovingkindness is better than life, my lips shall praise thee. Thus will I bless thee while I live: I will lift up my hands in thy name.

Ja, deine Gnade ist besser als Leben. Meine Lippen sollen dich loben. Ich preise dich mit meinem Leben, erhebe meine Hände zu dir im Gebet.

For whether we live, we live unto the Lord; and whether we die, we die unto the Lord: whether we live therefore, or die, we are the Lord's.

Wenn wir leben, leben wir für den Herrn, und wenn wir sterben, gehören wir dem Herrn. Im Leben und im Tod gehören wir dem Herrn.

He that walketh uprightly walketh surely: but he that perverteth his ways shall be known.

Wer ehrlich ist, tritt sicher auf, doch wer krumme Wege geht, fängt zu schwitzen an.

All scripture is given by inspiration of God, and is profitable for doctrine, for reproof, for correction, for instruction in righteousness: That the man of God may be perfect, thoroughly furnished unto all good works.

Die ganze Schrift ist von Gottes Geist gegeben und von ihm erfüllt. Ihr Nutzen ist entsprechend: Sie lehrt uns die Wahrheit zu erkennen, überführt uns von Sünde, bringt uns auf den richtigen Weg und erzieht uns zu einem Leben, wie es Gott gefällt. Mit der Schrift ist der Mensch, der Gott gehört und ihm dient, allen seinen Aufgaben gewachsen und ausgerüstet zu jedem guten Werk.

Whosoever shall confess that Jesus is the Son of God, God dwelleth in him, and he in God.

Und wenn sich jemand zu Jesus als dem Sohn Gottes bekennt, dann lebt Gott in ihm und er in Gott.

I will never forget thy precepts: for with them thou hast quickened me.

Deine Regeln vergesse ich nie, denn du gabst mir Leben durch sie.

Then spake Jesus again unto them, saying, I am the light of the world: he that followeth me shall not walk in darkness, but shall have the light of life.

Dann sagte Jesus wieder zu allen Leuten: "Ich bin das Licht der Welt! Wer mir folgt, wird nicht mehr in der Finsternis umherirren, sondern wird das Licht haben, das zum Leben führt."

I know that there is no good in them, but for a man to rejoice, and to do good in his life. And also that every man should eat and drink, and enjoy the good of all his labour, it is the gift of God.

Ich erkannte, dass sie nichts Besseres zustande bringen, als sich zu freuen und das Leben zu genießen. Wenn ein Mensch isst und trinkt und etwas Gutes sieht, dann ist das bei all seiner Mühe doch auch eine Gabe Gottes.

As many as I love, I rebuke and chasten: be zealous therefore, and repent.

Alle, die ich lieb habe, weise ich zurecht und erziehe sie. Mach endlich Ernst und ändere deine Einstellung!

Behold, God is mine helper: the Lord is with them that uphold my soul.

Aber ich weiß: Gott ist mein Helfer! Der Herr ist es, der mein Leben beschützt.

Stand fast therefore in the liberty wherewith Christ hath made us free, and be not entangled again with the yoke of bondage.

Christus hat uns befreit, damit wir als Befreite leben. Bleibt also standhaft und lasst euch nicht wieder in ein Sklavenjoch spannen!

For we know that if our earthly house of this tabernacle were dissolved, we have a building of God, an house not made with hands, eternal in the heavens.

Wir wissen ja: Wenn unser irdisches Haus, unser Körper, einmal wie ein Zelt abgebrochen wird, erhalten wir eine Wohnung von Gott, ein nicht von Menschen gebautes ewiges Haus im Himmel.

He that hath the Son hath life; and he that hath not the Son of God hath not life.

Wer mit dem Sohn Gottes verbunden ist, hat das Leben; wer nicht, hat es nicht.

Ponder the path of thy feet, and let all thy ways be established.

Ebne die Bahn für deinen Fuß, damit du feste Wege hast.

He hath made every thing beautiful in his time: also he hath set the world in their heart, so that no man can find out the work that God maketh from the beginning to the end.

Alles hat er so eingerichtet, dass es schön ist zu seiner Zeit. Auch die Ewigkeit hat er den Menschen ins Herz gelegt. Aber das Werk Gottes vom Anfang bis zum Ende kann kein Mensch begreifen.

There is a way which seemeth right unto a man, but the end thereof are the ways of death.

Mancher wähnt sich auf dem richtigen Weg, doch am Ende führt er ihn in den Tod.

I know both how to be abased, and I know how to abound: every where and in all things I am instructed both to be full and to be hungry, both to abound and to suffer need.

Ich kann in Armut leben und mit Überfluss umgehen. Ich bin in alles eingeweiht. Ich weiß, wie es ist, satt zu sein oder zu hungern; ich kenne Überfluss und Mangel.

For to be carnally minded is death; but to be spiritually minded is life and peace.

Was die menschliche Natur will, bringt den Tod, was aber der Geist will, bringt Leben und Frieden.

But none of these things move me, neither count I my life dear unto myself, so that I might finish my course with joy, and the ministry, which I have received of the Lord Jesus, to testify the gospel of the grace of God.

Doch halte ich mein persönliches Ergehen und mein Leben für nicht der Rede wert. Wichtig ist nur, dass ich das Ziel erreiche und den Auftrag erfülle, den ich von Jesus, unserem Herrn, erhalten habe: den Menschen die Freudenbotschaft von Gottes Gnade zu bringen.

Take no thought for your life, what ye shall eat; neither for the body, what ye shall put on. The life is more than meat, and the body is more than raiment.

Sorgt euch nicht um das Essen, das ihr zum Leben, und die Kleidung, die ihr für den Körper braucht. Das Leben ist doch wichtiger als das Essen und der Körper wichtiger als die Kleidung.

Even so faith, if it hath not works, is dead, being alone.

Genauso ist es mit einem Glauben, der keine Werke aufweist. Für sich allein ist er tot.

The thief cometh not, but for to steal, and to kill, and to destroy: I am come that they might have life, and that they might have it more abundantly.

Ein Dieb kommt nur, um Schafe zu stehlen und zu schlachten und Verderben zu bringen. Ich bin gekommen, um ihnen Leben zu bringen und alles reichlich dazu.

For though we walk in the flesh, we do not war after the flesh.

Natürlich sind wir auch nur Menschen, aber wir kämpfen nicht wie die Menschen dieser Welt.

Blessed are the undefiled in the way, who walk in the law of the L

ord

.

Wie glücklich sind die, die tadellos leben und handeln nach Jahwes Gesetz!

The L

ord

redeemeth the soul of his servants: and none of them that trust in him shall be desolate.

Jahwe rettet seinen Dienern das Leben; wer Schutz bei ihm sucht, wird nicht für schuldig erklärt.
But as many as received him, to them gave he power to become the sons of God, even to them that believe on his name.
Personal Bible reading plan
Create an account to configure your Bible reading plan and you will see your progress and the next chapter to read here!
Read more...