Bible Verses about Listening
«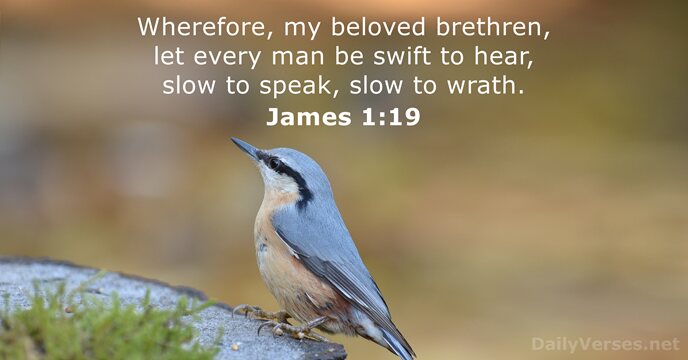 »
Wherefore, my beloved brethren, let every man be swift to hear, slow to speak, slow to wrath.

Tietäkää, rakkaat veljeni, että itse kunkin tulee olla herkkä kuulemaan mutta hidas puhumaan ja hidas vihaan.

But he said, Yea rather, blessed are they that hear the word of God, and keep it.

Siihen Jeesus sanoi: »Niin, autuaita ovat kaikki, jotka kuulevat Jumalan sanan ja noudattavat sitä.»

Call unto me, and I will answer thee, and show thee great and mighty things, which thou knowest not.

Huuda minua avuksesi, niin minä vastaan sinulle. Minä ilmoitan sinulle suuria ja ihmeellisiä asioita, joista et mitään tiedä.

But be ye doers of the word, and not hearers only, deceiving your own selves.

Toteuttakaa sana tekoina, älkää pelkästään kuunnelko sitä – älkää pettäkö itseänne.

And this is the confidence that we have in him, that, if we ask any thing according to his will, he heareth us.

Me saamme rohkeasti lähestyä Jumalaa uskoen, että hän kuulee meitä, mitä sitten pyydämmekin hänen tahtonsa mukaisesti.

Then shall ye call upon me, and ye shall go and pray unto me, and I will hearken unto you.

Silloin te huudatte minua avuksenne, te käännytte rukoillen minun puoleeni, ja minä kuulen teitä.

He that handleth a matter wisely shall find good: and whoso trusteth in the L

ord

, happy is he.

Joka harkiten toimii, saa kaikkea hyvää, onni on sen, joka turvaa Herraan.

I love the L

ord

, because he hath heard my voice and my supplications. Because he hath inclined his ear unto me, therefore will I call upon him as long as I live.

Minä rakastan Herraa. Hän kuulee minua, hän kuulee hartaan pyyntöni. Kun huudan häntä avuksi, hän kuuntelee.

Therefore whosoever heareth these sayings of mine, and doeth them, I will liken him unto a wise man, which built his house upon a rock.

Jokainen, joka kuulee nämä sanani ja tekee niiden mukaan, on kuin järkevä mies, joka rakensi talonsa kalliolle.

Those things, which ye have both learned, and received, and heard, and seen in me, do: and the God of peace shall be with you.

Tehkää sitä, mitä olette minulta oppineet ja vastaanottaneet, mitä olette minulta kuulleet ja minusta nähneet. Silloin rauhan Jumala on oleva teidän kanssanne.

And if we know that he hear us, whatsoever we ask, we know that we have the petitions that we desired of him.

Ja kun tiedämme hänen kuulevan kaikki pyyntömme, tiedämme myös, että saamme sen mitä häneltä pyydämme.

Behold, I stand at the door, and knock: if any man hear my voice, and open the door, I will come in to him, and will sup with him, and he with me.

Minä seison ovella ja kolkutan. Jos joku kuulee minun ääneni ja avaa oven, minä tulen hänen luokseen, ja me aterioimme yhdessä, minä ja hän.

In my distress I called upon the L

ord

, and cried unto my God: he heard my voice out of his temple, and my cry came before him, even into his ears.

Silloin minä huusin hädässäni Herraa, kutsuin avuksi Jumalaani. Ääneni kantautui hänen temppeliinsä, ja hän kuuli minun huutoni.

So then faith cometh by hearing, and hearing by the word of God.

Usko syntyy kuulemisesta, mutta kuulemisen synnyttää Kristuksen sana.

He is in the way of life that keepeth instruction: but he that refuseth reproof erreth.

Joka taipuu kuriin, vaeltaa elämän tietä, nuhteista piittaamaton kulkee harhaan.

My voice shalt thou hear in the morning, O L

ord

; in the morning will I direct my prayer unto thee, and will look up.

Herra, jo aamulla kuulet ääneni, aamun hetkellä tuon sinulle pyyntöni ja odotan vastaustasi.

If ye will not hear, and if ye will not lay it to heart, to give glory unto my name, saith the L

ord

of hosts, I will even send a curse upon you, and I will curse your blessings: yea, I have cursed them already, because ye do not lay it to heart.

»Ellette kuuntele minua ettekä vilpittömin sydämin kunnioita minun nimeäni, minä annan kirouksen kohdata teitä, minä muutan saamanne siunauksen kiroukseksi», sanoo Herra Sebaot. »Minä lähetän siunauksen tilalle kirouksen, koska ette vilpittömin sydämin kunnioita minua.»

Ye shall walk after the L

ord

your God, and fear him, and keep his commandments, and obey his voice, and ye shall serve him, and cleave unto him.

Teidän tulee seurata vain Herraa, Jumalaanne, pelätä häntä, noudattaa hänen käskyjään, totella häntä ja pysyä hänen uskollisina palvelijoinaan.

The eyes of the L

ord

are upon the righteous, and his ears are open unto their cry.

Herran silmät katsovat vanhurskaita, hänen korvansa kuulevat heidän avunhuutonsa.

And at midnight Paul and Silas prayed, and sang praises unto God: and the prisoners heard them.

Keskiyön aikaan Paavali ja Silas rukoilivat ja laulaen ylistivät Jumalaa, ja toiset vangit kuuntelivat heitä.

He therefore that ministereth to you the Spirit, and worketh miracles among you, doeth he it by the works of the law, or by the hearing of faith?

Lahjoittaako Jumala teille Hengen ja antaako hän voimatekojen tapahtua teidän keskuudessanne sen tähden, että te noudatatte lain käskyjä, vai sen tähden, että te uskotte kuulemanne evankeliumin?

Therefore whatsoever ye have spoken in darkness shall be heard in the light; and that which ye have spoken in the ear in closets shall be proclaimed upon the housetops.

Niinpä se, mitä te sanotte pimeässä, kuullaan päivänvalossa, ja mitä te neljän seinän sisällä kuiskaatte toisen korvaan, se kuulutetaan julki katoilta.

My son, keep thy father's commandment, and forsake not the law of thy mother.

Poikani, pidä mielessäsi isäsi käskyt, älä väheksy äitisi opetusta.

But he answered and said, It is written, Man shall not live by bread alone, but by every word that proceedeth out of the mouth of God.

Mutta Jeesus vastasi: »On kirjoitettu: 'Ei ihminen elä ainoastaan leivästä, vaan jokaisesta sanasta, joka lähtee Jumalan suusta.'»

Moreover if thy brother shall trespass against thee, go and tell him his fault between thee and him alone: if he shall hear thee, thou hast gained thy brother.

Jos veljesi tekee syntiä, ota asia puheeksi kahden kesken. Jos hän kuulee sinua, olet voittanut hänet takaisin.
Then shall ye call upon me, and ye shall go and pray unto me, and I will hearken unto you.
Personal Bible reading plan
Create an account to configure your Bible reading plan and you will see your progress and the next chapter to read here!
Read more...