Read this Bible chapter online, click
here
to read.
Bible Verses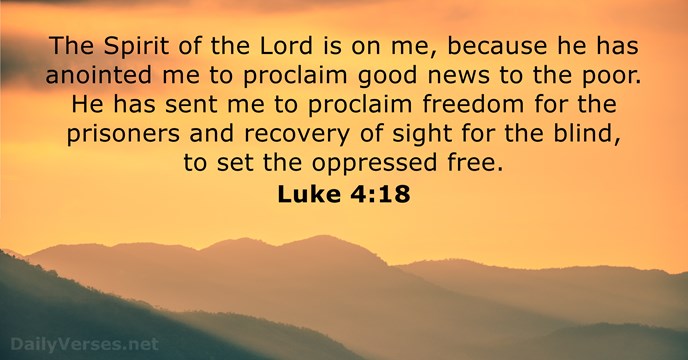 | | |
| --- | --- |
| Where for forty days he was tempted by the devil. He ate nothing during those days, and at the end of them he was hungry. | أَرْبَعِينَ يَوْمًا يُجَرَّبُ مِنْ إِبْلِيسَ. وَلَمْ يَأْكُلْ شَيْئًا فِي تِلْكَ ٱلْأَيَّامِ. وَلَمَّا تَمَّتْ جَاعَ أَخِيرًا. |
| The Spirit of the Lord is on me, because he has anointed me to proclaim good news to the poor. He has sent me to proclaim freedom for the prisoners and recovery of sight for the blind, to set the oppressed free. | رُوحُ ٱلرَّبِّ عَلَيَّ، لِأَنَّهُ مَسَحَنِي لِأُبَشِّرَ ٱلْمَسَاكِينَ، أَرْسَلَنِي لِأَشْفِيَ ٱلْمُنْكَسِرِي ٱلْقُلُوبِ، لِأُنَادِيَ لِلْمَأْسُورِينَ بِٱلْإِطْلَاقِ ولِلْعُمْيِ بِٱلْبَصَرِ، وَأُرْسِلَ ٱلْمُنْسَحِقِينَ فِي ٱلْحُرِّيَّةِ. |
Receive the Daily Bible Verse:
I say to myself, "The Lord is my portion; therefore I will wait for him."
Create an account to configure your Bible read plan and you will see your progress and the next chapter to read here!
Read more...