Bible Verses about Lying
«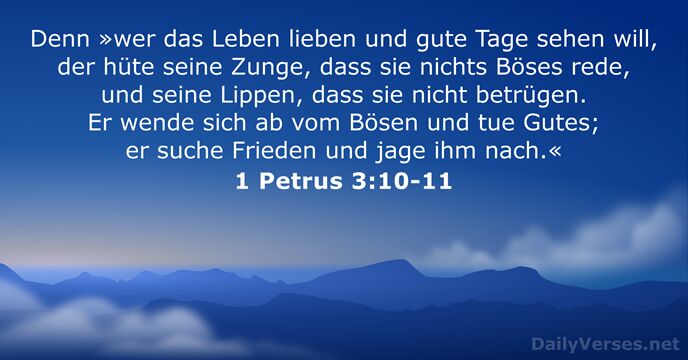 »
For "Whoever desires to love life and see good days, let him keep his tongue from evil and his lips from speaking deceit; let him turn away from evil and do good; let him seek peace and pursue it."

Denn »wer das Leben lieben und gute Tage sehen will, der hüte seine Zunge, dass sie nichts Böses rede, und seine Lippen, dass sie nicht betrügen. Er wende sich ab vom Bösen und tue Gutes; er suche Frieden und jage ihm nach.«

Lying lips are an abomination to the L

ord

, but those who act faithfully are his delight.
Lügenmäuler sind dem

HERRN

ein Gräuel; die aber treulich handeln, gefallen ihm.
Deliver me, O L

ord

, from lying lips, from a deceitful tongue.

HERR

, errette mich von den Lügenmäulern, von den falschen Zungen.

He who walks blamelessly and does what is right and speaks truth in his heart; who does not slander with his tongue and does no evil to his neighbor, nor takes up a reproach against his friend.

Wer untadelig lebt und recht tut und redet die Wahrheit von Herzen; wer mit seiner Zunge nicht verleumdet, wer seinem Nächsten nichts Arges tut und seinen Nachbarn nicht schmäht.

And he said, "What comes out of a person is what defiles him. For from within, out of the heart of man, come evil thoughts, sexual immorality, theft, murder, adultery, coveting, wickedness, deceit, sensuality, envy, slander, pride, foolishness. All these evil things come from within, and they defile a person."

Und er sprach: Was aus dem Menschen herauskommt, das macht den Menschen unrein. Denn von innen, aus dem Herzen der Menschen, kommen heraus die bösen Gedanken, Unzucht, Diebstahl, Mord, Ehebruch, Habgier, Bosheit, Arglist, Ausschweifung, Missgunst, Lästerung, Hochmut, Unvernunft. All dies Böse kommt von innen heraus und macht den Menschen unrein.

Keep your tongue from evil and your lips from speaking deceit.

Behüte deine Zunge vor Bösem und deine Lippen, dass sie nicht Trug reden.

Do not lie to one another, seeing that you have put off the old self with its practices and have put on the new self, which is being renewed in knowledge after the image of its creator.

Belügt einander nicht; denn ihr habt den alten Menschen mit seinen Werken ausgezogen und den neuen angezogen, der erneuert wird zur Erkenntnis nach dem Ebenbild dessen, der ihn geschaffen hat.

The one who conceals hatred has lying lips, and whoever utters slander is a fool.

Wer Hass verdeckt, hat Lügen auf den Lippen, und wer Verleumdung ausstreut, der ist ein Narr.

If we say we have fellowship with him while we walk in darkness, we lie and do not practice the truth.

Wenn wir sagen, dass wir Gemeinschaft mit ihm haben, und wandeln doch in der Finsternis, so lügen wir und tun nicht die Wahrheit.

Whoever walks in integrity walks securely, but he who makes his ways crooked will be found out.

Wer in Unschuld lebt, der lebt sicher; wer aber verkehrte Wege geht, wird ertappt werden.

A dishonest man spreads strife, and a whisperer separates close friends.

Ein falscher Mensch richtet Zank an, und ein Verleumder macht Freunde uneins.

A faithful witness does not lie, but a false witness breathes out lies.

Ein treuer Zeuge lügt nicht; aber ein falscher Zeuge redet frech Lügen.

You shall not murder, You shall not commit adultery, You shall not steal, You shall not bear false witness, Honor your father and mother, and, You shall love your neighbor as yourself.

»Du sollst nicht töten; du sollst nicht ehebrechen; du sollst nicht stehlen; du sollst nicht falsch Zeugnis geben; ehre Vater und Mutter«; und: »Du sollst deinen Nächsten lieben wie dich selbst«.

You are of your father the devil, and your will is to do your father's desires. He was a murderer from the beginning, and does not stand in the truth, because there is no truth in him. When he lies, he speaks out of his own character, for he is a liar and the father of lies.

Ihr habt den Teufel zum Vater, und nach eures Vaters Begierden wollt ihr tun. Der ist ein Mörder von Anfang an und steht nicht in der Wahrheit, denn die Wahrheit ist nicht in ihm. Wenn er die Lüge redet, so redet er aus dem Eigenen; denn er ist ein Lügner und der Vater der Lüge.

Remove far from me falsehood and lying; give me neither poverty nor riches; feed me with the food that is needful for me.

Falschheit und Lüge lass ferne von mir sein; Armut und Reichtum gib mir nicht; lass mich aber mein Teil Speise dahinnehmen, das du mir beschieden hast.

Blessed are you when others revile you and persecute you and utter all kinds of evil against you falsely on my account.

Selig seid ihr, wenn euch die Menschen um meinetwillen schmähen und verfolgen und allerlei Böses gegen euch reden und dabei lügen.

A gentle tongue is a tree of life, but perverseness in it breaks the spirit.

Eine heilsame Zunge ist ein Baum des Lebens; aber eine lügenhafte bringt Herzeleid.

The fear of the L

ord

is hatred of evil. Pride and arrogance and the way of evil and perverted speech I hate.
Die Furcht des

HERRN

hasst das Arge; Hoffart und Hochmut, bösem Wandel und verkehrter Rede bin ich feind.

But Peter said, "Ananias, why has Satan filled your heart to lie to the Holy Spirit and to keep back for yourself part of the proceeds of the land? While it remained unsold, did it not remain your own? And after it was sold, was it not at your disposal? Why is it that you have contrived this deed in your heart? You have not lied to man but to God."

Petrus aber sprach: Hananias, warum hat der Satan dein Herz erfüllt, dass du den Heiligen Geist belogen und etwas vom Geld für den Acker zurückbehalten hast? Hättest du den Acker nicht behalten können, als du ihn hattest? Und konntest du nicht auch, als er verkauft war, noch tun, was du wolltest? Warum hast du dir dies in deinem Herzen vorgenommen? Du hast nicht Menschen, sondern Gott belogen.

Whoever goes about slandering reveals secrets, but he who is trustworthy in spirit keeps a thing covered.

Ein Verleumder verrät, was er heimlich weiß; aber wer getreuen Herzens ist, verbirgt es.

Fine speech is not becoming to a fool; still less is false speech to a prince.

Es steht einem Toren nicht wohl an, von hohen Dingen zu reden, viel weniger einem Edlen, dass er mit Lügen umgeht.

Put away from you crooked speech, and put devious talk far from you.

Tu von dir die Falschheit des Mundes und sei kein Lästermaul.

The lips of the righteous know what is acceptable, but the mouth of the wicked, what is perverse.

Die Lippen der Gerechten wissen, was wohlgefällt; aber der Mund des Frevlers weiß Dinge zu verdrehen.

God is not man, that he should lie, or a son of man, that he should change his mind. Has he said, and will he not do it? Or has he spoken, and will he not fulfill it?

Gott ist nicht ein Mensch, dass er lüge, noch ein Menschenkind, dass ihn etwas gereue. Sollte er etwas sagen und nicht tun? Sollte er etwas reden und nicht halten?
Continue steadfastly in prayer, being watchful in it with thanksgiving.
Personal Bible reading plan
Create an account to configure your Bible reading plan and you will see your progress and the next chapter to read here!
Read more...