23 Bible Verses about Lying
«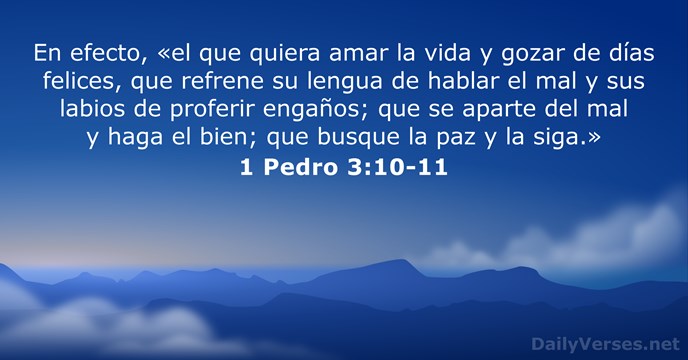 »
For "Whoever desires to love life and see good days, let him keep his tongue from evil and his lips from speaking deceit; let him turn away from evil and do good; let him seek peace and pursue it."

En efecto, «el que quiera amar la vida y gozar de días felices, que refrene su lengua de hablar el mal y sus labios de proferir engaños; que se aparte del mal y haga el bien; que busque la paz y la siga.»

He who walks blamelessly and does what is right and speaks truth in his heart; who does not slander with his tongue and does no evil to his neighbor, nor takes up a reproach against his friend.

Sólo el de conducta intachable, que practica la justicia y de corazón dice la verdad; que no calumnia con la lengua, que no le hace mal a su prójimo ni le acarrea desgracias a su vecino.

Deliver me, O L

ord

, from lying lips, from a deceitful tongue.
S

eñor

, líbrame de los labios mentirosos y de las lenguas embusteras.

And he said, "What comes out of a person is what defiles him. For from within, out of the heart of man, come evil thoughts, sexual immorality, theft, murder, adultery, coveting, wickedness, deceit, sensuality, envy, slander, pride, foolishness. All these evil things come from within, and they defile a person."

Luego añadió: —Lo que sale de la persona es lo que la contamina. Porque de adentro, del corazón humano, salen los malos pensamientos, la inmoralidad sexual, los robos, los homicidios, los adulterios, la avaricia, la maldad, el engaño, el libertinaje, la envidia, la calumnia, la arrogancia y la necedad. Todos estos males vienen de adentro y contaminan a la persona.

Lying lips are an abomination to the L

ord

, but those who act faithfully are his delight.
El S

eñor

aborrece a los de labios mentirosos, pero se complace en los que actúan con lealtad.

A dishonest man spreads strife, and a whisperer separates close friends.

El perverso provoca contiendas, y el chismoso divide a los buenos amigos.

If we say we have fellowship with him while we walk in darkness, we lie and do not practice the truth.

Si afirmamos que tenemos comunión con él, pero vivimos en la oscuridad, mentimos y no ponemos en práctica la verdad.

The one who conceals hatred has lying lips, and whoever utters slander is a fool.

El de labios mentirosos disimula su odio, y el que propaga calumnias es un necio.

Keep your tongue from evil and your lips from speaking deceit.

Que refrene su lengua de hablar el mal y sus labios de proferir engaños.

Whoever walks in integrity walks securely, but he who makes his ways crooked will be found out.

Quien se conduce con integridad, anda seguro; quien anda en malos pasos será descubierto.

Do not lie to one another, seeing that you have put off the old self with its practices and have put on the new self, which is being renewed in knowledge after the image of its creator.

Dejen de mentirse unos a otros, ahora que se han quitado el ropaje de la vieja naturaleza con sus vicios, y se han puesto el de la nueva naturaleza, que se va renovando en conocimiento a imagen de su creador.

Whoever goes about slandering reveals secrets, but he who is trustworthy in spirit keeps a thing covered.

La gente chismosa revela los secretos; la gente confiable es discreta.

A faithful witness does not lie, but a false witness breathes out lies.

El testigo verdadero jamás engaña; el testigo falso propaga mentiras.

Remove far from me falsehood and lying; give me neither poverty nor riches; feed me with the food that is needful for me.

Aleja de mí la falsedad y la mentira; no me des pobreza ni riquezas sino sólo el pan de cada día.

A gentle tongue is a tree of life, but perverseness in it breaks the spirit.

La lengua que brinda consuelo es árbol de vida; la lengua insidiosa deprime el espíritu.

You shall not murder, You shall not commit adultery, You shall not steal, You shall not bear false witness, Honor your father and mother, and, You shall love your neighbor as yourself.

"No mates, no cometas adulterio, no robes, no presentes falso testimonio, honra a tu padre y a tu madre", y "ama a tu prójimo como a ti mismo".

The fear of the L

ord

is hatred of evil. Pride and arrogance and the way of evil and perverted speech I hate.
Quien teme al S

eñor

aborrece lo malo; yo aborrezco el orgullo y la arrogancia, la mala conducta y el lenguaje perverso.

Blessed are you when others revile you and persecute you and utter all kinds of evil against you falsely on my account.

Dichosos serán ustedes cuando por mi causa la gente los insulte, los persiga y levante contra ustedes toda clase de calumnias.

Put away from you crooked speech, and put devious talk far from you.

Aleja de tu boca la perversidad; aparta de tus labios las palabras corruptas.

The lips of the righteous know what is acceptable, but the mouth of the wicked, what is perverse.

Los labios del justo destilan bondad; de la boca del malvado brota perversidad.

Fine speech is not becoming to a fool; still less is false speech to a prince.

No va bien con los necios el lenguaje refinado, ni con los gobernantes, la mentira.

You are of your father the devil, and your will is to do your father's desires. He was a murderer from the beginning, and does not stand in the truth, because there is no truth in him. When he lies, he speaks out of his own character, for he is a liar and the father of lies.

Ustedes son de su padre, el diablo, cuyos deseos quieren cumplir. Desde el principio este ha sido un asesino, y no se mantiene en la verdad, porque no hay verdad en él. Cuando miente, expresa su propia naturaleza, porque es un mentiroso. ¡Es el padre de la mentira!

But Peter said, "Ananias, why has Satan filled your heart to lie to the Holy Spirit and to keep back for yourself part of the proceeds of the land? While it remained unsold, did it not remain your own? And after it was sold, was it not at your disposal? Why is it that you have contrived this deed in your heart? You have not lied to man but to God."

—Ananías —le reclamó Pedro—, ¿cómo es posible que Satanás haya llenado tu corazón para que le mintieras al Espíritu Santo y te quedaras con parte del dinero que recibiste por el terreno? ¿Acaso no era tuyo antes de venderlo? Y una vez vendido, ¿no estaba el dinero en tu poder? ¿Cómo se te ocurrió hacer esto? ¡No has mentido a los hombres, sino a Dios!
Beloved, if our heart does not condemn us, we have confidence before God; and whatever we ask we receive from him, because we keep his commandments and do what pleases him.
Who saved us and called us to a holy calling, not because of our works but because of his own purpose and grace, which he gave us in Christ Jesus before the ages began.
Read more
Beloved, if our heart does not condemn us, we have confidence before God; and whatever we ask we receive from him, because we keep his commandments and do what pleases him.
Personal Bible reading plan
Create an account to configure your Bible reading plan and you will see your progress and the next chapter to read here!
Read more...