Bible Verses about Lying
«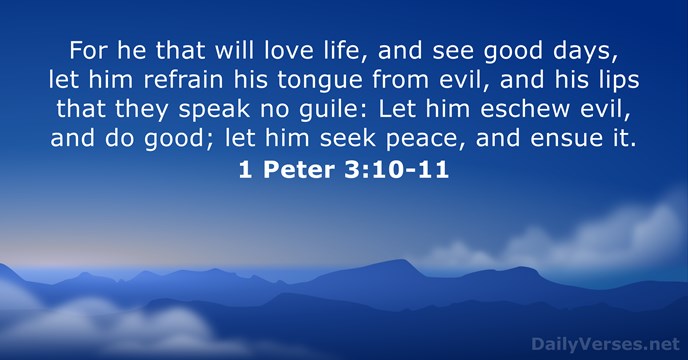 »
For he that will love life, and see good days, let him refrain his tongue from evil, and his lips that they speak no guile: Let him eschew evil, and do good; let him seek peace, and ensue it.

Porque quem quer amar a vida e ver os dias bons, refreie a sua língua do mal, e os seus lábios não falem engano; aparte-se do mal e faça o bem; busque a paz e siga-a.

Lying lips are abomination to the L

ord

: but they that deal truly are his delight.
Os lábios mentirosos são abomináveis ao S

enhor

, mas os que agem fielmente são o seu deleite.
Deliver my soul, O L

ord

, from lying lips, and from a deceitful tongue.
S

enhor

, livra a minha alma dos lábios mentirosos e da língua enganadora.

He that walketh uprightly, and worketh righteousness, and speaketh the truth in his heart. He that backbiteth not with his tongue, nor doeth evil to his neighbour, nor taketh up a reproach against his neighbour.

Aquele que anda em sinceridade, e pratica a justiça, e fala verazmente segundo o seu coração; aquele que não difama com a sua língua, nem faz mal ao seu próximo, nem aceita nenhuma afronta contra o seu próximo.

And he said, That which cometh out of the man, that defileth the man. For from within, out of the heart of men, proceed evil thoughts, adulteries, fornications, murders, Thefts, covetousness, wickedness, deceit, lasciviousness, an evil eye, blasphemy, pride, foolishness: All these evil things come from within, and defile the man.

E dizia: O que sai do homem, isso é que contamina o homem. Porque do interior do coração dos homens saem os maus pensamentos, os adultérios, as prostituições, os homicídios, os furtos, a avareza, as maldades, o engano, a dissolução, a inveja, a blasfêmia, a soberba, a loucura. Todos estes males procedem de dentro e contaminam o homem.

Keep thy tongue from evil, and thy lips from speaking guile.

Guarda a tua língua do mal e os teus lábios, de falarem enganosamente.

He that hideth hatred with lying lips, and he that uttereth a slander, is a fool.

O que encobre o ódio tem lábios falsos, e o que difama é um insensato.

Lie not one to another, seeing that ye have put off the old man with his deeds; And have put on the new man, which is renewed in knowledge after the image of him that created him.

Não mintais uns aos outros, pois que já vos despistes do velho homem com os seus feitos e vos vestistes do novo, que se renova para o conhecimento, segundo a imagem daquele que o criou.

If we say that we have fellowship with him, and walk in darkness, we lie, and do not the truth.

Se dissermos que temos comunhão com ele e andarmos em trevas, mentimos e não praticamos a verdade.

He that walketh uprightly walketh surely: but he that perverteth his ways shall be known.

Quem anda em sinceridade anda seguro, mas o que perverte os seus caminhos será conhecido.

A froward man soweth strife: and a whisperer separateth chief friends.

O homem perverso levanta a contenda, e o difamador separa os maiores amigos.

Thou shalt do no murder, Thou shalt not commit adultery, Thou shalt not steal, Thou shalt not bear false witness, Honour thy father and thy mother: and, Thou shalt love thy neighbour as thyself.

Não matarás, não cometerás adultério, não furtarás, não dirás falso testemunho; honra teu pai e tua mãe, e amarás o teu próximo como a ti mesmo.

A faithful witness will not lie: but a false witness will utter lies.

A testemunha verdadeira não mentirá, mas a testemunha falsa se desboca em mentiras.

Remove far from me vanity and lies: give me neither poverty nor riches; feed me with food convenient for me.

Afasta de mim a vaidade e a palavra mentirosa; não me dês nem a pobreza nem a riqueza; mantém-me do pão da minha porção acostumada.

Ye are of your father the devil, and the lusts of your father ye will do. He was a murderer from the beginning, and abode not in the truth, because there is no truth in him. When he speaketh a lie, he speaketh of his own: for he is a liar, and the father of it.

Vós tendes por pai ao diabo e quereis satisfazer os desejos de vosso pai; ele foi homicida desde o princípio e não se firmou na verdade, porque não há verdade nele; quando ele profere mentira, fala do que lhe é próprio, porque é mentiroso e pai da mentira.

Blessed are ye, when men shall revile you, and persecute you, and shall say all manner of evil against you falsely, for my sake.

Bem-aventurados sois vós quando vos injuriarem, e perseguirem, e, mentindo, disserem todo o mal contra vós, por minha causa.

A wholesome tongue is a tree of life: but perverseness therein is a breach in the spirit.

Uma língua saudável é árvore de vida, mas a perversidade nela quebranta o espírito.
The fear of the L

ord

is to hate evil: pride, and arrogancy, and the evil way, and the froward mouth, do I hate.
O temor do S

enhor

é aborrecer o mal; a soberba, e a arrogância, e o mau caminho, e a boca perversa aborreço.

But Peter said, Ananias, why hath Satan filled thine heart to lie to the Holy Ghost, and to keep back part of the price of the land? Whiles it remained, was it not thine own? and after it was sold, was it not in thine own power? why hast thou conceived this thing in thine heart? thou hast not lied unto men, but unto God.

Disse, então, Pedro: Ananias, por que encheu Satanás o teu coração, para que mentisses ao Espírito Santo e retivesses parte do preço da herdade? Guardando-a, não ficava para ti? E, vendida, não estava em teu poder? Por que formaste este desígnio em teu coração? Não mentiste aos homens, mas a Deus.

A talebearer revealeth secrets: but he that is of a faithful spirit concealeth the matter.

O que anda praguejando descobre o segredo, mas o fiel de espírito encobre o negócio.

Excellent speech becometh not a fool: much less do lying lips a prince.

Não convém ao tolo a fala excelente; quanto menos ao príncipe, o lábio mentiroso!

Put away from thee a froward mouth, and perverse lips put far from thee.

Desvia de ti a tortuosidade da boca e alonga de ti a perversidade dos lábios.

The lips of the righteous know what is acceptable: but the mouth of the wicked speaketh frowardness.

Os lábios do justo sabem o que agrada, mas a boca dos ímpios anda cheia de perversidades.

God is not a man, that he should lie; neither the son of man, that he should repent: hath he said, and shall he not do it? or hath he spoken, and shall he not make it good?

Deus não é homem, para que minta; nem filho de homem, para que se arrependa; porventura, diria ele e não o faria? Ou falaria e não o confirmaria?
Preach the word; be instant in season, out of season; reprove, rebuke, exhort with all long suffering and doctrine.
Personal Bible reading plan
Create an account to configure your Bible reading plan and you will see your progress and the next chapter to read here!
Read more...