Bible Verses about Lying
«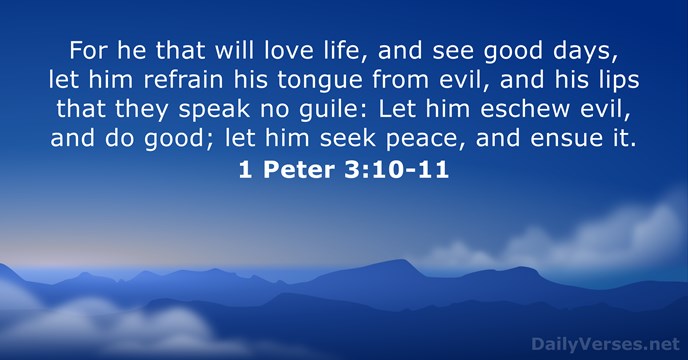 »
For he that will love life, and see good days, let him refrain his tongue from evil, and his lips that they speak no guile: Let him eschew evil, and do good; let him seek peace, and ensue it.

Sillä se, joka tahtoo rakastaa elämää ja haluaa nähdä hyviä päiviä, hillitköön kielensä pahoista sanoista ja huulensa valhetta puhumasta. Kääntyköön hän pois pahasta ja tehköön hyvää, etsiköön rauhaa ja pyrkiköön siihen.

Deliver my soul, O L

ord

, from lying lips, and from a deceitful tongue.

Herra, pelasta minut valehtelijoiden käsistä, varjele heidän petollisilta puheiltaan.

Lying lips are abomination to the L

ord

: but they that deal truly are his delight.

Petollista puhetta Herra ei siedä, sanansa pitävä on hänelle mieleen.

He that walketh uprightly, and worketh righteousness, and speaketh the truth in his heart. He that backbiteth not with his tongue, nor doeth evil to his neighbour, nor taketh up a reproach against his neighbour.

Se, joka on rehellinen ja tekee oikein, jonka sydän on vilpitön ja puheet totta. Se, joka ei panettele, joka ei tee lähimmäiselleen pahaa eikä saata naapuriaan huonoon huutoon.

And he said, That which cometh out of the man, that defileth the man. For from within, out of the heart of men, proceed evil thoughts, adulteries, fornications, murders, Thefts, covetousness, wickedness, deceit, lasciviousness, an evil eye, blasphemy, pride, foolishness: All these evil things come from within, and defile the man.

Ja hän jatkoi: »Se mikä tulee ihmisestä ulos, se saastuttaa ihmisen. Juuri ihmisen sisältä, sydämestä, lähtevät pahat ajatukset, ja niiden mukana siveettömyys, varkaudet, murhat, aviorikokset, ahneus, häijyys, vilppi, irstaus, pahansuopuus, herjaus, ylpeys ja uhmamieli. Kaikki tämä paha tulee ihmisen sisältä ja saastuttaa hänet.»

He that hideth hatred with lying lips, and he that uttereth a slander, is a fool.

Joka vihansa salaa, se valheita puhuu, hullu se, joka panettelee ja parjaa.

Keep thy tongue from evil, and thy lips from speaking guile.

Niin varo kieltäsi, älä päästä huulillesi petoksen sanaa.

A froward man soweth strife: and a whisperer separateth chief friends.

Juonittelija rakentaa riitaa, panettelija erottaa ystävykset.

If we say that we have fellowship with him, and walk in darkness, we lie, and do not the truth.

Jos sanomme elävämme hänen yhteydessään mutta vaellamme pimeässä, me valehtelemme emmekä seuraa totuutta.

Lie not one to another, seeing that ye have put off the old man with his deeds; And have put on the new man, which is renewed in knowledge after the image of him that created him.

Älkää valehdelko toisillenne. Olettehan riisuneet yltänne vanhan minänne kaikkine tekoineen ja pukeutuneet uuteen, joka jatkuvasti uudistuu oppiakseen yhä paremmin tuntemaan Luojansa ja tullakseen hänen kaltaisekseen.

He that walketh uprightly walketh surely: but he that perverteth his ways shall be known.

Turvassa kulkee, joka vilpittä kulkee, joka poikkeaa polulta, ei salassa pysy.

A faithful witness will not lie: but a false witness will utter lies.

Luotettava todistaja ei valehtele, vilpillinen on valhetta täynnä.

Thou shalt do no murder, Thou shalt not commit adultery, Thou shalt not steal, Thou shalt not bear false witness, Honour thy father and thy mother: and, Thou shalt love thy neighbour as thyself.

Älä tapa, älä tee aviorikosta, älä varasta, älä todista valheellisesti, kunnioita isääsi ja äitiäsi, ja rakasta lähimmäistäsi niin kuin itseäsi.

Remove far from me vanity and lies: give me neither poverty nor riches; feed me with food convenient for me.

Pidä minusta kaukana vilppi ja valhe, älä anna köyhyyttä, älä rikkauttakaan. Anna ruokaa sen verran kuin tarvitsen.

Blessed are ye, when men shall revile you, and persecute you, and shall say all manner of evil against you falsely, for my sake.

Autuaita olette te, kun teitä minun tähteni herjataan ja vainotaan ja kun teistä valheellisesti puhutaan kaikkea pahaa.

The fear of the L

ord

is to hate evil: pride, and arrogancy, and the evil way, and the froward mouth, do I hate.

Joka Herraa pelkää, vihaa kaikkea pahaa. Ylpeyttä minä vihaan, kopeaa mieltä, pahoja tekoja ja vilpillistä puhetta.

A wholesome tongue is a tree of life: but perverseness therein is a breach in the spirit.

Lohduttava puhe antaa elämänrohkeutta, petollinen sana murtaa mielen.

A talebearer revealeth secrets: but he that is of a faithful spirit concealeth the matter.

Juorukellolta salaisuus karkaa, uskotulla ystävällä se on tallessa.

Excellent speech becometh not a fool: much less do lying lips a prince.

Tyhmän suuhun ei sovi suora puhe eikä ruhtinaan huulille valhe.

Ye are of your father the devil, and the lusts of your father ye will do. He was a murderer from the beginning, and abode not in the truth, because there is no truth in him. When he speaketh a lie, he speaketh of his own: for he is a liar, and the father of it.

Te olette lähtöisin Saatanasta. Hän on teidän isänne, ja hänen halunsa te tahdotte tyydyttää. Saatana on ollut murhaaja alusta asti. Hän on kaukana totuudesta, se on hänelle vieras. Kun hän valehtelee, hän todella puhuu omiaan, sillä hän on valehtelija ja valheen isä.

Put away from thee a froward mouth, and perverse lips put far from thee.

Älä päästä suuhusi petollisia puheita, pidä vilppi loitolla huuliltasi.

The lips of the righteous know what is acceptable: but the mouth of the wicked speaketh frowardness.

Hurskaan sanat ovat rakkauden sanoja, jumalattoman puhe valhetta ja vimmaa.

But Peter said, Ananias, why hath Satan filled thine heart to lie to the Holy Ghost, and to keep back part of the price of the land? Whiles it remained, was it not thine own? and after it was sold, was it not in thine own power? why hast thou conceived this thing in thine heart? thou hast not lied unto men, but unto God.

Silloin Pietari sanoi: »Ananias, miksi olet antanut sydämesi Saatanan valtaan? Miksi yritit pettää Pyhää Henkeä ja jättää maatilan hinnasta osan itsellesi? Tilahan oli sinun, kun et vielä ollut myynyt sitä, ja sinun olivat myös rahat, kun sen myit. Kuinka saatoit ryhtyä tällaiseen tekoon? Et sinä ole valehdellut ihmisille, vaan Jumalalle.»

God is not a man, that he should lie; neither the son of man, that he should repent: hath he said, and shall he not do it? or hath he spoken, and shall he not make it good?

Jumala ei ole ihminen: hän ei valehtele, hän ei muuta mieltään. Hänkö ei tekisi, mitä sanoo? Hänkö ei pitäisi, mitä lupaa?
Heaviness in the heart of man maketh it stoop: but a good word maketh it glad.
Personal Bible reading plan
Create an account to configure your Bible reading plan and you will see your progress and the next chapter to read here!
Read more...