23 Bible Verses about Lying
«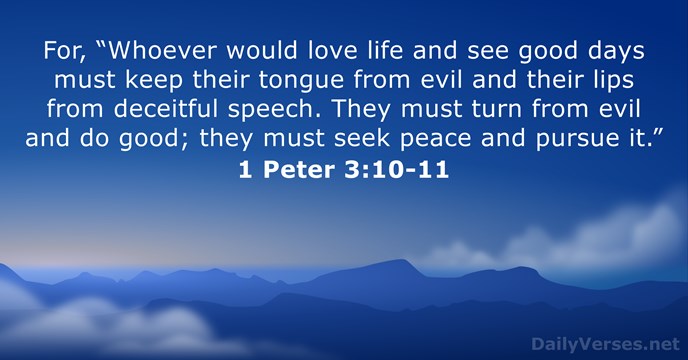 »
For, Whoever would love life and see good days must keep their tongue from evil and their lips from deceitful speech. They must turn from evil and do good; they must seek peace and pursue it.

Denn wer das Leben liebt und gute Tage sehen will, der hüte seine Zunge. Kein böses Wort und keine Lüge verlasse seinen Mund. Er wende sich vom Bösen ab und tue das Gute und mühe sich um Frieden!

The one whose walk is blameless, who does what is righteous, who speaks the truth from their heart; whose tongue utters no slander, who does no wrong to a neighbor, and casts no slur on others.

Wer vorbildlich lebt und tut, was richtig ist vor dir; wer durch und durch wahrhaftig ist und andere nicht schlechtmacht; wer seinem Freund nichts Böses antut und seinen Nachbarn nicht kränkt.

Save me, L

ord

, from lying lips and from deceitful tongues.

Jahwe, rette mich vor diesen Lügnern, vor den falschen Zungen!

He went on: "What comes out of a person is what defiles them. For it is from within, out of a person's heart, that evil thoughts come—sexual immorality, theft, murder, adultery, greed, malice, deceit, lewdness, envy, slander, arrogance and folly. All these evils come from inside and defile a person."

Dann fuhr er fort: "Was aus dem Menschen herauskommt, das macht ihn unrein. Denn von innen, aus dem Herzen des Menschen, kommen die bösen Gedanken und mit ihnen alle Arten von sexueller Unmoral, Diebstahl, Mord, Ehebruch, Habgier und Bosheit. Dazu Betrug, Ausschweifung, Neid, Verleumdung, Überheblichkeit und Unvernunft. All dieses Böse kommt von innen heraus und macht den Menschen vor Gott unrein."

The L

ord

detests lying lips, but he delights in people who are trustworthy.

Ein Mensch, der lügt, ist Jahwe ein Gräuel, nur wer wahrhaftig ist, gefällt ihm wohl.

A perverse person stirs up conflict, and a gossip separates close friends.

Ein falscher Mensch sät überall Streit, ein Verleumder verfeindet Freunde.

If we claim to have fellowship with him and yet walk in the darkness, we lie and do not live out the truth.

Wenn wir behaupten, mit Gott Gemeinschaft zu haben und trotzdem in der Finsternis leben, dann lügen wir: Unser Tun steht im Widerspruch zur Wahrheit.

Whoever conceals hatred with lying lips and spreads slander is a fool.

Wer den Hass versteckt, muss lügen, doch wer Verleumdung ausstreut, ist verrückt.

Keep your tongue from evil and your lips from telling lies.

Der passe auf, was er sagt, dass er nicht lügt und mit Worten betrügt.

Whoever walks in integrity walks securely, but whoever takes crooked paths will be found out.

Wer ehrlich ist, tritt sicher auf, doch wer krumme Wege geht, fängt zu schwitzen an.

Do not lie to each other, since you have taken off your old self with its practices and have put on the new self, which is being renewed in knowledge in the image of its Creator.

Hört auf, euch gegenseitig zu belügen, denn ihr habt doch den alten Menschen mit seinen Gewohnheiten ausgezogen und seid neue Menschen geworden, die ständig erneuert werden und so immer mehr dem Bild entsprechen, das der Schöpfer schon in euch sieht.

A gossip betrays a confidence, but a trustworthy person keeps a secret.

Wer als Verleumder umherzieht, gibt Anvertrautes preis, doch ein Zuverlässiger hält die Sache geheim.

An honest witness does not deceive, but a false witness pours out lies.

Ein zuverlässiger Zeuge wird nicht lügen, doch ein falscher lügt, was er nur kann.

Keep falsehood and lies far from me; give me neither poverty nor riches, but give me only my daily bread.

Falschheit und Lügenwort halte mir fern! Armut und Reichtum gib mir bitte nicht! Lass mich das Brot, das ich brauche, genießen.

The soothing tongue is a tree of life, but a perverse tongue crushes the spirit.

Ein freundliches Wort ist wie ein Lebensbaum, eine falsche Zunge bricht den Lebensmut.

'You shall not murder, you shall not commit adultery, you shall not steal, you shall not give false testimony, honor your father and mother,' and 'love your neighbor as yourself.'

Du sollst nicht morden, nicht die Ehe brechen, nicht stehlen und keine Falschaussagen machen. Ehre deinen Vater und deine Mutter, und liebe deinen Nächsten wie dich selbst!

To fear the L

ord

is to hate evil; I hate pride and arrogance, evil behavior and perverse speech.

Jahwe zu ehren heißt Böses zu hassen. Ja, ich hasse Hochmut und Stolz und unrechtes Tun und einen Mund, der die Worte verdreht.

Blessed are you when people insult you, persecute you and falsely say all kinds of evil against you because of me.

Wie beneidenswert glücklich seid ihr, wenn sie euch beschimpfen, verfolgen und verleumden, weil ihr zu mir gehört.

Keep your mouth free of perversity; keep corrupt talk far from your lips.

Entferne Unwahrheit aus deinem Mund, die Falschheit von deinen Lippen!

The lips of the righteous know what finds favor, but the mouth of the wicked only what is perverse.

Die Worte des Gerechten tun dir wohl, doch der Mund des Gottlosen verbreitet Verkehrtes.

Eloquent lips are unsuited to a godless fool— how much worse lying lips to a ruler!

Zum Dummkopf passt kein glänzender Spruch; und eine Lüge nicht zum geachteten Mann.

You belong to your father, the devil, and you want to carry out your father's desires. He was a murderer from the beginning, not holding to the truth, for there is no truth in him. When he lies, he speaks his native language, for he is a liar and the father of lies.

Euer Vater ist nämlich der Teufel, und ihr wollt das tun, was euer Vater will. Er war von Anfang an ein Mörder und hat die Wahrheit immer gehasst, weil keine Wahrheit in ihm ist. Wenn er lügt, entspricht das seinem ureigensten Wesen. Er ist der Lügner schlechthin und der Vater jeder Lüge.

Then Peter said, "Ananias, how is it that Satan has so filled your heart that you have lied to the Holy Spirit and have kept for yourself some of the money you received for the land? Didn't it belong to you before it was sold? And after it was sold, wasn't the money at your disposal? What made you think of doing such a thing? You have not lied just to human beings but to God."

Doch Petrus sagte zu ihm: "Warum hat der Satan dein Herz erfüllt? Warum hast du den Heiligen Geist belogen und etwas von der Einnahme für euer Grundstück beiseitegeschafft? Du hättest es doch behalten können. Und selbst nach dem Verkauf stand das Geld zu deiner freien Verfügung. Warum hast du dich nur auf so etwas eingelassen? Du hast nicht Menschen belogen, sondern Gott."
God chose the lowly things of this world and the despised things—and the things that are not—to nullify the things that are, so that no one may boast before him.
I can do all this through him who gives me strength.
Read more
God chose the lowly things of this world and the despised things—and the things that are not—to nullify the things that are, so that no one may boast before him.
Personal Bible reading plan
Create an account to configure your Bible reading plan and you will see your progress and the next chapter to read here!
Read more...