Bible Verses about Lying
«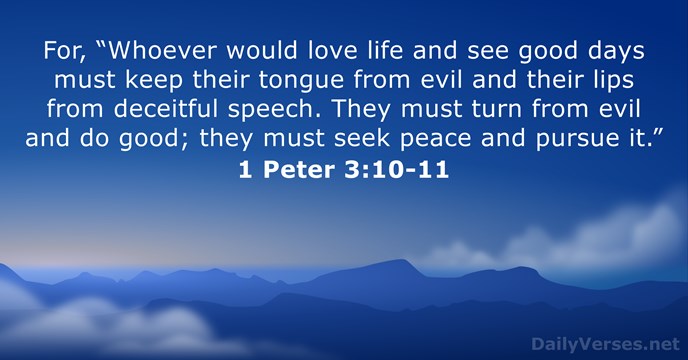 »
For, "Whoever would love life and see good days must keep their tongue from evil and their lips from deceitful speech. They must turn from evil and do good; they must seek peace and pursue it."

Si quelqu'un, en effet, veut aimer la vie et voir des jours heureux, qu'il préserve sa langue du mal et ses lèvres des paroles trompeuses, qu'il se détourne du mal et fasse le bien, qu'il recherche la paix et la poursuive.

Save me, L

ord

, from lying lips and from deceitful tongues.

Eternel, délivre-moi des lèvres fausses, de la langue trompeuse!

The L

ord

detests lying lips, but he delights in people who are trustworthy.

Les lèvres mensongères font horreur à l'Eternel, tandis que ceux qui agissent avec fidélité lui sont agréables.

The one whose walk is blameless, who does what is righteous, who speaks the truth from their heart; whose tongue utters no slander, who does no wrong to a neighbor, and casts no slur on others.

Celui qui marche dans l'intégrité, pratique la justice et dit ce qu'il pense vraiment. Il ne calomnie pas avec sa langue, il ne fait pas de mal à son semblable, et il ne jette pas le déshonneur sur son prochain.

He went on: "What comes out of a person is what defiles them. For it is from within, out of a person's heart, that evil thoughts come—sexual immorality, theft, murder, adultery, greed, malice, deceit, lewdness, envy, slander, arrogance and folly. All these evils come from inside and defile a person."

Il dit encore: «C'est ce qui sort de l'homme qui le rend impur. En effet, c'est de l'intérieur, c'est du cœur des hommes que sortent les mauvaises pensées, les adultères, l'immoralité sexuelle, les meurtres, les vols, la soif de posséder, les méchancetés, la fraude, la débauche, le regard envieux, la calomnie, l'orgueil, la folie. Toutes ces choses mauvaises sortent du dedans et rendent l'homme impur.»

Whoever conceals hatred with lying lips and spreads slander is a fool.

Celui qui dissimule de la haine a des lèvres menteuses, et celui qui propage des racontars est stupide.

Keep your tongue from evil and your lips from telling lies.

Alors préserve ta langue du mal et tes lèvres des paroles trompeuses.

A perverse person stirs up conflict, and a gossip separates close friends.

L'homme pervers provoque des conflits et le critiqueur divise les amis.

If we claim to have fellowship with him and yet walk in the darkness, we lie and do not live out the truth.

Si nous disons que nous sommes en communion avec lui tout en marchant dans les ténèbres, nous mentons et nous ne mettons pas la vérité en pratique.

Do not lie to each other, since you have taken off your old self with its practices and have put on the new self, which is being renewed in knowledge in the image of its Creator.

Ne vous mentez pas les uns aux autres, car vous vous êtes dépouillés du vieil homme et de ses manières d'agir, vous avez revêtu l'homme nouveau qui se renouvelle pour parvenir à la vraie connaissance, conformément à l'image de celui qui l'a créé.

Whoever walks in integrity walks securely, but whoever takes crooked paths will be found out.

Celui qui marche dans l'intégrité marche en sécurité, mais celui qui emprunte des voies tortueuses sera découvert.

An honest witness does not deceive, but a false witness pours out lies.

Un témoin fidèle ne ment pas, tandis qu'un faux témoin dit des mensonges.

'You shall not murder, you shall not commit adultery, you shall not steal, you shall not give false testimony, honor your father and mother,' and 'love your neighbor as yourself.'

Tu ne commettras pas de meurtre; tu ne commettras pas d'adultère; tu ne commettras pas de vol; tu ne porteras pas de faux témoignage; honore ton père et ta mère et tu aimeras ton prochain comme toi-même.

Keep falsehood and lies far from me; give me neither poverty nor riches, but give me only my daily bread.

Éloigne de moi la fausseté et le mensonge, et ne me donne ni pauvreté ni richesse, mais accorde-moi le pain qui m'est nécessaire!

Blessed are you when people insult you, persecute you and falsely say all kinds of evil against you because of me.

Heureux serez-vous lorsqu'on vous insultera, qu'on vous persécutera et qu'on dira faussement de vous toute sorte de mal à cause de moi.

To fear the L

ord

is to hate evil; I hate pride and arrogance, evil behavior and perverse speech.

Craindre l'Eternel, c'est détester le mal. L'arrogance, l'orgueil, la voie du mal et la bouche perverse, voilà ce que je déteste.

The soothing tongue is a tree of life, but a perverse tongue crushes the spirit.

Une parole porteuse de guérison est un arbre de vie, tandis que la langue perverse brise le cœur.

A gossip betrays a confidence, but a trustworthy person keeps a secret.

Celui qui propage des calomnies dévoile des secrets, tandis que l'homme digne de confiance les garde.

You belong to your father, the devil, and you want to carry out your father's desires. He was a murderer from the beginning, not holding to the truth, for there is no truth in him. When he lies, he speaks his native language, for he is a liar and the father of lies.

Vous, vous avez pour père le diable et vous voulez accomplir les désirs de votre père. Il a été meurtrier dès le commencement et il ne s'est pas tenu dans la vérité parce qu'il n'y a pas de vérité en lui. Lorsqu'il profère le mensonge, il parle de son propre fond, car il est menteur et le père du mensonge.

Eloquent lips are unsuited to a godless fool— how much worse lying lips to a ruler!

Si les paroles distinguées ne conviennent pas à un fou, les paroles mensongères conviennent d'autant moins à un noble.

Keep your mouth free of perversity; keep corrupt talk far from your lips.

Ecarte de ta bouche la fausseté, éloigne de tes lèvres les détours!

Then Peter said, "Ananias, how is it that Satan has so filled your heart that you have lied to the Holy Spirit and have kept for yourself some of the money you received for the land? Didn't it belong to you before it was sold? And after it was sold, wasn't the money at your disposal? What made you think of doing such a thing? You have not lied just to human beings but to God."

Pierre lui dit: «Ananias, pourquoi Satan a-t-il rempli ton cœur, au point que tu aies menti au Saint-Esprit et gardé une partie du prix du champ? S'il n'avait pas été vendu, ne te restait-il pas? Et, après l'avoir vendu, n'avais-tu pas le droit de disposer du prix? Comment as-tu pu former dans ton cœur un projet pareil? Ce n'est pas à des hommes que tu as menti, mais à Dieu.»

The lips of the righteous know what finds favor, but the mouth of the wicked only what is perverse.

Les lèvres du juste connaissent la grâce, et la bouche des méchants la perversité.

God is not human, that he should lie, not a human being, that he should change his mind. Does he speak and then not act? Does he promise and not fulfill?

Dieu n'est pas un homme pour mentir, ni le fils d'un homme pour revenir sur sa décision. Ce qu'il a dit, ne le fera-t-il pas? Ce qu'il a déclaré, ne l'accomplira-t-il pas?
Humble yourselves, therefore, under God's mighty hand, that he may lift you up in due time.
Personal Bible reading plan
Create an account to configure your Bible reading plan and you will see your progress and the next chapter to read here!
Read more...