Bible Verses about Marriage
«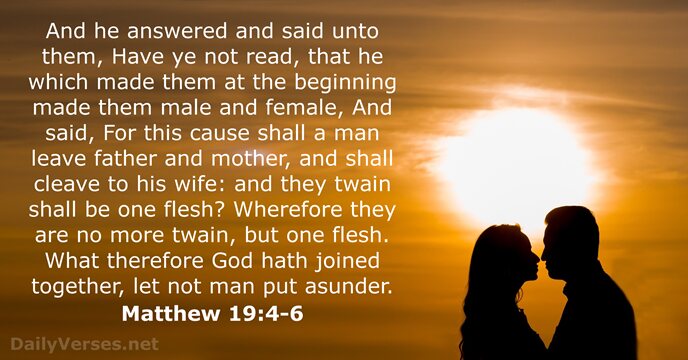 »
Whoso findeth a wife findeth a good thing, and obtaineth favour of the L

ord

.

Chi ha trovato una moglie ha trovato una fortuna, ha ottenuto il favore del Signore.

And he answered and said unto them, Have ye not read, that he which made them at the beginning made them male and female, And said, For this cause shall a man leave father and mother, and shall cleave to his wife: and they twain shall be one flesh? Wherefore they are no more twain, but one flesh. What therefore God hath joined together, let not man put asunder.

Ed egli rispose: «Non avete letto che il Creatore da principio li creò maschio e femmina e disse: Per questo l'uomo lascerà suo padre e sua madre e si unirà a sua moglie e i due saranno una carne sola? Così che non sono più due, ma una carne sola. Quello dunque che Dio ha congiunto, l'uomo non lo separi».

Wives, submit yourselves unto your own husbands, as it is fit in the Lord. Husbands, love your wives, and be not bitter against them.

Voi, mogli, state sottomesse ai mariti, come si conviene nel Signore. Voi, mariti, amate le vostre mogli e non inaspritevi con esse.

Marriage is honourable in all, and the bed undefiled: but whoremongers and adulterers God will judge.

Il matrimonio sia rispettato da tutti e il talamo sia senza macchia. I fornicatori e gli adùlteri saranno giudicati da Dio.

Who can find a virtuous woman? for her price is far above rubies.

Una donna perfetta chi potrà trovarla? Ben superiore alle perle è il suo valore.

Husbands, love your wives, even as Christ also loved the church, and gave himself for it; That he might sanctify and cleanse it with the washing of water by the word.

E voi, mariti, amate le vostre mogli, come Cristo ha amato la Chiesa e ha dato se stesso per lei, per renderla santa, purificandola per mezzo del lavacro dell'acqua accompagnato dalla parola.

A man's heart deviseth his way: but the L

ord

directeth his steps.

La mente dell'uomo pensa molto alla sua via, ma il Signore dirige i suoi passi.

Nevertheless, to avoid fornication, let every man have his own wife, and let every woman have her own husband.

Tuttavia, per il pericolo dell'incontinenza, ciascuno abbia la propria moglie e ogni donna il proprio marito.

And the L

ord

God said, It is not good that the man should be alone; I will make him an help meet for him.

Poi il Signore Dio disse: «Non è bene che l'uomo sia solo: gli voglio fare un aiuto che gli sia simile».

When a man hath taken a new wife, he shall not go out to war, neither shall he be charged with any business: but he shall be free at home one year, and shall cheer up his wife which he hath taken.

Quando un uomo si sarà sposato da poco, non andrà in guerra e non gli sarà imposto alcun incarico; sarà libero per un anno di badare alla sua casa e farà lieta la moglie che ha sposata.

And the rib, which the L

ord

God had taken from man, made he a woman, and brought her unto the man. And Adam said, This is now bone of my bones, and flesh of my flesh: she shall be called Woman, because she was taken out of Man. Therefore shall a man leave his father and his mother, and shall cleave unto his wife: and they shall be one flesh.

Il Signore Dio plasmò con la costola, che aveva tolta all'uomo, una donna e la condusse all'uomo. Allora l'uomo disse: «Questa volta essa è carne dalla mia carne e osso dalle mie ossa. La si chiamerà donna perché dall'uomo è stata tolta». Per questo l'uomo abbandonerà suo padre e sua madre e si unirà a sua moglie e i due saranno una sola carne.

Wives, submit yourselves unto your own husbands, as unto the Lord. For the husband is the head of the wife, even as Christ is the head of the church: and he is the saviour of the body.

Le mogli siano sottomesse ai mariti come al Signore; il marito infatti è capo della moglie, come anche Cristo è capo della Chiesa, lui che è il salvatore del suo corpo.

Thou art all fair, my love; there is no spot in thee.

Tutta bella tu sei, amica mia, in te nessuna macchia.

Let the husband render unto the wife due benevolence: and likewise also the wife unto the husband. The wife hath not power of her own body, but the husband: and likewise also the husband hath not power of his own body, but the wife.

Il marito compia il suo dovere verso la moglie; ugualmente anche la moglie verso il marito. La moglie non è arbitra del proprio corpo, ma lo è il marito; allo stesso modo anche il marito non è arbitro del proprio corpo, ma lo è la moglie.

Likewise, ye husbands, dwell with them according to knowledge, giving honour unto the wife, as unto the weaker vessel, and as being heirs together of the grace of life; that your prayers be not hindered.

E ugualmente voi, mariti, trattate con riguardo le vostre mogli, perché il loro corpo è più debole, e rendete loro onore perché partecipano con voi della grazia della vita: così non saranno impedite le vostre preghiere.

For this cause shall a man leave his father and mother, and shall be joined unto his wife, and they two shall be one flesh.

Per questo l'uomo lascerà suo padre e sua madre e si unirà alla sua donna e i due formeranno una carne sola.

So ought men to love their wives as their own bodies. He that loveth his wife loveth himself.

Così anche i mariti hanno il dovere di amare le mogli come il proprio corpo, perché chi ama la propria moglie ama se stesso.

Nevertheless let every one of you in particular so love his wife even as himself; and the wife see that she reverence her husband.

Quindi anche voi, ciascuno da parte sua, ami la propria moglie come se stesso, e la donna sia rispettosa verso il marito.

Ye have heard that it was said by them of old time, Thou shalt not commit adultery: But I say unto you, That whosoever looketh on a woman to lust after her hath committed adultery with her already in his heart.

Avete inteso che fu detto: Non commettere adulterio; ma io vi dico: chiunque guarda una donna per desiderarla, ha gia commesso adulterio con lei nel suo cuore.
I will greatly rejoice in the L

ord

, my soul shall be joyful in my God; for he hath clothed me with the garments of salvation, he hath covered me with the robe of righteousness, as a bridegroom decketh himself with ornaments, and as a bride adorneth herself with her jewels.

Io gioisco pienamente nel Signore, la mia anima esulta nel mio Dio, perché mi ha rivestito delle vesti di salvezza, mi ha avvolto con il manto della giustizia, come uno sposo che si cinge il diadema e come una sposa che si adorna di gioielli.

Defraud ye not one the other, except it be with consent for a time, that ye may give yourselves to fasting and prayer; and come together again, that Satan tempt you not for your incontinency.

Non astenetevi tra voi se non di comune accordo e temporaneamente, per dedicarvi alla preghiera, e poi ritornate a stare insieme, perché satana non vi tenti nei momenti di passione.
Thou shalt not take the name of the Lord thy God in vain: for the Lord will not hold him guiltless that taketh his name in vain.
Personal Bible reading plan
Create an account to configure your Bible reading plan and you will see your progress and the next chapter to read here!
Read more...