Bible Verses about Materialism
«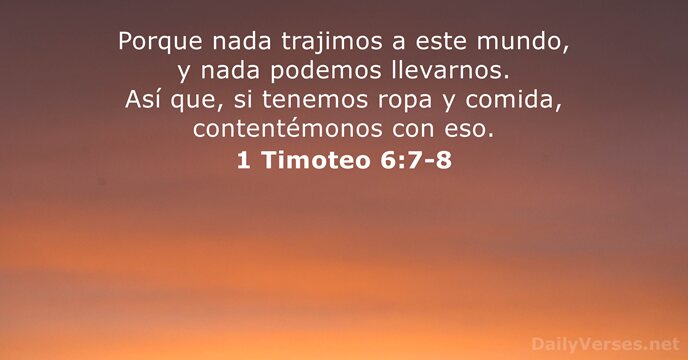 »
For we brought nothing into the world, and we cannot take anything out of the world. But if we have food and clothing, with these we will be content.

Porque nada trajimos a este mundo, y nada podemos llevarnos. Así que, si tenemos ropa y comida, contentémonos con eso.

He who loves money will not be satisfied with money, nor he who loves wealth with his income; this also is vanity.

Quien ama el dinero, de dinero no se sacia. Quien ama las riquezas nunca tiene suficiente. ¡También esto es absurdo!

Do not lay up for yourselves treasures on earth, where moth and rust destroy and where thieves break in and steal, but lay up for yourselves treasures in heaven, where neither moth nor rust destroys and where thieves do not break in and steal.

No acumulen para sí tesoros en la tierra, donde la polilla y el óxido destruyen, y donde los ladrones se meten a robar. Más bien, acumulen para sí tesoros en el cielo, donde ni la polilla ni el óxido carcomen, ni los ladrones se meten a robar.

For what does it profit a man to gain the whole world and forfeit his soul?

¿De qué sirve ganar el mundo entero si se pierde la vida?

And he said to them, "Take care, and be on your guard against all covetousness, for one's life does not consist in the abundance of his possessions."

¡Tengan cuidado! —advirtió a la gente—. Absténganse de toda avaricia; la vida de una persona no depende de la abundancia de sus bienes.

Keep your life free from love of money, and be content with what you have, for he has said, "I will never leave you nor forsake you."

Manténganse libres del amor al dinero, y conténtense con lo que tienen, porque Dios ha dicho: «Nunca te dejaré; jamás te abandonaré».

As we look not to the things that are seen but to the things that are unseen. For the things that are seen are transient, but the things that are unseen are eternal.

Así que no nos fijamos en lo visible, sino en lo invisible, ya que lo que se ve es pasajero, mientras que lo que no se ve es eterno.

But those who desire to be rich fall into temptation, into a snare, into many senseless and harmful desires that plunge people into ruin and destruction.

Los que quieren enriquecerse caen en la tentación y se vuelven esclavos de sus muchos deseos. Estos afanes insensatos y dañinos hunden a la gente en la ruina y en la destrucción.

Better is a little with the fear of the L

ord

than great treasure and trouble with it.
Más vale tener poco, con temor del S

eñor

, que muchas riquezas con grandes angustias.

As he came from his mother's womb he shall go again, naked as he came, and shall take nothing for his toil that he may carry away in his hand.

Tal como salió del vientre de su madre, así se irá: desnudo como vino al mundo, y sin llevarse el fruto de tanto trabajo.

For where your treasure is, there your heart will be also.

Porque donde esté tu tesoro, allí estará también tu corazón.

How much better to get wisdom than gold! To get understanding is to be chosen rather than silver.

Más vale adquirir sabiduría que oro; más vale adquirir inteligencia que plata.

Jesus said to him, "If you would be perfect, go, sell what you possess and give to the poor, and you will have treasure in heaven; and come, follow me."

Si quieres ser perfecto, anda, vende lo que tienes y dáselo a los pobres, y tendrás tesoro en el cielo. Luego ven y sígueme.

As for the rich in this present age, charge them not to be haughty, nor to set their hopes on the uncertainty of riches, but on God, who richly provides us with everything to enjoy.

A los ricos de este mundo, mándales que no sean arrogantes ni pongan su esperanza en las riquezas, que son tan inseguras, sino en Dios, que nos provee de todo en abundancia para que lo disfrutemos.

Likewise also that women should adorn themselves in respectable apparel, with modesty and self-control, not with braided hair and gold or pearls or costly attire, but with what is proper for women who profess godliness—with good works.

En cuanto a las mujeres, quiero que ellas se vistan decorosamente, con modestia y recato, sin peinados ostentosos, ni oro, ni perlas ni vestidos costosos. Que se adornen más bien con buenas obras, como corresponde a mujeres que profesan servir a Dios.

Put to death therefore what is earthly in you: sexual immorality, impurity, passion, evil desire, and covetousness, which is idolatry.

Por tanto, hagan morir todo lo que es propio de la naturaleza terrenal: inmoralidad sexual, impureza, bajas pasiones, malos deseos y avaricia, la cual es idolatría.

Remove far from me falsehood and lying; give me neither poverty nor riches; feed me with the food that is needful for me.

Aleja de mí la falsedad y la mentira; no me des pobreza ni riquezas, sino solo el pan de cada día.

For what will it profit a man if he gains the whole world and forfeits his soul? Or what shall a man give in return for his soul?

¿De qué sirve ganar el mundo entero si se pierde la vida? ¿O qué se puede dar a cambio de la vida?

But godliness with contentment is great gain.

Es cierto que con la verdadera religión se obtienen grandes ganancias, pero solo si uno está satisfecho con lo que tiene.

A good name is to be chosen rather than great riches, and favor is better than silver or gold.

Vale más la buena fama que las muchas riquezas, y más que oro y plata, la buena reputación.

All day long he craves and craves, but the righteous gives and does not hold back.

Todo el día se lo pasa codiciando, pero el justo da con generosidad.

Riches do not profit in the day of wrath, but righteousness delivers from death.

En el día de la ira de nada sirve ser rico, pero la justicia libra de la muerte.

Do not toil to acquire wealth; be discerning enough to desist. When your eyes light on it, it is gone, for suddenly it sprouts wings, flying like an eagle toward heaven.

¿Acaso has podido verlas? ¡No existen! Es como si les salieran alas, pues se van volando como las águilas.

Now the full number of those who believed were of one heart and soul, and no one said that any of the things that belonged to him was his own, but they had everything in common.

Todos los creyentes eran de un solo sentir y pensar. Nadie consideraba suya ninguna de sus posesiones, sino que las compartían.

A rich man's wealth is his strong city, and like a high wall in his imagination.

Ciudad amurallada es la riqueza para el rico, y este cree que sus muros son inexpugnables.
He has made everything beautiful in its time. Also, he has put eternity into man's heart, yet so that he cannot find out what God has done from the beginning to the end.
Personal Bible reading plan
Create an account to configure your Bible reading plan and you will see your progress and the next chapter to read here!
Read more...