Bible Verses about Materialism
«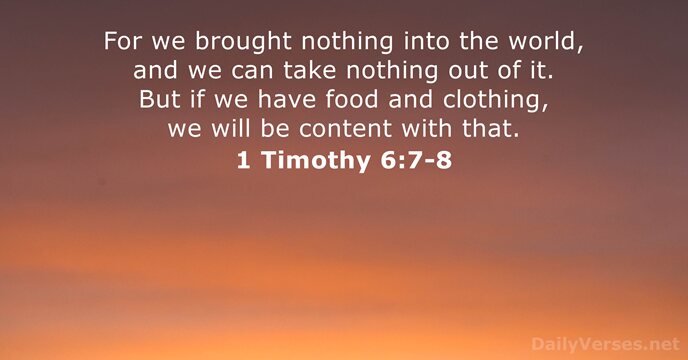 »
For we brought nothing into the world, and we can take nothing out of it. But if we have food and clothing, we will be content with that.

Porque nada trouxemos para este mundo e manifesto é que nada podemos levar dele. Tendo, porém, sustento e com que nos cobrirmos, estejamos com isso contentes.

Whoever loves money never has enough; whoever loves wealth is never satisfied with their income. This too is meaningless.

O que amar o dinheiro nunca se fartará de dinheiro; e quem amar a abundância nunca se fartará da renda; também isso é vaidade.

Do not store up for yourselves treasures on earth, where moths and vermin destroy, and where thieves break in and steal. But store up for yourselves treasures in heaven, where moths and vermin do not destroy, and where thieves do not break in and steal.

Não ajunteis tesouros na terra, onde a traça e a ferrugem tudo consomem, e onde os ladrões minam e roubam. Mas ajuntai tesouros no céu, onde nem a traça nem a ferrugem consomem, e onde os ladrões não minam, nem roubam.

What good is it for someone to gain the whole world, yet forfeit their soul?

Pois que aproveitaria ao homem ganhar todo o mundo e perder a sua alma?

Then he said to them, "Watch out! Be on your guard against all kinds of greed; life does not consist in an abundance of possessions."

E disse-lhes: Acautelai-vos e guardai-vos da avareza, porque a vida de qualquer não consiste na abundância do que possui.

Keep your lives free from the love of money and be content with what you have, because God has said, "Never will I leave you; never will I forsake you."

Sejam vossos costumes sem avareza, contentando-vos com o que tendes; porque ele disse: Não te deixarei, nem te desampararei.

So we fix our eyes not on what is seen, but on what is unseen, since what is seen is temporary, but what is unseen is eternal.

Não atentando nós nas coisas que se veem, mas nas que se não veem; porque as que se veem são temporais, e as que se não veem são eternas.

Those who want to get rich fall into temptation and a trap and into many foolish and harmful desires that plunge people into ruin and destruction.

Mas os que querem ser ricos caem em tentação, e em laço, e em muitas concupiscências loucas e nocivas, que submergem os homens na perdição e ruína.
Better a little with the fear of the L

ord

than great wealth with turmoil.
Melhor é o pouco com o temor do S

enhor

do que um grande tesouro onde há inquietação.

Everyone comes naked from their mother's womb, and as everyone comes, so they depart. They take nothing from their toil that they can carry in their hands.

Como saiu do ventre de sua mãe, assim nu voltará, indo-se como veio; e nada tomará do seu trabalho, que possa levar na sua mão.

For where your treasure is, there your heart will be also.

Porque onde estiver o vosso tesouro, aí estará também o vosso coração.

How much better to get wisdom than gold, to get insight rather than silver!

Quanto melhor é adquirir a sabedoria do que o ouro! E quanto mais excelente, adquirir a prudência do que a prata!

Jesus answered, "If you want to be perfect, go, sell your possessions and give to the poor, and you will have treasure in heaven. Then come, follow me."

Disse-lhe Jesus: Se queres ser perfeito, vai, vende tudo o que tens, dá-o aos pobres e terás um tesouro no céu; e vem e segue-me.

Command those who are rich in this present world not to be arrogant nor to put their hope in wealth, which is so uncertain, but to put their hope in God, who richly provides us with everything for our enjoyment.

Manda aos ricos deste mundo que não sejam altivos, nem ponham a esperança na incerteza das riquezas, mas em Deus, que abundantemente nos dá todas as coisas para delas gozarmos.

I also want the women to dress modestly, with decency and propriety, adorning themselves, not with elaborate hairstyles or gold or pearls or expensive clothes, but with good deeds, appropriate for women who profess to worship God.

Que do mesmo modo as mulheres se ataviem em traje honesto, com pudor e modéstia, não com tranças, ou com ouro, ou pérolas, ou vestidos preciosos, mas (como convém a mulheres que fazem profissão de servir a Deus) com boas obras.

Put to death, therefore, whatever belongs to your earthly nature: sexual immorality, impurity, lust, evil desires and greed, which is idolatry.

Mortificai, pois, os vossos membros que estão sobre a terra: a prostituição, a impureza, o apetite desordenado, a vil concupiscência e a avareza, que é idolatria.

Keep falsehood and lies far from me; give me neither poverty nor riches, but give me only my daily bread.

Afasta de mim a vaidade e a palavra mentirosa; não me dês nem a pobreza nem a riqueza; mantém-me do pão da minha porção acostumada.

What good will it be for someone to gain the whole world, yet forfeit their soul? Or what can anyone give in exchange for their soul?

Pois que aproveita ao homem ganhar o mundo inteiro, se perder a sua alma? Ou que dará o homem em recompensa da sua alma?

But godliness with contentment is great gain.

Mas é grande ganho a piedade com contentamento.

A good name is more desirable than great riches; to be esteemed is better than silver or gold.

Mais digno de ser escolhido é o bom nome do que as muitas riquezas; e a graça é melhor do que a riqueza e o ouro.

All day long he craves for more, but the righteous give without sparing.

Todo o dia avidamente cobiça, mas o justo dá e nada retém.

Wealth is worthless in the day of wrath, but righteousness delivers from death.

Não aproveitam as riquezas no dia da ira, mas a justiça livra da morte.

Cast but a glance at riches, and they are gone, for they will surely sprout wings and fly off to the sky like an eagle.

Porventura, fitarás os olhos naquilo que não é nada? Porque, certamente, isso se fará asas e voará ao céu como a águia.

All the believers were one in heart and mind. No one claimed that any of their possessions was their own, but they shared everything they had.

E era um o coração e a alma da multidão dos que criam, e ninguém dizia que coisa alguma do que possuía era sua própria, mas todas as coisas lhes eram comuns.

The wealth of the rich is their fortified city; they imagine it a wall too high to scale.

A fazenda do rico é sua cidade forte e, como um muro alto, na sua imaginação.
The Lord makes firm the steps of the one who delights in him.
Personal Bible reading plan
Create an account to configure your Bible reading plan and you will see your progress and the next chapter to read here!
Read more...