Bible Verses about Materialism
«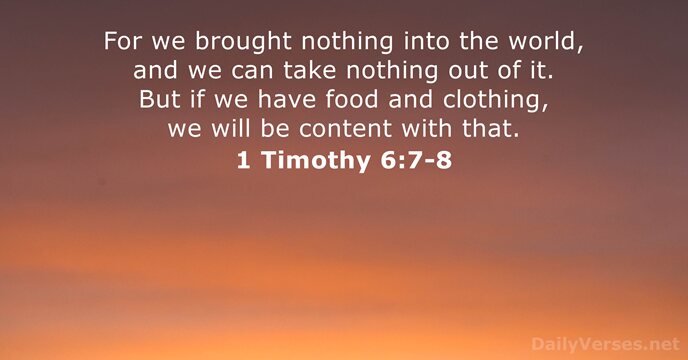 »
For we brought nothing into the world, and we can take nothing out of it. But if we have food and clothing, we will be content with that.

Toen we op de wereld kwamen, hadden we niets bij ons. En als we de wereld verlaten, kunnen we ook niets meenemen. We hebben eten en kleren. Laten we daar tevreden mee zijn.

Whoever loves money never has enough; whoever loves wealth is never satisfied with their income. This too is meaningless.

Wie graag rijk wil zijn, heeft nooit genoeg. Wie veel heeft, wil steeds meer hebben. Ook dat is allemaal zinloos.

Do not store up for yourselves treasures on earth, where moths and vermin destroy, and where thieves break in and steal. But store up for yourselves treasures in heaven, where moths and vermin do not destroy, and where thieves do not break in and steal.

Je moet niet proberen om rijk te worden op aarde. Want aardse rijkdom zal verdwijnen. Die rot weg of wordt gestolen door dieven. Nee, zorg dat je rijk wordt in de hemel. Want hemelse rijkdom verdwijnt nooit. Die kan niet wegrotten of gestolen worden.

What good is it for someone to gain the whole world, yet forfeit their soul?

Jezus zei verder: 'Stel dat je de hele wereld in bezit krijgt. Wat heb je daaraan als je je leven verliest?'

Then he said to them, "Watch out! Be on your guard against all kinds of greed; life does not consist in an abundance of possessions."

Ook zei hij: 'Pas op voor het verlangen naar steeds meer bezit. Kijk daarvoor uit. Je kunt heel veel bezitten, maar je leven kun je nooit bezitten.'

Keep your lives free from the love of money and be content with what you have, because God has said, "Never will I leave you; never will I forsake you."

Leef niet alleen voor het geld, en wees tevreden met wat je hebt. God zorgt voor je, want hij heeft zelf gezegd: «Ik zal bij je blijven, ik zal je niet in de steek laten.»

So we fix our eyes not on what is seen, but on what is unseen, since what is seen is temporary, but what is unseen is eternal.

De dingen die we om ons heen zien, zijn niet belangrijk. Het gaat om de dingen die we nog niet zien. Want alle zichtbare dingen zullen verdwijnen, maar de dingen die we nu nog niet zien, zijn eeuwig.

Those who want to get rich fall into temptation and a trap and into many foolish and harmful desires that plunge people into ruin and destruction.

Mensen die rijk willen worden, laten zich verleiden om slechte dingen te doen. Met hun dwaze en verkeerde verlangens brengen ze zichzelf in gevaar. Het loopt verkeerd met hen af, ze verliezen uiteindelijk hun leven.

Better a little with the fear of the L

ord

than great wealth with turmoil.

Je kunt beter arm zijn en eerbied hebben voor de Heer, dan rijk zijn en leven in angst.

Everyone comes naked from their mother's womb, and as everyone comes, so they depart. They take nothing from their toil that they can carry in their hands.

Zo iemand is naakt geboren, zonder bezit. En als hij doodgaat, kan hij niets meenemen. Alles waarvoor hij hard gewerkt heeft, moet hij achterlaten.

For where your treasure is, there your heart will be also.

Laat de hemelse rijkdom het allerbelangrijkste voor je zijn.

How much better to get wisdom than gold, to get insight rather than silver!

Wijsheid is meer waard dan zilver, en inzicht is kostbaarder dan goud.

Jesus answered, "If you want to be perfect, go, sell your possessions and give to the poor, and you will have treasure in heaven. Then come, follow me."

Jezus zei tegen hem: 'Als je volmaakt wilt zijn, ga dan naar huis. Verkoop alles wat je hebt en geef het geld aan de armen. Dan zul je in de hemel een grote beloning krijgen. Als je alles weggegeven hebt, kom dan terug en ga met mij mee.'

Command those who are rich in this present world not to be arrogant nor to put their hope in wealth, which is so uncertain, but to put their hope in God, who richly provides us with everything for our enjoyment.

Vertel de rijke mensen van deze wereld dat ze niet trots moeten zijn. Ze moeten niet vertrouwen op rijkdom, want die kun je makkelijk verliezen. Ze moeten vertrouwen op God. Hij geeft ons meer dan genoeg om van te genieten.

I also want the women to dress modestly, with decency and propriety, adorning themselves, not with elaborate hairstyles or gold or pearls or expensive clothes, but with good deeds, appropriate for women who profess to worship God.

De vrouwen moeten eenvoudige, nette kleding dragen. Ik wil niet dat ze de aandacht trekken met dure kleren, goud, parels of mooi gevlochten haren. Laat ze aandacht trekken met hun goede daden, zoals dat hoort bij gelovige vrouwen.

Put to death, therefore, whatever belongs to your earthly nature: sexual immorality, impurity, lust, evil desires and greed, which is idolatry.

Laat je niet langer leiden door slechte verlangens. Verlang er niet naar om vreemd te gaan. Verlang niet naar verboden seks, of naar ander verkeerd gedrag op seksueel gebied. Verlang ook niet naar veel geld, want geld is een afgod.

Keep falsehood and lies far from me; give me neither poverty nor riches, but give me only my daily bread.

Help me om altijd eerlijk te zijn, en geef me precies wat ik nodig heb. Ik wil niet arm zijn, maar ook niet rijk.

What good will it be for someone to gain the whole world, yet forfeit their soul? Or what can anyone give in exchange for their soul?

Stel dat je de hele wereld in bezit krijgt. Wat heb je daaraan als je je leven verliest? Het eeuwige leven is niet te koop.

But godliness with contentment is great gain.

Het geloof brengt inderdaad grote rijkdom voor iedereen die tevreden is.

A good name is more desirable than great riches; to be esteemed is better than silver or gold.

Je hebt meer aan waardering dan aan rijkdom, je hebt meer aan respect dan aan geld.

All day long he craves for more, but the righteous give without sparing.

Veel mensen willen steeds meer hebben, maar goede mensen geven alles weg.

Wealth is worthless in the day of wrath, but righteousness delivers from death.

Op de dag dat God zal straffen, heb je niets aan je geld. Alleen als je goed leeft, word je gered van de dood.

Cast but a glance at riches, and they are gone, for they will surely sprout wings and fly off to the sky like an eagle.

Want ineens kan je geld verdwijnen, net zoals een vogel die plotseling wegvliegt.

The wealth of the rich is their fortified city; they imagine it a wall too high to scale.

Rijke mensen denken dat ze veilig zijn, ze denken dat hun bezit hen beschermt.

All the believers were one in heart and mind. No one claimed that any of their possessions was their own, but they shared everything they had.

De groep van gelovigen was een eenheid. Ze waren het over alles met elkaar eens. Niemand wilde zijn bezit alleen voor zichzelf houden. In plaats daarvan deelden ze alles wat ze hadden.
This is the confidence we have in approaching God: that if we ask anything according to his will, he hears us.
Personal Bible reading plan
Create an account to configure your Bible reading plan and you will see your progress and the next chapter to read here!
Read more...