33 Bible Verses about Materialism
«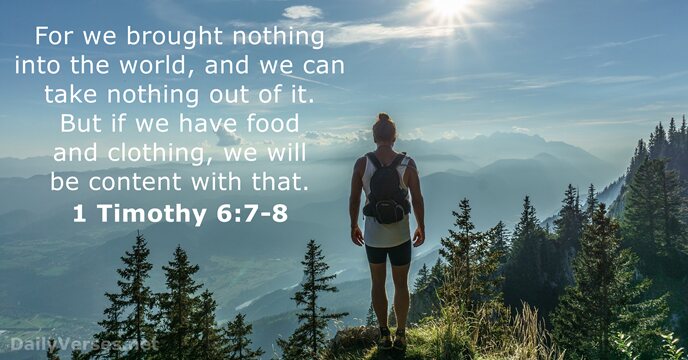 »
For we brought nothing into the world, and we can take nothing out of it. But if we have food and clothing, we will be content with that.

Porque nada hemos traído a este mundo y, sin duda, nada podremos sacar. Así que, teniendo sustento y abrigo, estemos ya satisfechos.

Whoever loves money never has enough; whoever loves wealth is never satisfied with their income. This too is meaningless.

El que ama el dinero no se saciará de dinero; y el que ama la riqueza no sacará fruto. También esto es vanidad.

Do not store up for yourselves treasures on earth, where moths and vermin destroy, and where thieves break in and steal. But store up for yourselves treasures in heaven, where moths and vermin do not destroy, and where thieves do not break in and steal.

No os hagáis tesoros en la tierra, donde la polilla y el moho destruyen, y donde ladrones entran y hurtan; sino haceos tesoros en el cielo, donde ni la polilla ni el moho destruyen, y donde ladrones no entran ni hurtan.

What good is it for someone to gain the whole world, yet forfeit their soul?

Porque ¿de qué le aprovechará al hombre ganar todo el mundo, si pierde su alma?

Keep your lives free from the love of money and be content with what you have, because God has said, "Never will I leave you; never will I forsake you."

Sean vuestras costumbres sin avaricia, contentos con lo que tenéis ahora, pues él dijo: «No te desampararé ni te dejaré.»

Then he said to them, "Watch out! Be on your guard against all kinds of greed; life does not consist in an abundance of possessions."

Y les dijo: —Mirad, guardaos de toda avaricia, porque la vida del hombre no consiste en la abundancia de los bienes que posee.

So we fix our eyes not on what is seen, but on what is unseen, since what is seen is temporary, but what is unseen is eternal.

No mirando nosotros las cosas que se ven, sino las que no se ven, pues las cosas que se ven son temporales, pero las que no se ven son eternas.

Those who want to get rich fall into temptation and a trap and into many foolish and harmful desires that plunge people into ruin and destruction.

Pero los que quieren enriquecerse caen en tentación y lazo, y en muchas codicias necias y dañosas que hunden a los hombres en destrucción y perdición.

Better a little with the fear of the L

ord

than great wealth with turmoil.

Mejor es lo poco con el temor de Jehová, que un gran tesoro donde hay turbación.

Everyone comes naked from their mother's womb, and as everyone comes, so they depart. They take nothing from their toil that they can carry in their hands.

Desnudo salió del vientre de su madre y así volverá; se irá tal como vino, sin ningún provecho de su trabajo que llevarse en la mano.

How much better to get wisdom than gold, to get insight rather than silver!

Mejor es adquirir sabiduría que oro fino, y adquirir inteligencia vale más que la plata.

For where your treasure is, there your heart will be also.

Porque donde esté vuestro tesoro, allí estará también vuestro corazón.

Put to death, therefore, whatever belongs to your earthly nature: sexual immorality, impurity, lust, evil desires and greed, which is idolatry.

Haced morir, pues, lo terrenal en vosotros: fornicación, impureza, pasiones desordenadas, malos deseos y avaricia, que es idolatría.

Command those who are rich in this present world not to be arrogant nor to put their hope in wealth, which is so uncertain, but to put their hope in God, who richly provides us with everything for our enjoyment.

A los ricos de este mundo manda que no sean altivos ni pongan la esperanza en las riquezas, las cuales son inciertas, sino en el Dios vivo, que nos da todas las cosas en abundancia para que las disfrutemos.

Jesus answered, "If you want to be perfect, go, sell your possessions and give to the poor, and you will have treasure in heaven. Then come, follow me."

Jesús le dijo: —Si quieres ser perfecto, anda, vende lo que tienes y dalo a los pobres, y tendrás tesoro en el cielo; y ven, sígueme.

I also want the women to dress modestly, with decency and propriety, adorning themselves, not with elaborate hairstyles or gold or pearls or expensive clothes, but with good deeds, appropriate for women who profess to worship God.

Asimismo, que las mujeres se atavíen de ropa decorosa, con pudor y modestia: no con peinado ostentoso, ni oro ni perlas ni vestidos costosos, sino con buenas obras, como corresponde a mujeres que practican la piedad.

Keep falsehood and lies far from me; give me neither poverty nor riches, but give me only my daily bread.

Vanidad y mentira aparta de mí, y no me des pobreza ni riquezas, sino susténtame con el pan necesario.

What good will it be for someone to gain the whole world, yet forfeit their soul? Or what can anyone give in exchange for their soul?

¿De qué le servirá al hombre ganar todo el mundo, si pierde su alma? ¿O qué dará el hombre a cambio de su alma?

But godliness with contentment is great gain.

Pero gran ganancia es la piedad acompañada de contentamiento.

A good name is more desirable than great riches; to be esteemed is better than silver or gold.

Más vale el buen nombre que las muchas riquezas, y la buena fama vale más que la plata y el oro.

Wealth is worthless in the day of wrath, but righteousness delivers from death.

De nada servirán las riquezas en el día de la ira, pero la justicia librará de muerte.

All day long he craves for more, but the righteous give without sparing.

El codicioso codicia todo el día; el justo da sin retener su mano.

All the believers were one in heart and mind. No one claimed that any of their possessions was their own, but they shared everything they had.

La multitud de los que habían creído era de un corazón y un alma. Ninguno decía ser suyo propio nada de lo que poseía, sino que tenían todas las cosas en común.

Cast but a glance at riches, and they are gone, for they will surely sprout wings and fly off to the sky like an eagle.

¿Has de poner tus ojos en las riquezas, que son nada? De cierto se hacen alas como de águila, y vuelan al cielo.

The wealth of the rich is their fortified city; they imagine it a wall too high to scale.

Las riquezas del rico son su ciudad fortificada; como un muro defensivo se las imagina.
Therefore, as we have opportunity, let us do good to all people, especially to those who belong to the family of believers.
Let the morning bring me word of your unfailing love,
for I have put my trust in you.
Show me the way I should go,
for to you I entrust my life.
Read more
Therefore, as we have opportunity, let us do good to all people, especially to those who belong to the family of believers.
Personal Bible reading plan
Create an account to configure your Bible reading plan and you will see your progress and the next chapter to read here!
Read more...