Bible Verses about Materialism
«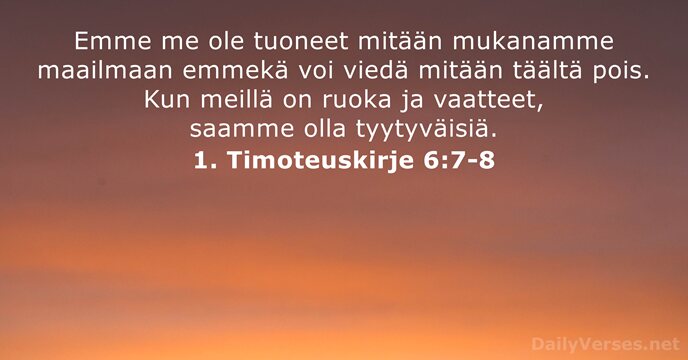 »
For we brought nothing into this world, and it is certain we can carry nothing out. And having food and clothing, with these we shall be content.

Emme me ole tuoneet mitään mukanamme maailmaan emmekä voi viedä mitään täältä pois. Kun meillä on ruoka ja vaatteet, saamme olla tyytyväisiä.

He who loves silver will not be satisfied with silver; Nor he who loves abundance, with increase. This also is vanity.

Joka rakastaa rahaa, ei saa sitä kyllin, eikä se, joka rakastaa rikkautta, saa voittoa tarpeekseen. Tämäkin on turhuutta.

Do not lay up for yourselves treasures on earth, where moth and rust destroy and where thieves break in and steal; but lay up for yourselves treasures in heaven, where neither moth nor rust destroys and where thieves do not break in and steal.

Älkää kootko itsellenne aarteita maan päälle. Täällä tekevät koi ja ruoste tuhojaan ja varkaat murtautuvat sisään ja varastavat. Kootkaa itsellenne aarteita taivaaseen. Siellä ei koi eikä ruoste tee tuhojaan eivätkä varkaat murtaudu sisään ja varasta.

For what will it profit a man if he gains the whole world, and loses his own soul?

Mitä hyödyttää ihmistä, jos hän voittaa omakseen koko maailman mutta menettää sielunsa?

And He said to them, "Take heed and beware of covetousness, for one's life does not consist in the abundance of the things he possesses."

Hän sanoi heille kaikille: »Karttakaa tarkoin kaikenlaista ahneutta. Ei kukaan voi rakentaa elämäänsä omaisuuden varaan, vaikka sitä olisi kuinka paljon tahansa.»

Let your conduct be without covetousness; be content with such things as you have. For He Himself has said, "I will never leave you nor forsake you."

Älkää juosko rahan perässä, vaan tyytykää siihen, mitä teillä on. Jumala on itse sanonut: – Minä en sinua jätä, en koskaan sinua hylkää.

While we do not look at the things which are seen, but at the things which are not seen. For the things which are seen are temporary, but the things which are not seen are eternal.

Emmekä me kiinnitä katsettamme näkyvään vaan näkymättömään, sillä näkyvä kestää vain aikansa mutta näkymätön ikuisesti.

But those who desire to be rich fall into temptation and a snare, and into many foolish and harmful lusts which drown men in destruction and perdition.

Ne, jotka tahtovat rikastua, joutuvat kiusaukseen ja lankeavat ansaan, monenlaisten järjettömien ja vahingollisten halujen valtaan, jotka syöksevät ihmiset tuhoon ja perikatoon.

Better is a little with the fear of the L

ord

, Than great treasure with trouble.

Parempi köyhyys ja Herran pelko kuin suuret varat ja rauhattomuus.

As he came from his mother's womb, naked shall he return, To go as he came; And he shall take nothing from his labor Which he may carry away in his hand.

Rikkaan oli täältä lähdettävä yhtä alastomana kuin hän oli äitinsä kohdusta tullut, eikä hän voinut viedä mukanaan mitään siitä, minkä oli vaivaa nähden koonnut.

For where your treasure is, there your heart will be also.

Missä on aarteesi, siellä on myös sydämesi.

How much better to get wisdom than gold! And to get understanding is to be chosen rather than silver.

Hanki viisautta, se on parempaa kuin kulta, hanki ymmärrystä, se on kalliimpaa kuin hopea.

Jesus said to him, "If you want to be perfect, go, sell what you have and give to the poor, and you will have treasure in heaven; and come, follow Me."

Jeesus sanoi hänelle: »Jos tahdot olla täydellinen, niin mene ja myy kaikki, mitä sinulla on, ja anna rahat köyhille. Silloin sinulla on aarre taivaissa. Tule sitten ja seuraa minua.»

Command those who are rich in this present age not to be haughty, nor to trust in uncertain riches but in the living God, who gives us richly all things to enjoy.

Varoita niitä, jotka tässä maailmassa ovat rikkaita, etteivät he ylpeilisi eivätkä panisi toivoaan epävarmaan rikkauteen, vaan Jumalaan, joka antaa kaikkea runsain mitoin nautittavaksemme.

In like manner also, that the women adorn themselves in modest apparel, with propriety and moderation, not with braided hair or gold or pearls or costly clothing, but, which is proper for women professing godliness, with good works.

Samoin tahdon, että naisten kaunistuksena on hillitty esiintyminen, vaatimattomuus ja säädyllisyys – eivät tukkalaitteet, kultakorut, helmet tai kalliit vaatteet, vaan hyvät teot, niin kuin sopii naisille, jotka tunnustavat palvelevansa Jumalaa.

Therefore put to death your members which are on the earth: fornication, uncleanness, passion, evil desire, and covetousness, which is idolatry.

Haudatkaa siis se, mikä teissä on maallista: siveettömyys, saastaisuus, intohimot, pahat halut ja ahneus, joka on epäjumalanpalvelusta.

Remove falsehood and lies far from me; Give me neither poverty nor riches— Feed me with the food allotted to me.

Pidä minusta kaukana vilppi ja valhe, älä anna köyhyyttä, älä rikkauttakaan. Anna ruokaa sen verran kuin tarvitsen.

For what profit is it to a man if he gains the whole world, and loses his own soul? Or what will a man give in exchange for his soul?

Mitä hyödyttää ihmistä, jos hän voittaa omakseen koko maailman mutta menettää sielunsa? Millä ihminen voi ostaa sielunsa takaisin?

Now godliness with contentment is great gain.

Suuri rikkauden lähde usko kyllä onkin, kun tyydymme siihen mitä meillä on.

A good name is to be chosen rather than great riches, Loving favor rather than silver and gold.

Hyvä maine on rikkautta arvokkaampi, suosio parempi kuin kulta ja hopea.

He covets greedily all day long, But the righteous gives and does not spare.

Ahne on aina ottamassa, vanhurskas antaa, ei kitsastele.

Riches do not profit in the day of wrath, But righteousness delivers from death.

Rikkaus ei vihan päivänä auta, mutta oikeamielisyys pelastaa kuolemasta.

Will you set your eyes on that which is not? For riches certainly make themselves wings; They fly away like an eagle toward heaven.

Kun kiinnität katseesi rikkauteen, se on jo poissa: se on saanut siivet ja lentänyt taivaalle kuin kotka.

Now the multitude of those who believed were of one heart and one soul; neither did anyone say that any of the things he possessed was his own, but they had all things in common.

Koko uskovien joukolla oli yksi sydän ja yksi sielu. Kukaan ei pitänyt omanaan sitä, minkä omisti, vaan kaikki oli heille yhteistä.

The rich man's wealth is his strong city, And like a high wall in his own esteem.

Omaisuus on rikkaalle vahva varustus, kuin korkea muuri – niin hän luulee.
Command those who are rich in this present age not to be haughty, nor to trust in uncertain riches but in the living God, who gives us richly all things to enjoy.
Personal Bible reading plan
Create an account to configure your Bible reading plan and you will see your progress and the next chapter to read here!
Read more...