Read this Bible chapter online, click
here
to read.
Bible Verses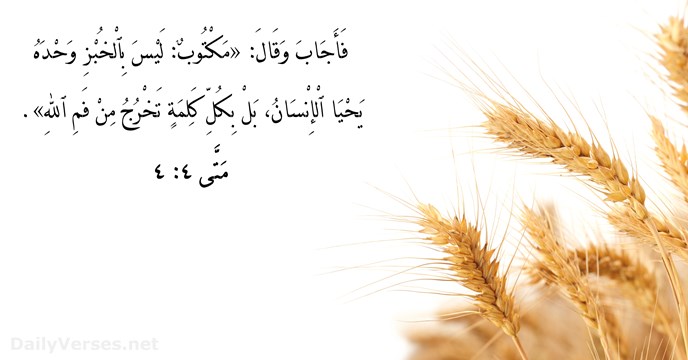 | | |
| --- | --- |
| But He answered and said, "It is written, 'Man shall not live by bread alone, but by every word that proceeds from the mouth of God.' " | فَأَجَابَ وَقَالَ: «مَكْتُوبٌ: لَيْسَ بِٱلْخُبْزِ وَحْدَهُ يَحْيَا ٱلْإِنْسَانُ، بَلْ بِكُلِّ كَلِمَةٍ تَخْرُجُ مِنْ فَمِ ٱللهِ». |
| From that time Jesus began to preach and to say, "Repent, for the kingdom of heaven is at hand." | مِنْ ذَلِكَ ٱلزَّمَانِ ٱبْتَدَأَ يَسُوعُ يَكْرِزُ وَيَقُولُ: «تُوبُوا لِأَنَّهُ قَدِ ٱقْتَرَبَ مَلَكُوتُ ٱلسَّمَاوَاتِ». |
| Then He said to them, "Follow Me, and I will make you fishers of men." | فَقَالَ لَهُمَا: «هَلُمَّ وَرَائِي فَأَجْعَلُكُمَا صَيَّادَيِ ٱلنَّاسِ». |
Be sober, be vigilant; because your adversary the devil walks about like a roaring lion, seeking whom he may devour.
Create an account to configure your Bible read plan and you will see your progress and the next chapter to read here!
Read more...