Bible Verses about Miracles
«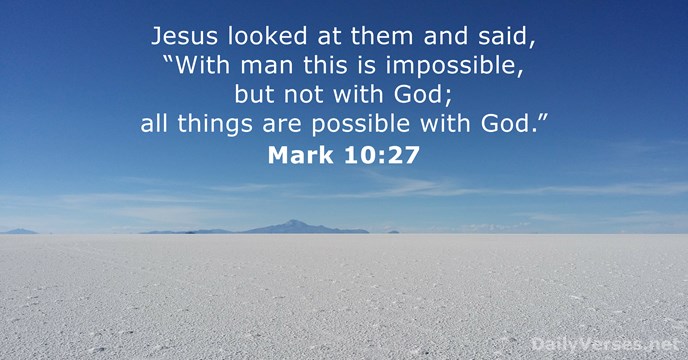 »
Jesus looked at them and said, "With man this is impossible, but not with God; all things are possible with God."

Jeesus katsoi heihin ja sanoi: »Ihmiselle se on mahdotonta, mutta ei Jumalalle. Jumalalle on kaikki mahdollista.»

"'If you can'?" said Jesus. "Everything is possible for one who believes."

»Jos voit?» vastasi Jeesus. »Kaikki on mahdollista sille, joka uskoo.»

Jesus replied, "What is impossible with man is possible with God."

Jeesus vastasi: »Mikä on ihmiselle mahdotonta, se on mahdollista Jumalalle.»

I am the L

ord

, the God of all mankind. Is anything too hard for me?

Sinä tiedät, että minä olen Herra, kaikkien luotujen Jumala. Onko minulle mikään mahdotonta?

Hearing this, Jesus said to Jairus, "Don't be afraid; just believe, and she will be healed."

Mutta kun Jeesus kuuli tämän, hän sanoi esimiehelle: »Älä pelkää. Usko, niin hän pelastuu.»

For no word from God will ever fail.

Jumalalle ei mikään ole mahdotonta.

For you created my inmost being; you knit me together in my mother's womb. I praise you because I am fearfully and wonderfully made; your works are wonderful, I know that full well.

Sinä olet luonut minut sisintäni myöten, äitini kohdussa olet minut punonut. Minä olen ihme, suuri ihme, ja kiitän sinua siitä. Ihmeellisiä ovat sinun tekosi, minä tiedän sen.

Jesus looked at them and said, "With man this is impossible, but with God all things are possible."

Jeesus katsoi heihin ja sanoi: »Ihmiselle se on mahdotonta, mutta Jumalalle on kaikki mahdollista.»

He replied, "Because you have so little faith. Truly I tell you, if you have faith as small as a mustard seed, you can say to this mountain, 'Move from here to there,' and it will move. Nothing will be impossible for you."

»Koska teillä on niin vähän uskoa», vastasi Jeesus. »Totisesti: jos teillä olisi uskoa edes sinapinsiemenen verran, te voisitte sanoa tälle vuorelle: 'Siirry täältä tuonne', ja se siirtyisi. Mikään ei olisi teille mahdotonta.»

Taking the five loaves and the two fish and looking up to heaven, he gave thanks and broke them. Then he gave them to the disciples to distribute to the people. They all ate and were satisfied, and the disciples picked up twelve basketfuls of broken pieces that were left over.

Sitten Jeesus otti ne viisi leipää ja kaksi kalaa, katsoi ylös taivaaseen ja lausui niistä kiitoksen. Hän mursi leivät ja antoi palat opetuslapsilleen kansalle tarjottaviksi. Kaikki söivät kyllikseen, ja tähteeksi jääneitä paloja kerättiin kaksitoista korillista.

On a Sabbath Jesus was teaching in one of the synagogues, and a woman was there who had been crippled by a spirit for eighteen years. She was bent over and could not straighten up at all. When Jesus saw her, he called her forward and said to her, "Woman, you are set free from your infirmity." Then he put his hands on her, and immediately she straightened up and praised God. Indignant because Jesus had healed on the Sabbath, the synagogue leader said to the people, "There are six days for work. So come and be healed on those days, not on the Sabbath." The Lord answered him, "You hypocrites! Doesn't each of you on the Sabbath untie your ox or donkey from the stall and lead it out to give it water? Then should not this woman, a daughter of Abraham, whom Satan has kept bound for eighteen long years, be set free on the Sabbath day from what bound her?" When he said this, all his opponents were humiliated, but the people were delighted with all the wonderful things he was doing.

Jeesus oli sapattina eräässä synagogassa opettamassa. Siellä oli nainen, jota kahdeksantoista vuotta oli vaivannut sairauden henki. Hänen selkänsä oli pahasti köyryssä, eikä hän kyennyt suoristamaan itseään. Nähdessään hänet Jeesus kutsui hänet luokseen ja sanoi: »Nainen, olet päässyt vaivastasi.» Hän pani kätensä naisen päälle, ja heti tämä oikaisi selkänsä ja ylisti Jumalaa. Kun synagogan esimies näki, että Jeesus paransi sairaan sapattina, hän suutuksissaan sanoi paikalla oleville: »Viikossa on kuusi päivää työtä varten, tulkaa silloin parannettaviksi älkääkä sapattina.» Herra vastasi: »Te tekopyhät! Jokainen teistä kyllä päästää sapattina härkänsä tai aasinsa kytkyestä ja vie sen juomaan. Tätä Abrahamin tytärtä on Saatana pitänyt siteissään jo kahdeksantoista vuotta. Eikö häntä olisi saanut päästää vapaaksi sapatinpäivänä?» Jeesuksen vastauksen kuullessaan kaikki hänen vastustajansa olivat häpeissään, mutta kansa iloitsi kaikista ihmeteltävistä teoista, joita hän teki.

I will give thanks to you, L

ord

, with all my heart; I will tell of all your wonderful deeds.

Minä kiitän sinua, Herra, koko sydämestäni, kerron sinun ihmeelliset tekosi.

Jesus replied, "Truly I tell you, if you have faith and do not doubt, not only can you do what was done to the fig tree, but also you can say to this mountain, 'Go, throw yourself into the sea,' and it will be done."

Jeesus vastasi: »Totisesti: jos teillä olisi uskoa ettekä epäilisi, te ette ainoastaan tekisi tätä viikunapuulle, vaan te voisitte sanoa tälle vuorellekin: 'Nouse paikaltasi ja paiskaudu mereen', ja niin tapahtuisi.»

But when they saw him walking on the lake, they thought he was a ghost. They cried out, because they all saw him and were terrified. Immediately he spoke to them and said, "Take courage! It is I. Don't be afraid."

Kun he näkivät hänen kävelevän vettä pitkin, he luulivat häntä aaveeksi ja rupesivat huutamaan. Kaikki he näkivät hänet ja säikähtivät. Mutta samassa Jeesus jo puhui heille: »Pysykää rauhallisina, minä tässä olen. Älkää pelätkö.»

I fell to the ground and heard a voice say to me, 'Saul! Saul! Why do you persecute me?'

Kaaduin maahan ja kuulin äänen sanovan: 'Saul, Saul, miksi vainoat minua?'

After he said this, he was taken up before their very eyes, and a cloud hid him from their sight.

Kun hän oli sanonut tämän, he näkivät, kuinka hänet otettiin ylös, ja pilvi vei hänet heidän näkyvistään.

After they prayed, the place where they were meeting was shaken. And they were all filled with the Holy Spirit and spoke the word of God boldly.

Kun he olivat päättäneet rukouksensa, vavahti paikka, jossa he olivat koolla, ja he kaikki täyttyivät Pyhästä Hengestä ja julistivat rohkeasti Jumalan sanaa.

Therefore the Lord himself will give you a sign: The virgin will conceive and give birth to a son, and will call him Immanuel.

Sen tähden Herra antaa itse teille merkin: neitsyt tulee raskaaksi ja synnyttää pojan ja antaa hänelle nimen Immanuel.

Finally the other disciple, who had reached the tomb first, also went inside. He saw and believed. (They still did not understand from Scripture that Jesus had to rise from the dead.)

Nyt tuli sisään myös se toinen opetuslapsi, joka oli ensimmäisenä saapunut haudalle, ja hän näki ja uskoi. Vielä he näet eivät olleet ymmärtäneet, että kirjoitusten mukaan Jeesus oli nouseva kuolleista.

All this took place to fulfill what the Lord had said through the prophet: "The virgin will conceive and give birth to a son, and they will call him Immanuel" (which means "God with us").

Tämä kaikki tapahtui, jotta kävisi toteen, mitä Herra on profeetan suulla ilmoittanut: – Katso, neitsyt tulee raskaaksi ja synnyttää pojan, ja hänelle annetaan nimeksi Immanuel – se merkitsee: Jumala on meidän kanssamme.

This is how the birth of Jesus the Messiah came about: His mother Mary was pledged to be married to Joseph, but before they came together, she was found to be pregnant through the Holy Spirit.

Jeesuksen Kristuksen syntymä tapahtui näin. Maria, Jeesuksen äiti, oli kihlattu Joosefille. Ennen kuin heidän liittonsa oli vahvistettu, kävi ilmi, että Maria, Pyhän Hengen vaikutuksesta, oli raskaana.
The Lord himself goes before you and will be with you; he will never leave you nor forsake you. Do not be afraid; do not be discouraged.
Personal Bible reading plan
Create an account to configure your Bible reading plan and you will see your progress and the next chapter to read here!
Read more...