46 Bible Verses about Money
«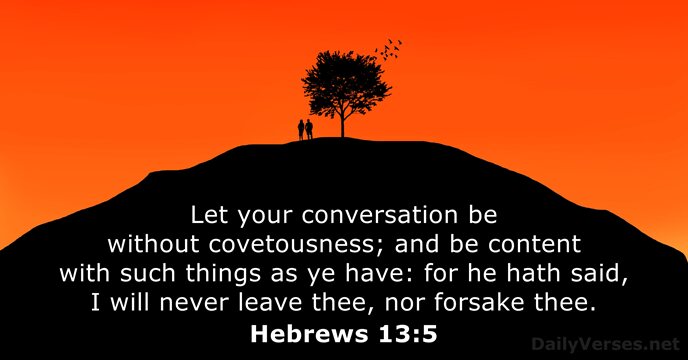 »
Let your conversation be without covetousness; and be content with such things as ye have: for he hath said, I will never leave thee, nor forsake thee.

Leef niet alleen voor het geld, en wees tevreden met wat je hebt. God zorgt voor je, want hij heeft zelf gezegd: «Ik zal bij je blijven, ik zal je niet in de steek laten.»

Wealth gotten by vanity shall be diminished: but he that gathereth by labour shall increase.

Rijkdom die je zomaar krijgt, ben je snel weer kwijt, maar als je hard werkt voor je geld, word je steeds rijker.

But they that will be rich fall into temptation and a snare, and into many foolish and hurtful lusts, which drown men in destruction and perdition.

Mensen die rijk willen worden, laten zich verleiden om slechte dingen te doen. Met hun dwaze en verkeerde verlangens brengen ze zichzelf in gevaar. Het loopt verkeerd met hen af, ze verliezen uiteindelijk hun leven.

The blessing of the L

ord

, it maketh rich, and he addeth no sorrow with it.

Van hard werken alleen word je niet rijk, je hebt de zegen van de Heer nodig.

Labour not to be rich: cease from thine own wisdom.

Probeer niet alleen maar rijk te worden, wees niet alleen maar bezig met geld.

He that loveth silver shall not be satisfied with silver; nor he that loveth abundance with increase: this is also vanity.

Wie graag rijk wil zijn, heeft nooit genoeg. Wie veel heeft, wil steeds meer hebben. Ook dat is allemaal zinloos.

Honour the L

ord

with thy substance, and with the firstfruits of all thine increase.

Je moet offers aan de Heer brengen, en hem het beste van je oogst geven.

Better is little with the fear of the L

ord

than great treasure and trouble therewith.

Je kunt beter arm zijn en eerbied hebben voor de Heer, dan rijk zijn en leven in angst.

And he said unto them, Take heed, and beware of covetousness: for a man's life consisteth not in the abundance of the things which he possesseth.

Ook zei hij: 'Pas op voor het verlangen naar steeds meer bezit. Kijk daarvoor uit. Je kunt heel veel bezitten, maar je leven kun je nooit bezitten.'

For where your treasure is, there will your heart be also.

Laat de hemelse rijkdom het allerbelangrijkste voor je zijn.

Render therefore to all their dues: tribute to whom tribute is due; custom to whom custom; fear to whom fear; honour to whom honour.

Geef dus altijd wat je moet geven. Betaal alle belasting die je moet betalen. Heb respect voor wie respect verdient. En geef eer aan wie eer verdient.

But who am I, and what is my people, that we should be able to offer so willingly after this sort? for all things come of thee, and of thine own have we given thee.

Mijn volk en ik hebben heel veel geschenken gegeven voor de tempel. Maar dat kon alleen door u! Alles wat wij voor uw tempel gegeven hebben, hebben we eerst van u gekregen.

How much better is it to get wisdom than gold! and to get understanding rather to be chosen than silver!

Wijsheid is meer waard dan zilver, en inzicht is kostbaarder dan goud.

Charge them that are rich in this world, that they be not highminded, nor trust in uncertain riches, but in the living God, who giveth us richly all things to enjoy.

Vertel de rijke mensen van deze wereld dat ze niet trots moeten zijn. Ze moeten niet vertrouwen op rijkdom, want die kun je makkelijk verliezen. Ze moeten vertrouwen op God. Hij geeft ons meer dan genoeg om van te genieten.

His lord said unto him, Well done, thou good and faithful servant: thou hast been faithful over a few things, I will make thee ruler over many things: enter thou into the joy of thy lord.

Dan zegt de heer tegen hem: 'Uitstekend! Jij bent een goede en trouwe dienaar. Je hebt trouw gezorgd voor een klein bedrag. Daarom krijg je de leiding over grote en belangrijke zaken. Kom nu naar mijn feest.'

Remove far from me vanity and lies: give me neither poverty nor riches; feed me with food convenient for me.

Help me om altijd eerlijk te zijn, en geef me precies wat ik nodig heb. Ik wil niet arm zijn, maar ook niet rijk.

The desire of a man is his kindness: and a poor man is better than a liar.

Mensen willen graag betrouwbaar zijn. Je kunt beter arm zijn dan onbetrouwbaar.

A little that a righteous man hath is better than the riches of many wicked. For the arms of the wicked shall be broken: but the L

ord

upholdeth the righteous.

Je kunt beter eerlijk zijn en arm, dan slecht en rijk. Want slechte mensen zullen alles verliezen, maar de Heer helpt mensen die eerlijk zijn.

A good name is rather to be chosen than great riches, and loving favour rather than silver and gold.

Je hebt meer aan waardering dan aan rijkdom, je hebt meer aan respect dan aan geld.

Wilt thou set thine eyes upon that which is not? for riches certainly make themselves wings; they fly away as an eagle toward heaven.

Want ineens kan je geld verdwijnen, net zoals een vogel die plotseling wegvliegt.

Treasures of wickedness profit nothing: but righteousness delivereth from death.

Niemand wordt gelukkig van gestolen geld, maar eerlijkheid redt mensen van de dood.

Riches profit not in the day of wrath: but righteousness delivereth from death.

Op de dag dat God zal straffen, heb je niets aan je geld. Alleen als je goed leeft, word je gered van de dood.

For for this cause pay ye tribute also: for they are God's ministers, attending continually upon this very thing.

Daarom betaal je ook belasting. De mensen die belasting ophalen, staan in dienst van God.

I have rejoiced in the way of thy testimonies, as much as in all riches.

Ik wil graag leven zoals u dat wilt. Dat heb ik liever dan grote rijkdom.

The rich man's wealth is his strong city, and as an high wall in his own conceit.

Rijke mensen denken dat ze veilig zijn, ze denken dat hun bezit hen beschermt.
And the Word was made flesh, and dwelt among us, (and we beheld his glory, the glory as of the only begotten of the Father,) full of grace and truth.
But be ye doers of the word, and not hearers only, deceiving your own selves.
Read more
And the Word was made flesh, and dwelt among us, (and we beheld his glory, the glory as of the only begotten of the Father,) full of grace and truth.
Personal Bible reading plan
Create an account to configure your Bible read plan and you will see your progress and the next chapter to read here!
Read more...