«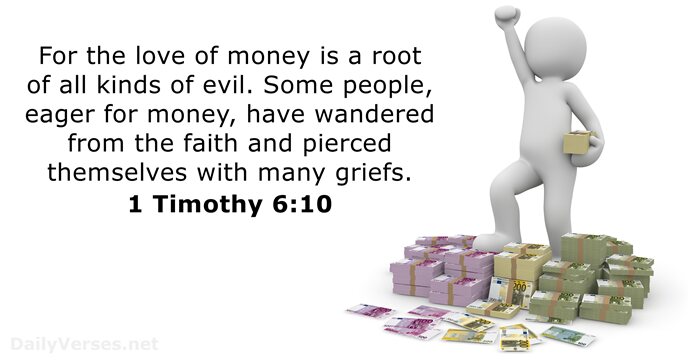 »
For the love of money is a root of all kinds of evil. Some people, eager for money, have wandered from the faith and pierced themselves with many griefs.

Porque o amor do dinheiro é a raiz de toda espécie de males; e nessa cobiça alguns se desviaram da fé e se traspassaram a si mesmos com muitas dores.

For the L

ord

your God will bless you as he has promised, and you will lend to many nations but will borrow from none. You will rule over many nations but none will rule over you.
Porque o S

enhor

, teu Deus, te abençoará, como te tem dito; assim, emprestarás a muitas nações, mas não tomarás empréstimos; e dominarás sobre muitas nações, mas elas não dominarão sobre ti.

Suppose one of you wants to build a tower. Won't you first sit down and estimate the cost to see if you have enough money to complete it?

Pois qual de vós, querendo edificar uma torre, não se assenta primeiro a fazer as contas dos gastos, para ver se tem com que a acabar?

I know what it is to be in need, and I know what it is to have plenty. I have learned the secret of being content in any and every situation, whether well fed or hungry, whether living in plenty or in want.

Sei estar abatido e sei também ter abundância; em toda a maneira e em todas as coisas, estou instruído, tanto a ter fartura como a ter fome, tanto a ter abundância como a padecer necessidade.

No one can serve two masters. Either you will hate the one and love the other, or you will be devoted to the one and despise the other. You cannot serve both God and money.

Ninguém pode servir a dois senhores, porque ou há de odiar um e amar o outro ou se dedicará a um e desprezará o outro. Não podeis servir a Deus e a Mamom.

If anyone has material possessions and sees a brother or sister in need but has no pity on them, how can the love of God be in that person?

Quem, pois, tiver bens do mundo e, vendo o seu irmão necessitado, lhe cerrar o seu coração, como estará nele o amor de Deus?

Moreover, when God gives someone wealth and possessions, and the ability to enjoy them, to accept their lot and be happy in their toil—this is a gift of God.

E quanto ao homem, a quem Deus deu riquezas e fazenda e lhe deu poder para delas comer, e tomar a sua porção, e gozar do seu trabalho, isso é dom de Deus.

Houses and wealth are inherited from parents, but a prudent wife is from the L

ord

.
A casa e a fazenda são a herança dos pais; mas do S

enhor

vem a mulher prudente.

Wealth and honor come from you; you are the ruler of all things. In your hands are strength and power to exalt and give strength to all.

E riquezas e glória vêm de diante de ti, e tu dominas sobre tudo, e na tua mão há força e poder; e na tua mão está o engrandecer e dar força a tudo.

The L

ord

sends poverty and wealth; he humbles and he exalts.
O S

enhor

empobrece e enriquece; abaixa e também exalta.

Better a little with righteousness than much gain with injustice.

Melhor é o pouco com justiça do que a abundância de colheita com injustiça.

The rich rule over the poor, and the borrower is slave to the lender.

O rico domina sobre os pobres, e o que toma emprestado é servo do que empresta.

Sorrowful, yet always rejoicing; poor, yet making many rich; having nothing, and yet possessing everything.

Como contristados, mas sempre alegres; como pobres, mas enriquecendo a muitos; como nada tendo e possuindo tudo.

The wicked borrow and do not repay, but the righteous give generously.

O ímpio toma emprestado e não paga; mas o justo se compadece e dá.

After Job had prayed for his friends, the L

ord

restored his fortunes and gave him twice as much as he had before.
E o S

enhor

virou o cativeiro de Jó, quando orava pelos seus amigos; e o S

enhor

acrescentou a Jó outro tanto em dobro a tudo quanto dantes possuía.

As goods increase, so do those who consume them. And what benefit are they to the owners except to feast their eyes on them?

Onde a fazenda se multiplica, aí se multiplicam também os que a comem; que mais proveito, pois, têm os seus donos do que a verem com os seus olhos?

A person's riches may ransom their life, but the poor cannot respond to threatening rebukes.

O resgate da vida de cada um são as suas riquezas, mas o pobre não ouve as ameaças.

Do not make any gods to be alongside me; do not make for yourselves gods of silver or gods of gold.

Não fareis outros deuses comigo; deuses de prata ou deuses de ouro não fareis para vós.

The seed falling among the thorns refers to someone who hears the word, but the worries of this life and the deceitfulness of wealth choke the word, making it unfruitful.

E o que foi semeado entre espinhos é o que ouve a palavra, mas os cuidados deste mundo e a sedução das riquezas sufocam a palavra, e fica infrutífera.

Believers in humble circumstances ought to take pride in their high position. But the rich should take pride in their humiliation—since they will pass away like a wild flower.

Mas glorie-se o irmão abatido na sua exaltação, e o rico, em seu abatimento, porque ele passará como a flor da erva.

Then Peter said, "Ananias, how is it that Satan has so filled your heart that you have lied to the Holy Spirit and have kept for yourself some of the money you received for the land? Didn't it belong to you before it was sold? And after it was sold, wasn't the money at your disposal? What made you think of doing such a thing? You have not lied just to human beings but to God."

Disse, então, Pedro: Ananias, por que encheu Satanás o teu coração, para que mentisses ao Espírito Santo e retivesses parte do preço da herdade? Guardando-a, não ficava para ti? E, vendida, não estava em teu poder? Por que formaste este desígnio em teu coração? Não mentiste aos homens, mas a Deus.
Since you are precious and honored in my sight, and because I love you, I will give people in exchange for you, nations in exchange for your life.
Personal Bible reading plan
Create an account to configure your Bible reading plan and you will see your progress and the next chapter to read here!
Read more...