Bible Verses about Money
«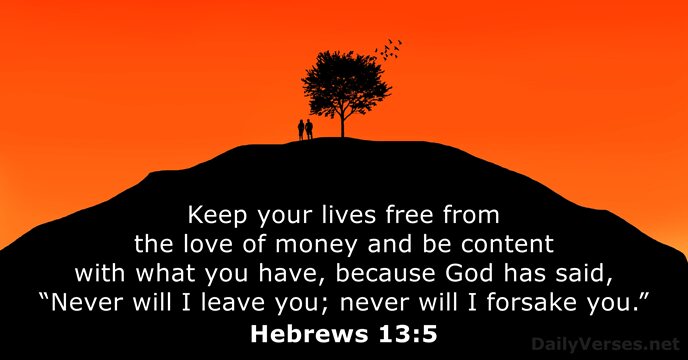 »
Keep your lives free from the love of money and be content with what you have, because God has said, "Never will I leave you; never will I forsake you."

Sean vuestras costumbres sin avaricia, contentos con lo que tenéis ahora, pues él dijo: «No te desampararé ni te dejaré.»

Dishonest money dwindles away, but whoever gathers money little by little makes it grow.

Las riquezas de vanidad disminuyen; el que recoge con mano laboriosa las aumenta.

Those who want to get rich fall into temptation and a trap and into many foolish and harmful desires that plunge people into ruin and destruction.

Pero los que quieren enriquecerse caen en tentación y lazo, y en muchas codicias necias y dañosas que hunden a los hombres en destrucción y perdición.

Do not wear yourself out to get rich; do not trust your own cleverness.

No te afanes por hacerte rico: sé prudente y desiste.

The blessing of the L

ord

brings wealth, without painful toil for it.

La bendición de Jehová es la que enriquece, y no añade tristeza con ella.

Whoever loves money never has enough; whoever loves wealth is never satisfied with their income. This too is meaningless.

El que ama el dinero no se saciará de dinero; y el que ama la riqueza no sacará fruto. También esto es vanidad.

Honor the L

ord

with your wealth, with the firstfruits of all your crops.

Honra a Jehová con tus bienes y con las primicias de todos tus frutos.

Better a little with the fear of the L

ord

than great wealth with turmoil.

Mejor es lo poco con el temor de Jehová, que un gran tesoro donde hay turbación.

Then he said to them, "Watch out! Be on your guard against all kinds of greed; life does not consist in an abundance of possessions."

Y les dijo: —Mirad, guardaos de toda avaricia, porque la vida del hombre no consiste en la abundancia de los bienes que posee.

For where your treasure is, there your heart will be also.

Porque donde esté vuestro tesoro, allí estará también vuestro corazón.

Give to everyone what you owe them: If you owe taxes, pay taxes; if revenue, then revenue; if respect, then respect; if honor, then honor.

Pagad a todos lo que debéis: al que tributo, tributo; al que impuesto, impuesto; al que respeto, respeto; al que honra, honra.

How much better to get wisdom than gold, to get insight rather than silver!

Mejor es adquirir sabiduría que oro fino, y adquirir inteligencia vale más que la plata.

But who am I, and who are my people, that we should be able to give as generously as this? Everything comes from you, and we have given you only what comes from your hand.

Porque ¿quién soy yo y quién es mi pueblo, para que pudiéramos ofrecer voluntariamente cosas semejantes? Pues todo es tuyo, y de lo recibido de tu mano te damos.

Command those who are rich in this present world not to be arrogant nor to put their hope in wealth, which is so uncertain, but to put their hope in God, who richly provides us with everything for our enjoyment.

A los ricos de este mundo manda que no sean altivos ni pongan la esperanza en las riquezas, las cuales son inciertas, sino en el Dios vivo, que nos da todas las cosas en abundancia para que las disfrutemos.

His master replied, 'Well done, good and faithful servant! You have been faithful with a few things; I will put you in charge of many things. Come and share your master's happiness!'

Su señor le dijo: "Bien, buen siervo y fiel; sobre poco has sido fiel, sobre mucho te pondré. Entra en el gozo de tu señor."

Keep falsehood and lies far from me; give me neither poverty nor riches, but give me only my daily bread.

Vanidad y mentira aparta de mí, y no me des pobreza ni riquezas, sino susténtame con el pan necesario.

What a person desires is unfailing love; better to be poor than a liar.

Una satisfacción es para el hombre hacer misericordia, y mejor es un pobre que un mentiroso.

Better the little that the righteous have than the wealth of many wicked; for the power of the wicked will be broken, but the L

ord

upholds the righteous.

Mejor es lo poco del justo que las riquezas de muchos pecadores, porque los brazos de los impíos serán quebrados; mas el que sostiene a los justos es Jehová.

Cast but a glance at riches, and they are gone, for they will surely sprout wings and fly off to the sky like an eagle.

¿Has de poner tus ojos en las riquezas, que son nada? De cierto se hacen alas como de águila, y vuelan al cielo.

A good name is more desirable than great riches; to be esteemed is better than silver or gold.

Más vale el buen nombre que las muchas riquezas, y la buena fama vale más que la plata y el oro.

This is also why you pay taxes, for the authorities are God's servants, who give their full time to governing.

Pues por esto pagáis también los tributos, porque las autoridades están al servicio de Dios, dedicadas continuamente a este oficio.

Ill-gotten treasures have no lasting value, but righteousness delivers from death.

Los tesoros de maldad no serán de provecho, mas la justicia libra de la muerte.

For the love of money is a root of all kinds of evil. Some people, eager for money, have wandered from the faith and pierced themselves with many griefs.

Porque raíz de todos los males es el amor al dinero, el cual codiciando algunos, se extraviaron de la fe y fueron atormentados con muchos dolores.

Wealth is worthless in the day of wrath, but righteousness delivers from death.

De nada servirán las riquezas en el día de la ira, pero la justicia librará de muerte.

The wealth of the rich is their fortified city; they imagine it a wall too high to scale.

Las riquezas del rico son su ciudad fortificada; como un muro defensivo se las imagina.
Defend the weak and the fatherless; uphold the cause of the poor and the oppressed.
Personal Bible reading plan
Create an account to configure your Bible reading plan and you will see your progress and the next chapter to read here!
Read more...