Bible Verses about Money
«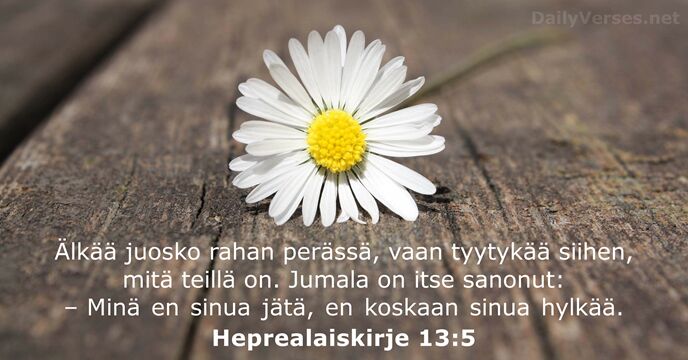 »
Let your conduct be without covetousness; be content with such things as you have. For He Himself has said, "I will never leave you nor forsake you."

Älkää juosko rahan perässä, vaan tyytykää siihen, mitä teillä on. Jumala on itse sanonut: – Minä en sinua jätä, en koskaan sinua hylkää.

Wealth gained by dishonesty will be diminished, But he who gathers by labor will increase.

Mikä helposti tulee, se helposti menee, vähin erin kooten omaisuus karttuu.

But those who desire to be rich fall into temptation and a snare, and into many foolish and harmful lusts which drown men in destruction and perdition.

Ne, jotka tahtovat rikastua, joutuvat kiusaukseen ja lankeavat ansaan, monenlaisten järjettömien ja vahingollisten halujen valtaan, jotka syöksevät ihmiset tuhoon ja perikatoon.

The blessing of the L

ord

makes one rich, And He adds no sorrow with it.

Herran siunaus menestyksen antaa, omin voimin sitä ei lisätä.

Do not overwork to be rich; Because of your own understanding, cease!

Älä rehki rikastuaksesi, älä tuhlaa ajatuksiasi siihen.

He who loves silver will not be satisfied with silver; Nor he who loves abundance, with increase. This also is vanity.

Joka rakastaa rahaa, ei saa sitä kyllin, eikä se, joka rakastaa rikkautta, saa voittoa tarpeekseen. Tämäkin on turhuutta.

Honor the L

ord

with your possessions, And with the firstfruits of all your increase.

Siitä, mitä omistat, anna Herran kunniaksi uhrit, kaikesta sadostasi paras osa.

Better is a little with the fear of the L

ord

, Than great treasure with trouble.

Parempi köyhyys ja Herran pelko kuin suuret varat ja rauhattomuus.

And He said to them, "Take heed and beware of covetousness, for one's life does not consist in the abundance of the things he possesses."

Hän sanoi heille kaikille: »Karttakaa tarkoin kaikenlaista ahneutta. Ei kukaan voi rakentaa elämäänsä omaisuuden varaan, vaikka sitä olisi kuinka paljon tahansa.»

For where your treasure is, there your heart will be also.

Missä on aarteesi, siellä on myös sydämesi.

Render therefore to all their due: taxes to whom taxes are due, customs to whom customs, fear to whom fear, honor to whom honor.

Antakaa jokaiselle se, mikä hänelle kuuluu: kenelle vero, sille vero, kenelle tulli, sille tulli, kenelle pelko, sille pelko, kenelle kunnia, sille kunnia.

How much better to get wisdom than gold! And to get understanding is to be chosen rather than silver.

Hanki viisautta, se on parempaa kuin kulta, hanki ymmärrystä, se on kalliimpaa kuin hopea.

But who am I, and who are my people, That we should be able to offer so willingly as this? For all things come from You, And of Your own we have given You.

Sillä mikä olen minä, tai mikä on minun kansani? Kuinka me itse pystyisimme antamaan tällaisia lahjoja? Sinulta me olemme kaiken saaneet, sinulta on tullut kaikki, minkä sinulle annamme.

Command those who are rich in this present age not to be haughty, nor to trust in uncertain riches but in the living God, who gives us richly all things to enjoy.

Varoita niitä, jotka tässä maailmassa ovat rikkaita, etteivät he ylpeilisi eivätkä panisi toivoaan epävarmaan rikkauteen, vaan Jumalaan, joka antaa kaikkea runsain mitoin nautittavaksemme.

His lord said to him, 'Well done, good and faithful servant; you were faithful over a few things, I will make you ruler over many things. Enter into the joy of your lord.'

Isäntä sanoi hänelle: 'Hyvin tehty! Olet hyvä ja luotettava palvelija. Vähässä olet ollut uskollinen, minä panen sinut paljon haltijaksi. Tule herrasi ilojuhlaan!'

Remove falsehood and lies far from me; Give me neither poverty nor riches— Feed me with the food allotted to me.

Pidä minusta kaukana vilppi ja valhe, älä anna köyhyyttä, älä rikkauttakaan. Anna ruokaa sen verran kuin tarvitsen.

What is desired in a man is kindness, And a poor man is better than a liar.

Uskollisuus on ihmisessä arvokkainta, parempi on köyhä kuin petollinen.

For the love of money is a root of all kinds of evil, for which some have strayed from the faith in their greediness, and pierced themselves through with many sorrows.

Rahanhimo on kaiken pahan alkujuuri. Rahaa havitellessaan monet ovat eksyneet pois uskosta ja tuottaneet itselleen monenlaista kärsimystä.

A little that a righteous man has Is better than the riches of many wicked. For the arms of the wicked shall be broken, But the L

ord

upholds the righteous.

Vanhurskaalla on enemmän iloa vähistä varoistaan kuin jumalattomalla paljosta tavarastaan. Jumalattomien mahti murtuu, mutta vanhurskaiden tukena on Herra.

A good name is to be chosen rather than great riches, Loving favor rather than silver and gold.

Hyvä maine on rikkautta arvokkaampi, suosio parempi kuin kulta ja hopea.

Will you set your eyes on that which is not? For riches certainly make themselves wings; They fly away like an eagle toward heaven.

Kun kiinnität katseesi rikkauteen, se on jo poissa: se on saanut siivet ja lentänyt taivaalle kuin kotka.

For because of this you also pay taxes, for they are God's ministers attending continually to this very thing.

Sen vuoksi te verojakin maksatte, sillä viranomaiset ovat Jumalan palveluksessa, kun he hoitavat tehtäviään.

Treasures of wickedness profit nothing, But righteousness delivers from death.

Väärintekijää eivät hänen aarteensa auta, mutta oikeamielisyys pelastaa kuolemasta.

Riches do not profit in the day of wrath, But righteousness delivers from death.

Rikkaus ei vihan päivänä auta, mutta oikeamielisyys pelastaa kuolemasta.

The rich man's wealth is his strong city, And like a high wall in his own esteem.

Omaisuus on rikkaalle vahva varustus, kuin korkea muuri – niin hän luulee.
Therefore you shall be perfect, just as your Father in heaven is perfect.
Personal Bible reading plan
Create an account to configure your Bible reading plan and you will see your progress and the next chapter to read here!
Read more...