Bible Verses about Orphans
«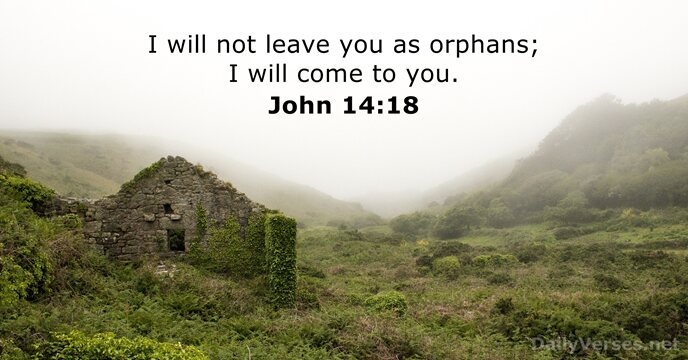 »
Do not take advantage of the widow or the fatherless. If you do and they cry out to me, I will certainly hear their cry. My anger will be aroused, and I will kill you with the sword; your wives will become widows and your children fatherless.

Jullie mogen weeskinderen en weduwen niet slecht behandelen. Als jullie dat toch doen, dan zal Ik, de Heer, naar hen luisteren als zij Mij om hulp roepen. Ik zal woedend zijn en Ik zal ervoor zorgen dat jullie in de oorlog gedood worden. Dan worden júllie vrouwen weduwen en worden júllie kinderen weeskinderen.

I will not leave you as orphans; I will come to you.

Ik zal jullie niet als weeskinderen achterlaten. Ik kom naar jullie toe.

Learn to do right; seek justice. Defend the oppressed. Take up the cause of the fatherless; plead the case of the widow.

Leer liever om goed en eerlijk te zijn. Spreek eerlijk recht. Zorg voor de arme mensen en de weeskinderen. Kom voor de weduwen op.

Religion that God our Father accepts as pure and faultless is this: to look after orphans and widows in their distress and to keep oneself from being polluted by the world.

Zuiver en eerlijk geloof houdt voor God de Vader in: zorgen voor de weeskinderen en de weduwen die het moeilijk hebben, en niet langer meedoen met de slechte dingen die de ongelovige mensen doen.

Defend the weak and the fatherless; uphold the cause of the poor and the oppressed.

Ik wil dat jullie opkomen voor de arme mensen en de weeskinderen! Wees rechtvaardig voor hen!

Sing to God, sing in praise of his name, extol him who rides on the clouds; rejoice before him — his name is the L

ord

. A father to the fatherless, a defender of widows, is God in his holy dwelling.

Zing voor God, zing dankliederen voor Hem. Maak de weg vrij voor Hem die over de vlakten rijdt. Zijn naam is Heer. Juich blij voor Hem. Hij is een Vader voor de weeskinderen. Hij komt op voor de weduwen. Hij is God in zijn heilige huis.

The L

ord

watches over the foreigner and sustains the fatherless and the widow, but he frustrates the ways of the wicked.

Hij beschermt de vreemdelingen in het land. Hij zorgt voor de weeskinderen en de weduwen. Maar als mensen zich niets van Hem aantrekken, zorgt Hij ervoor dat er van hun plannen niets terecht komt.

This is what the L

ord

Almighty said: 'Administer true justice; show mercy and compassion to one another. Do not oppress the widow or the fatherless, the foreigner or the poor. Do not plot evil against each other.'

Dit zei de Heer in die tijd: 'Spreek eerlijk recht. Wees goed en vriendelijk voor elkaar. Wees niet slecht voor de weduwen en weeskinderen, voor de buitenlanders en de arme mensen. Denk geen kwaad van elkaar.'

Because I rescued the poor who cried for help, and the fatherless who had none to assist them. The one who was dying blessed me; I made the widow's heart sing.

Want ik hielp arme mensen die mij om hulp vroegen. Weeskinderen werden door mij geholpen. Ze waren me allemaal dankbaar. Arme weduwen waren blij met mij.

If you really change your ways and your actions and deal with each other justly, if you do not oppress the foreigner, the fatherless or the widow and do not shed innocent blood in this place, and if you do not follow other gods to your own harm, then I will let you live in this place, in the land I gave your ancestors for ever and ever.

Maar Ik zal jullie alleen redden als jullie je leven veranderen en ophouden met het doen van slechte dingen. Als jullie weer rechtvaardig rechtspreken. Als jullie vreemdelingen, weeskinderen en weduwen niet langer slecht behandelen. Als jullie geen onschuldige mensen meer doden. Als jullie stoppen met het aanbidden van andere goden, want dat doet jullie alleen maar kwaad! Dán zal Ik jullie in deze stad laten wonen en in het land dat Ik aan jullie voorouders gegeven heb. Dán zullen jullie hier voor altijd blijven wonen.
Guide me in your truth and teach me, for you are God my Savior, and my hope is in you all day long.
Personal Bible reading plan
Create an account to configure your Bible reading plan and you will see your progress and the next chapter to read here!
Read more...