Bible Verses about Pride
«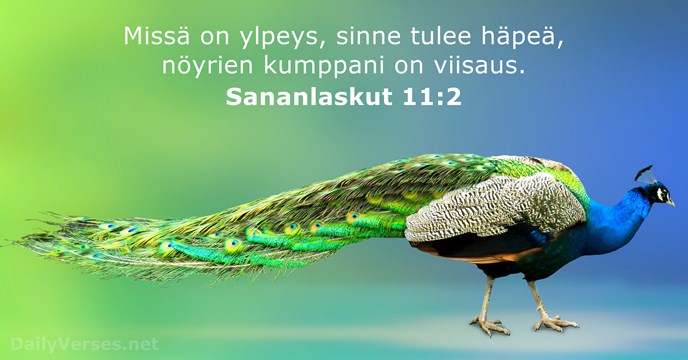 »
When pride comes, then comes disgrace, but with the humble is wisdom.

Missä on ylpeys, sinne tulee häpeä, nöyrien kumppani on viisaus.

The fear of the L

ord

is hatred of evil. Pride and arrogance and the way of evil and perverted speech I hate.

Joka Herraa pelkää, vihaa kaikkea pahaa. Ylpeyttä minä vihaan, kopeaa mieltä, pahoja tekoja ja vilpillistä puhetta.

Live in harmony with one another. Do not be haughty, but associate with the lowly. Never be wise in your own sight.

Olkaa keskenänne yksimielisiä. Älkää pitäkö itseänne muita parempina, vaan asettukaa vähäosaisten rinnalle. Älkää olko omasta mielestänne viisaita.

One's pride will bring him low, but he who is lowly in spirit will obtain honor.

Ylpeys vie nöyryytykseen, vaatimaton saa kunniaa.

"Let the one who boasts, boast in the Lord." For it is not the one who commends himself who is approved, but the one whom the Lord commends.

»Joka ylpeilee, ylpeilköön Herrasta.» Luotettava ei ole se, joka itse suosittelee itseään, vaan se, jota Herra suosittelee.

But the L

ord

said to Samuel, "Do not look on his appearance or on the height of his stature, because I have rejected him. For the L

ord

sees not as man sees: man looks on the outward appearance, but the L

ord

looks on the heart."

Mutta Herra sanoi Samuelille: »Älä katso hänen kokoaan ja komeuttaan, sillä minä en hänestä välitä. Herra ei katso kuten ihminen. Ihminen katsoo ulkokuorta, mutta Herra näkee sydämeen.»

Before destruction a man's heart is haughty, but humility comes before honor.

Ylpeys vie ihmisen perikatoon, kunnian tie käy nöyryyden kautta.

And he said, "What comes out of a person is what defiles him. For from within, out of the heart of man, come evil thoughts, sexual immorality, theft, murder, adultery, coveting, wickedness, deceit, sensuality, envy, slander, pride, foolishness. All these evil things come from within, and they defile a person."

Ja hän jatkoi: »Se mikä tulee ihmisestä ulos, se saastuttaa ihmisen. Juuri ihmisen sisältä, sydämestä, lähtevät pahat ajatukset, ja niiden mukana siveettömyys, varkaudet, murhat, aviorikokset, ahneus, häijyys, vilppi, irstaus, pahansuopuus, herjaus, ylpeys ja uhmamieli. Kaikki tämä paha tulee ihmisen sisältä ja saastuttaa hänet.»

For all that is in the world—the desires of the flesh and the desires of the eyes and pride of life—is not from the Father but is from the world.

Sillä mitä kaikkea maailmassa onkin, ruumiin halut, silmien pyyteet ja mahtaileva elämä, se kaikki on maailmasta, ei Isästä.

God chose what is low and despised in the world, even things that are not, to bring to nothing things that are, so that no human being might boast in the presence of God.

Mikä maailmassa on vähäpätöistä ja halveksittua, mikä ei ole yhtään mitään, sen Jumala valitsi tehdäkseen tyhjäksi sen, mikä on jotakin. Näin ei yksikään ihminen voi ylpeillä Jumalan edessä.

As for the rich in this present age, charge them not to be haughty, nor to set their hopes on the uncertainty of riches, but on God, who richly provides us with everything to enjoy.

Varoita niitä, jotka tässä maailmassa ovat rikkaita, etteivät he ylpeilisi eivätkä panisi toivoaan epävarmaan rikkauteen, vaan Jumalaan, joka antaa kaikkea runsain mitoin nautittavaksemme.

Let the lowly brother boast in his exaltation, and the rich in his humiliation, because like a flower of the grass he will pass away.

Olkoon alhainen veli ylpeä siitä, että on saanut korkean arvon, rikas siitä, että hänet on alennettu, sillä hän on katoava niin kuin kedon kukka.

Now I, Nebuchadnezzar, praise and extol and honor the King of heaven, for all his works are right and his ways are just; and those who walk in pride he is able to humble.

Nyt minä, Nebukadnessar, kiitän, ylistän ja kunnioitan Taivaan Kuningasta, jonka kaikki teot ovat oikeat ja kaikki tiet oikeudenmukaiset ja joka pystyy nöyryyttämään ne, jotka elävät ylpeyden vallassa.

If I give away all I have, and if I deliver up my body to be burned, but have not love, I gain nothing.

Vaikka jakaisin kaiken omaisuuteni nälkää näkeville ja vaikka antaisin polttaa itseni tulessa mutta minulta puuttuisi rakkaus, en sillä mitään voittaisi.
For we do not wrestle against flesh and blood, but against the rulers, against the authorities, against the cosmic powers over this present darkness, against the spiritual forces of evil in the heavenly places.
Personal Bible reading plan
Create an account to configure your Bible reading plan and you will see your progress and the next chapter to read here!
Read more...