Bible Verses about Pride
«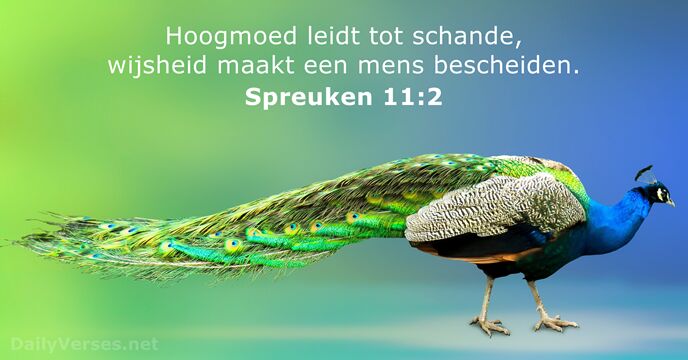 »
When pride comes, then comes disgrace, but with the humble is wisdom.

Hoogmoed leidt tot schande, wijsheid kenmerkt wie bescheiden is.

The fear of the L

ord

is hatred of evil. Pride and arrogance and the way of evil and perverted speech I hate.
Wie ontzag heeft voor de

HEER

haat het kwaad. Ik verafschuw trots en hoogmoed, leugens en het kwaad.

Live in harmony with one another. Do not be haughty, but associate with the lowly. Never be wise in your own sight.

Wees eensgezind; wees niet hoogmoedig, maar zet uzelf aan tot bescheidenheid. Ga niet af op uw eigen inzicht.

One's pride will bring him low, but he who is lowly in spirit will obtain honor.

De hoogmoed van een mens brengt hem ten val, eer is weggelegd voor wie bescheiden is.

But the L

ord

said to Samuel, "Do not look on his appearance or on the height of his stature, because I have rejected him. For the L

ord

sees not as man sees: man looks on the outward appearance, but the L

ord

looks on the heart."
Maar de

HEER

zei tegen Samuel: 'Ga niet af op zijn voorkomen en zijn rijzige gestalte. Ik heb hem afgewezen. Het gaat niet om wat de mens ziet: de mens kijkt naar het uiterlijk, maar de

HEER

kijkt naar het hart.'

"Let the one who boasts, boast in the Lord." For it is not the one who commends himself who is approved, but the one whom the Lord commends.

'Wil iemand zich op iets beroemen, laat hij zich op de Heer beroemen,' want niet wie zichzelf aanprijst is betrouwbaar, maar wie door de Heer wordt aangeprezen.

Before destruction a man's heart is haughty, but humility comes before honor.

Wie zichzelf in de hoogte steekt, komt ten val, bescheidenheid gaat aan eerbetoon vooraf.

And he said, "What comes out of a person is what defiles him. For from within, out of the heart of man, come evil thoughts, sexual immorality, theft, murder, adultery, coveting, wickedness, deceit, sensuality, envy, slander, pride, foolishness. All these evil things come from within, and they defile a person."

Hij zei: 'Wat uit de mens komt, dat maakt hem onrein. Want van binnenuit, uit het hart van de mensen, komen slechte gedachten, ontucht, diefstal, moord, overspel, hebzucht, kwaadaardigheid, bedrog, losbandigheid, afgunst, laster, hoogmoed, dwaasheid; al deze slechte dingen komen van binnenuit, en die maken de mens onrein.'

For all that is in the world—the desires of the flesh and the desires of the eyes and pride of life—is not from the Father but is from the world.

Want alles wat in de wereld is – zelfzuchtige begeerte, afgunstige inhaligheid, pronkzucht –, dat alles komt niet uit de Vader voort maar uit de wereld.

God chose what is low and despised in the world, even things that are not, to bring to nothing things that are, so that no human being might boast in the presence of God.

Wat in de ogen van de wereld onbeduidend is en wordt veracht, wat niets is, heeft God uitgekozen om wat wél iets is teniet te doen. Zo kan geen mens zich tegenover God op iets beroemen.

Now I, Nebuchadnezzar, praise and extol and honor the King of heaven, for all his works are right and his ways are just; and those who walk in pride he is able to humble.

Ik, Nebukadnessar, roem, verhef en verheerlijk nu de koning van de hemel. Al zijn daden zijn juist en zijn paden recht. Wie hoogmoedig zijn, kan hij vernederen.

As for the rich in this present age, charge them not to be haughty, nor to set their hopes on the uncertainty of riches, but on God, who richly provides us with everything to enjoy.

Draag de rijken van deze wereld op niet hoogmoedig te zijn en hun hoop niet in zoiets onzekers te stellen als rijkdom, maar op God, die ons rijkelijk van alles voorziet om ervan te genieten.

If I give away all I have, and if I deliver up my body to be burned, but have not love, I gain nothing.

Al verkocht ik mijn bezittingen omdat ik voedsel aan de armen wilde geven, al gaf ik mijn lichaam prijs en kon ik daar trots op zijn – had ik de liefde niet, het zou mij niet baten.

Let the lowly brother boast in his exaltation, and the rich in his humiliation, because like a flower of the grass he will pass away.

Laat de onaanzienlijke gelovige trots zijn op zijn hoge waarde, en de rijke op zijn nederige staat, want hij zal vergaan als een bloem in het veld.
Rejoice always, pray without ceasing, give thanks in all circumstances; for this is the will of God in Christ Jesus for you.
Why are you cast down, O my soul,
and why are you in turmoil within me?
Hope in God; for I shall again praise him,
my salvation and my God.
Random Verse
Random Picture
Read more
Rejoice always, pray without ceasing, give thanks in all circumstances; for this is the will of God in Christ Jesus for you.
Personal Bible reading plan
Create an account to configure your Bible reading plan and you will see your progress and the next chapter to read here!
Read more...