Bible Verses about Prophecy
«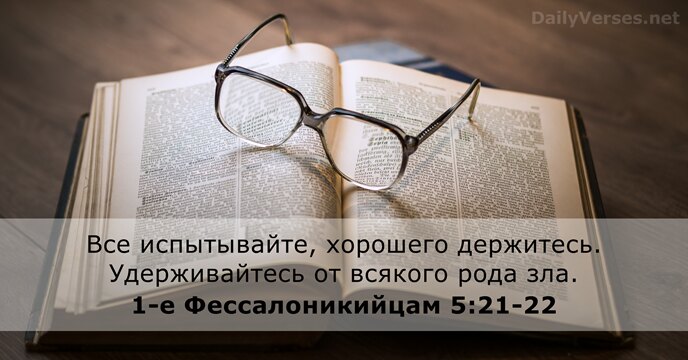 »
But test everything; hold fast what is good. Abstain from every form of evil.

Все испытывайте, хорошего держитесь. Удерживайтесь от всякого рода зла.

And if I have prophetic powers, and understand all mysteries and all knowledge, and if I have all faith, so as to remove mountains, but have not love, I am nothing.

Если имею дар пророчества, и знаю все тайны, и имею всякое познание и всю веру, так что могу и горы переставлять, а не имею любви, — то я ничто.

For no prophecy was ever produced by the will of man, but men spoke from God as they were carried along by the Holy Spirit.

Ибо никогда пророчество не было произносимо по воле человеческой, но изрекали его святые Божии человеки, будучи движимы Духом Святым.

Beloved, do not believe every spirit, but test the spirits to see whether they are from God, for many false prophets have gone out into the world.

Возлюбленные! не всякому духу верьте, но испытывайте духов, от Бога ли они, потому что много лжепророков появилось в мире.

For the Lord G

od

does nothing without revealing his secret to his servants the prophets.

Ибо Господь Бог ничего не делает, не открыв Своей тайны рабам Своим, пророкам.

Turn back, and say to Hezekiah the leader of my people, Thus says the L

ord

, the God of David your father: I have heard your prayer; I have seen your tears. Behold, I will heal you. On the third day you shall go up to the house of the L

ord

.

Возвратись и скажи Езекии, владыке народа Моего: так говорит Господь Бог Давида, отца твоего: Я услышал молитву твою, увидел слезы твои. Вот, Я исцелю тебя; в третий день пойдешь в дом Господень.

Beware of false prophets, who come to you in sheep's clothing but inwardly are ravenous wolves.

Берегитесь лжепророков, которые приходят к вам в овечьей одежде, а внутри суть волки хищные.

So whatever you wish that others would do to you, do also to them, for this is the Law and the Prophets.

Итак во всем, как хотите, чтобы с вами поступали люди, та́к поступайте и вы с ними, ибо в этом закон и пророки.

Little children, you are from God and have overcome them, for he who is in you is greater than he who is in the world.

Дети! вы от Бога, и победили их; ибо Тот, Кто в вас, больше того, кто в мире.

So then you are no longer strangers and aliens, but you are fellow citizens with the saints and members of the household of God, built on the foundation of the apostles and prophets, Christ Jesus himself being the cornerstone.

Итак вы уже не чужие и не пришельцы, но сограждане святым и свои Богу, быв утверждены на основании Апостолов и пророков, имея Самого Иисуса Христа краеугольным камнем.

On hearing this, they were baptized in the name of the Lord Jesus. And when Paul had laid his hands on them, the Holy Spirit came on them, and they began speaking in tongues and prophesying.

Услышав это, они крестились во имя Господа Иисуса, и, когда Павел возложил на них руки, нисшел на них Дух Святый, и они стали говорить иными языками и пророчествовать.

Therefore the Lord himself will give you a sign. Behold, the virgin shall conceive and bear a son, and shall call his name Immanuel.

Итак Сам Господь даст вам знамение: се, Дева во чреве приимет и родит Сына, и нарекут имя Ему: Еммануил.

But now the righteousness of God has been manifested apart from the law, although the Law and the Prophets bear witness to it— the righteousness of God through faith in Jesus Christ for all who believe. For there is no distinction.

Но ныне, независимо от закона, явилась правда Божия, о которой свидетельствуют закон и пророки, правда Божия через веру в Иисуса Христа во всех и на всех верующих, ибо нет различия.

Rejoice greatly, O daughter of Zion! Shout aloud, O daughter of Jerusalem! Behold, your king is coming to you; righteous and having salvation is he, humble and mounted on a donkey, on a colt, the foal of a donkey.

Ликуй от радости, дщерь Сиона, торжествуй, дщерь Иерусалима: се Царь твой грядет к тебе, праведный и спасающий, кроткий, сидящий на ослице и на молодом осле, сыне подъяремной.

All this took place to fulfill what the Lord had spoken by the prophet: "Behold, the virgin shall conceive and bear a son, and they shall call his name Immanuel" (which means, God with us).

А все сие произошло, да сбудется реченное Господом через пророка, который говорит: се, Дева во чреве приимет и родит Сына, и нарекут имя Ему Еммануил, что значит: с нами Бог.

Do not think that I have come to abolish the Law or the Prophets; I have not come to abolish them but to fulfill them.

Не думайте, что Я пришел нарушить закон или пророков: не нарушить пришел Я, но исполнить.

But you, O Bethlehem Ephrathah, who are too little to be among the clans of Judah, from you shall come forth for me one who is to be ruler in Israel, whose coming forth is from of old, from ancient days.

И ты, Вифлеем-Ефрафа, мал ли ты между тысячами Иудиными? из тебя произойдет Мне Тот, Который должен быть Владыкою в Израиле и Которого происхождение из начала, от дней вечных.

And if you say in your heart, 'How may we know the word that the L

ord

has not spoken?'— when a prophet speaks in the name of the L

ord

, if the word does not come to pass or come true, that is a word that the L

ord

has not spoken; the prophet has spoken it presumptuously. You need not be afraid of him.

И если скажешь в сердце твоем: «как мы узнаем слово, которое не Господь говорил?» Если пророк скажет именем Господа, но слово то не сбудется и не исполнится, то не Господь говорил сие слово, но говорил сие пророк по дерзости своей, — не бойся его.
My times are in your hand; rescue me from the hand of my enemies and from my persecutors!
Personal Bible reading plan
Create an account to configure your Bible reading plan and you will see your progress and the next chapter to read here!
Read more...