Bible Verses about Prophecy
«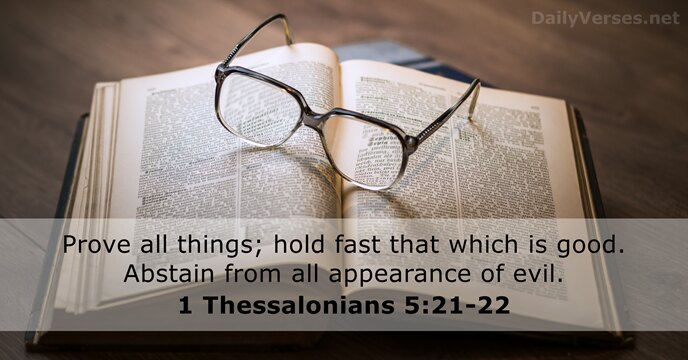 »
Prove all things; hold fast that which is good. Abstain from all appearance of evil.

Onderzoek alle dingen, en kijk of iets goed of slecht is. Ga dan verder met het goede, en houd je niet bezig met het slechte.

And though I have the gift of prophecy, and understand all mysteries, and all knowledge; and though I have all faith, so that I could remove mountains, and have not charity, I am nothing.

Als je geen liefde hebt voor anderen, beteken je niets. Zelfs al laat God je zijn boodschap bekendmaken en krijg je van hem al zijn geheime kennis. En zelfs al heb je zo'n groot geloof dat je bergen kunt verplaatsen.

For the prophecy came not in old time by the will of man: but holy men of God spake as they were moved by the Holy Ghost.

En bedenk: niemand kan de heilige boeken uitleggen zonder hulp van God. Want de woorden die daarin staan, komen van God. De profeten hebben hun woorden niet zelf bedacht. De heilige Geest liet hen spreken namens God zelf.

Beloved, believe not every spirit, but try the spirits whether they are of God: because many false prophets are gone out into the world.

Lieve vrienden, geloof niet zomaar iedereen. Onderzoek eerst of iemand door de Geest van God geleid wordt. Want er zijn veel valse profeten in de wereld.

Surely the Lord G

od

will do nothing, but he revealeth his secret unto his servants the prophets.

Zo is het met alles wat God, de Heer, doet: hij doet niets zomaar, zonder een plan. Dat plan heeft hij bekendgemaakt aan zijn profeten.

Turn again, and tell Hezekiah the captain of my people, Thus saith the L

ord

, the God of David thy father, I have heard thy prayer, I have seen thy tears: behold, I will heal thee: on the third day thou shalt go up unto the house of the L

ord

.

Jesaja wilde weggaan. Maar al voordat hij het paleis uit was, stuurde de Heer hem terug naar Hizkia, met deze boodschap: 'Hizkia, jij bent de koning van mijn volk. Ik ben de Heer, de God van je voorvader David. Ik heb je gebed gehoord en ik heb je tranen gezien. Ik zal zorgen dat je beter wordt. Over twee dagen zul je weer naar mijn tempel kunnen gaan.'

Beware of false prophets, which come to you in sheep's clothing, but inwardly they are ravening wolves.

Pas op voor valse profeten. Ze lijken goed, maar ze zijn slecht. Ze lijken zo onschuldig als schapen, maar ze zijn zo gevaarlijk als wolven.

Therefore all things whatsoever ye would that men should do to you, do ye even so to them: for this is the law and the prophets.

Behandel andere mensen net zoals je zelf behandeld wilt worden. Daar gaat het om in de wet en in de andere heilige boeken.

Ye are of God, little children, and have overcome them: because greater is he that is in you, than he that is in the world.

Vrienden, jullie horen bij God. Jullie hebben de valse profeten overwonnen dankzij Gods Geest, die in jullie is. Want de Geest die in jullie is, is machtiger dan de kwade geest die in de slechte mensen van deze wereld is.

Now therefore ye are no more strangers and foreigners, but fellowcitizens with the saints, and of the household of God; And are built upon the foundation of the apostles and prophets, Jesus Christ himself being the chief corner stone.

Vroeger waren jullie vreemdelingen, en hoorden jullie niet bij het volk van God. Maar dat is veranderd. Jullie horen er nu wel bij. Jullie zijn Gods kinderen, samen met de andere christenen. Alle christenen samen vormen een eenheid: de heilige kerk van Christus. Je kunt het vergelijken met een gebouw. Het fundament van het gebouw is dan de boodschap van de apostelen en de profeten. Jullie zijn de stenen in de muren. En de belangrijkste steen, die het hele gebouw op zijn plaats houdt, dat is Jezus Christus.

When they heard this, they were baptized in the name of the Lord Jesus. And when Paul had laid his hands upon them, the Holy Ghost came on them; and they spake with tongues, and prophesied.

Toen de gelovigen dat hoorden, lieten ze zich dopen in de naam van de Heer Jezus. Daarna legde Paulus zijn handen op hun hoofd, en zo kregen ze de heilige Geest. Die zorgde ervoor dat ze in verschillende talen gingen spreken. In al die talen vertelden ze over de plannen van God.

Therefore the Lord himself shall give you a sign; Behold, a virgin shall conceive, and bear a son, and shall call his name Immanuel.

De Heer zelf zal u een teken geven. Een jonge vrouw zal zwanger worden en ze zal een zoon krijgen. Ze zal haar kind Immanuel noemen.

But now the righteousness of God without the law is manifested, being witnessed by the law and the prophets; Even the righteousness of God which is by faith of Jesus Christ unto all and upon all them that believe: for there is no difference.

Maar God wil de mensen redden. Dat wordt al verteld in de heilige boeken. En nu mag het aan iedereen bekendgemaakt worden: Mensen worden gered, niet doordat ze zich aan de wet houden, maar doordat ze geloven. Want God redt iedereen die gelooft in Jezus Christus. God maakt geen verschil tussen Joden en niet-Joden.

Rejoice greatly, O daughter of Zion; shout, O daughter of Jerusalem: behold, thy King cometh unto thee: he is just, and having salvation; lowly, and riding upon an ass, and upon a colt the foal of an ass.

Dit zegt de Heer: 'Op de berg Sion moet iedereen juichen! In Jeruzalem moet iedereen vrolijk zijn! Want jullie koning komt eraan. Hij is rechtvaardig, en hij overwint zijn vijanden. Hij is vriendelijk. En hij rijdt op een ezel, op een jonge ezel.'

Now all this was done, that it might be fulfilled which was spoken of the Lord by the prophet, saying, Behold, a virgin shall be with child, and shall bring forth a son, and they shall call his name Emmanuel, which being interpreted is, God with us.

Dat moest allemaal zo gebeuren, want in het boek van de profeet Jesaja staan deze woorden van God: «Een jonge vrouw die nog maagd is, zal zwanger worden. Ze zal een zoon krijgen, en hij zal Immanuel genoemd worden.» De naam Immanuel betekent: God is bij ons.

Think not that I am come to destroy the law, or the prophets: I am not come to destroy, but to fulfil.

Jezus zei: 'Jullie moeten goed weten met welk doel ik gekomen ben. Ik ben niet gekomen om de wet van Mozes of de andere heilige boeken weg te doen. Ik ben juist gekomen om hun echte betekenis te laten zien.'

But thou, Bethlehem Ephratah, though thou be little among the thousands of Judah, yet out of thee shall he come forth unto me that is to be ruler in Israel; whose goings forth have been from of old, from everlasting.

De Heer zegt: 'Luister, Betlehem in Efrata. Jij bent één van de kleinste steden van Juda. Toch zal er uit Betlehem iemand komen die namens mij leider zal zijn van Israël. Hij zal afstammen van een heel oude familie.'

And if thou say in thine heart, How shall we know the word which the L

ord

hath not spoken? When a prophet speaketh in the name of the L

ord

, if the thing follow not, nor come to pass, that is the thing which the L

ord

hath not spoken, but the prophet hath spoken it presumptuously: thou shalt not be afraid of him.

Misschien denken jullie: Hoe weten we of een profeet namens de Heer spreekt? Dat weet je als de woorden van een profeet ook echt uitkomen. Als dat niet gebeurt, dan weet je dat de profeet niet namens de Heer gesproken heeft. Voor de boodschap van zo'n profeet hoef je niet bang te zijn.
He that covereth a transgression seeketh love; but he that repeateth a matter separateth very friends.
Personal Bible reading plan
Create an account to configure your Bible reading plan and you will see your progress and the next chapter to read here!
Read more...