Bible Verses about Prophecy
«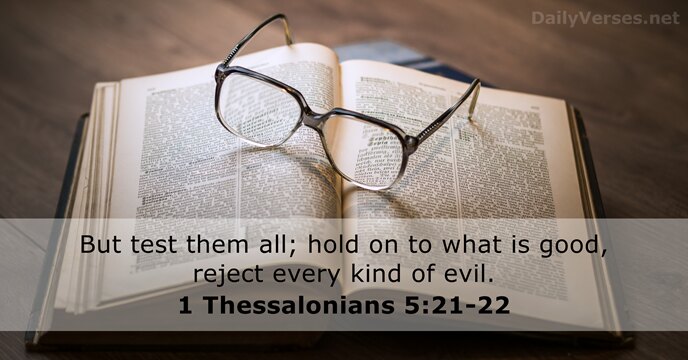 »
But test them all; hold on to what is good, reject every kind of evil.

Prüft aber alles und behaltet das Gute! Meidet das Böse in jeder Gestalt!

If I have the gift of prophecy and can fathom all mysteries and all knowledge, and if I have a faith that can move mountains, but do not have love, I am nothing.

Und wenn ich weissagen könnte und alle Geheimnisse wüsste; wenn ich jede Erkenntnis besäße und einen Glauben, der Berge versetzt, aber keine Liebe hätte, wäre ich nichts.

For prophecy never had its origin in the human will, but prophets, though human, spoke from God as they were carried along by the Holy Spirit.

Denn niemals wurde eine Weissagung ausgesprochen, weil der betreffende Mensch das wollte. Diese Menschen wurden vielmehr vom Heiligen Geist gedrängt, das zu sagen, was Gott ihnen aufgetragen hatte.

Dear friends, do not believe every spirit, but test the spirits to see whether they are from God, because many false prophets have gone out into the world.

Ihr Lieben, glaubt nicht jedem, der behauptet, er sei mit Gottes Geist erfüllt, sondern prüft, ob er wirklich von Gott kommt. Denn überall sind falsche Propheten unterwegs.

Surely the Sovereign L

ord

does nothing without revealing his plan to his servants the prophets.

Denn Jahwe, der Herr, tut nichts, ohne seinen Dienern, den Propheten, das Geheimnis zu enthüllen.

Go back and tell Hezekiah, the ruler of my people, 'This is what the L

ord

, the God of your father David, says: I have heard your prayer and seen your tears; I will heal you. On the third day from now you will go up to the temple of the L

ord

.'

Kehr um und sag zu Hiskija, dem Fürsten meines Volkes: 'Jahwe, der Gott deines Vorfahren David, lässt dir sagen: Ich habe dein Gebet gehört und deine Tränen gesehen. Ich werde dich gesund machen. Übermorgen kannst du wieder ins Haus Jahwes gehen.'

Watch out for false prophets. They come to you in sheep's clothing, but inwardly they are ferocious wolves.

Hütet euch vor den falschen Propheten! Sie sehen aus wie sanfte Schafe, in Wirklichkeit aber sind sie reißende Wölfe.

So in everything, do to others what you would have them do to you, for this sums up the Law and the Prophets.

Alles, was ihr von anderen erwartet, das tut auch für sie! Das ist es, was das Gesetz und die Propheten fordern.

You, dear children, are from God and have overcome them, because the one who is in you is greater than the one who is in the world.

Ihr gehört zu Gott, liebe Kinder, und habt diese Lügenpropheten besiegt, weil der, der in euch lebt, stärker ist als der in der Welt.

Consequently, you are no longer foreigners and strangers, but fellow citizens with God's people and also members of his household, built on the foundation of the apostles and prophets, with Christ Jesus himself as the chief cornerstone.

So seid ihr also keine Fremden mehr, geduldete Ausländer, sondern ihr seid Mitbürger der Heiligen und gehört zur Familie Gottes. Ihr seid auf dem Fundament der Apostel und Propheten aufgebaut, in dem Jesus Christus selbst der Eckstein ist.

On hearing this, they were baptized in the name of the Lord Jesus. When Paul placed his hands on them, the Holy Spirit came on them, and they spoke in tongues and prophesied.

Als sie das hörten, ließen sie sich auf den Namen von Jesus, dem Herrn, taufen. Und als Paulus ihnen die Hände aufgelegt hatte, kam der Heilige Geist auf sie. Da lobten sie Gott in fremden Sprachen und redeten, was er ihnen eingab.

Therefore the Lord himself will give you a sign: The virgin will conceive and give birth to a son, and will call him Immanuel.

Deshalb wird euch der Herr selbst ein Zeichen geben. Seht, die unberührte junge Frau wird schwanger werden und einen Sohn zur Welt bringen, den sie Immanuël, Gott-mit-uns, nennt.

But now apart from the law the righteousness of God has been made known, to which the Law and the Prophets testify. This righteousness is given through faith in Jesus Christ to all who believe. There is no difference between Jew and Gentile.

Doch jetzt ist die Gerechtigkeit Gottes unabhängig vom Gesetz sichtbar geworden. Und das wird vom Gesetz und den Worten der Propheten bestätigt. Es ist die Gerechtigkeit Gottes, die durch den Glauben an Jesus Christus geschenkt wird und allen zugutekommt, die glauben. Da gibt es keinen Unterschied.

Rejoice greatly, Daughter Zion! Shout, Daughter Jerusalem! See, your king comes to you, righteous and victorious, lowly and riding on a donkey, on a colt, the foal of a donkey.

Freue dich, du Zionsstadt! Jubelt laut, ihr Leute von Jerusalem! Seht, euer König kommt zu euch! Er ist gerecht vor Gott, und er bringt die Rettung. Er ist demütig und reitet auf einem Fohlen, dem männlichen Jungtier einer Eselin.

All this took place to fulfill what the Lord had said through the prophet: "The virgin will conceive and give birth to a son, and they will call him Immanuel" (which means "God with us").

Das alles ist geschehen, damit in Erfüllung geht, was der Herr durch den Propheten angekündigt hat: 'Seht, das unberührte Mädchen wird schwanger sein und einen Sohn zur Welt bringen, den man Immanuël nennen wird.' Immanuël bedeutet: Gott ist mit uns.

Do not think that I have come to abolish the Law or the Prophets; I have not come to abolish them but to fulfill them.

Denkt nicht, dass ich gekommen bin, um das Gesetz oder die Propheten außer Kraft zu setzen. Ich bin nicht gekommen, ihre Forderungen abzuschaffen, sondern um sie zu erfüllen.

But you, Bethlehem Ephrathah, though you are small among the clans of Judah, out of you will come for me one who will be ruler over Israel, whose origins are from of old, from ancient times.

Doch du Bethlehem in Efrata, so klein unter den Hauptorten Judas: Aus dir soll der hervorgehen, der mein Herrscher über Israel wird! Sein Ursprung liegt in der Vorzeit, sein Anfang in der Ewigkeit.
Not to us, Lord, not to us but to your name be the glory, because of your love and faithfulness.
Personal Bible reading plan
Create an account to configure your Bible reading plan and you will see your progress and the next chapter to read here!
Read more...