Bible Verses about Prophecy
«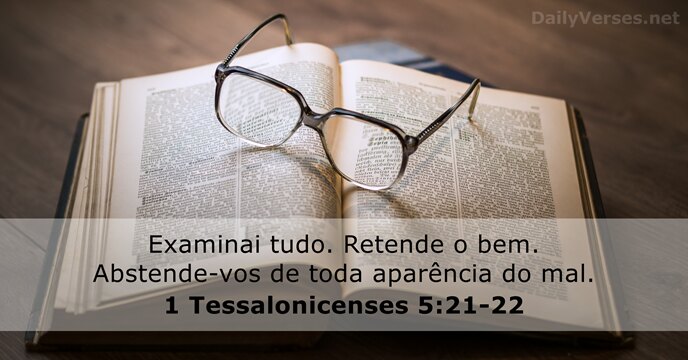 »
Test all things; hold fast what is good. Abstain from every form of evil.

Examinai tudo. Retende o bem. Abstende-vos de toda aparência do mal.

And though I have the gift of prophecy, and understand all mysteries and all knowledge, and though I have all faith, so that I could remove mountains, but have not love, I am nothing.
E ainda que tivesse o dom de profecia, e conhecesse todos os mistérios e toda a ciência, e ainda que tivesse toda a fé, de maneira tal que transportasse os montes, e não tivesse amor, nada seria.
For prophecy never came by the will of man, but holy men of God spoke as they were moved by the Holy Spirit.

Porque a profecia nunca foi produzida por vontade de homem algum, mas os homens santos de Deus falaram inspirados pelo Espírito Santo.

Beloved, do not believe every spirit, but test the spirits, whether they are of God; because many false prophets have gone out into the world.

Amados, não creiais em todo espírito, mas provai se os espíritos são de Deus, porque já muitos falsos profetas se têm levantado no mundo.
Surely the Lord G

od

does nothing, Unless He reveals His secret to His servants the prophets.
Certamente o Senhor J

eová

não fará coisa alguma, sem ter revelado o seu segredo aos seus servos, os profetas.
Return and tell Hezekiah the leader of My people, 'Thus says the L

ord

, the God of David your father: "I have heard your prayer, I have seen your tears; surely I will heal you. On the third day you shall go up to the house of the L

ord

."'
Volta e dize a Ezequias, chefe do meu povo: Assim diz o S

enhor

, Deus de Davi, teu pai: Ouvi a tua oração e vi as tuas lágrimas; eis que eu te sararei; ao terceiro dia subirás à Casa do S

enhor

.

Beware of false prophets, who come to you in sheep's clothing, but inwardly they are ravenous wolves.

Acautelai-vos, porém, dos falsos profetas, que vêm até vós vestidos como ovelhas, mas interiormente são lobos devoradores.

Therefore, whatever you want men to do to you, do also to them, for this is the Law and the Prophets.

Portanto, tudo o que vós quereis que os homens vos façam, fazei-lho também vós, porque esta é a lei e os profetas.

You are of God, little children, and have overcome them, because He who is in you is greater than he who is in the world.

Filhinhos, sois de Deus e já os tendes vencido, porque maior é o que está em vós do que o que está no mundo.
When they heard this, they were baptized in the name of the Lord Jesus. And when Paul had laid hands on them, the Holy Spirit came upon them, and they spoke with tongues and prophesied.

E os que ouviram foram batizados em nome do Senhor Jesus. E, impondo-lhes Paulo as mãos, veio sobre eles o Espírito Santo; e falavam línguas e profetizavam.

Now, therefore, you are no longer strangers and foreigners, but fellow citizens with the saints and members of the household of God, having been built on the foundation of the apostles and prophets, Jesus Christ Himself being the chief cornerstone.

Assim que já não sois estrangeiros, nem forasteiros, mas concidadãos dos Santos e da família de Deus; edificados sobre o fundamento dos apóstolos e dos profetas, de que Jesus Cristo é a principal pedra da esquina.

Therefore the Lord Himself will give you a sign: Behold, the virgin shall conceive and bear a Son, and shall call His name Immanuel.

Portanto, o mesmo Senhor vos dará um sinal: eis que uma virgem conceberá, e dará à luz um filho, e será o seu nome Emanuel.

But now the righteousness of God apart from the law is revealed, being witnessed by the Law and the Prophets, even the righteousness of God, through faith in Jesus Christ, to all and on all who believe. For there is no difference.

Mas, agora, se manifestou, sem a lei, a justiça de Deus, tendo o testemunho da Lei e dos Profetas, isto é, a justiça de Deus pela fé em Jesus Cristo para todos e sobre todos os que creem; porque não há diferença.

Rejoice greatly, O daughter of Zion! Shout, O daughter of Jerusalem! Behold, your King is coming to you; He is just and having salvation, Lowly and riding on a donkey, A colt, the foal of a donkey.

Alegra-te muito, ó filha de Sião; exulta, ó filha de Jerusalém; eis que o teu rei virá a ti, justo e Salvador, pobre e montado sobre um jumento, sobre um asninho, filho de jumenta.

So all this was done that it might be fulfilled which was spoken by the Lord through the prophet, saying: "Behold, the virgin shall be with child, and bear a Son, and they shall call His name Immanuel," which is translated, "God with us."

Tudo isso aconteceu para que se cumprisse o que foi dito da parte do Senhor pelo profeta, que diz: Eis que a virgem conceberá e dará à luz um filho, e ele será chamado pelo nome de Emanuel. (Emanuel traduzido é: Deus conosco).
And if you say in your heart, 'How shall we know the word which the L

ord

has not spoken?'— when a prophet speaks in the name of the L

ord

, if the thing does not happen or come to pass, that is the thing which the L

ord

has not spoken; the prophet has spoken it presumptuously; you shall not be afraid of him.
E se disseres no teu coração: Como conheceremos a palavra que o S

enhor

não falou? Quando o tal profeta falar em nome do S

enhor

, e tal palavra se não cumprir, nem suceder assim, esta é palavra que o S

enhor

não falou; com soberba a falou o tal profeta; não tenhas temor dele.

Do not think that I came to destroy the Law or the Prophets. I did not come to destroy but to fulfill.

Não cuideis que vim destruir a lei ou os profetas; não vim ab-rogar, mas cumprir.
But you, Bethlehem Ephrathah, Though you are little among the thousands of Judah, Yet out of you shall come forth to Me The One to be Ruler in Israel, Whose goings forth are from of old, From everlasting.

E tu, Belém Efrata, posto que pequena entre milhares de Judá, de ti me sairá o que será Senhor em Israel, e cujas origens são desde os tempos antigos, desde os dias da eternidade.
Let everything that has breath praise the Lord. Praise the Lord!
Personal Bible reading plan
Create an account to configure your Bible reading plan and you will see your progress and the next chapter to read here!
Read more...