«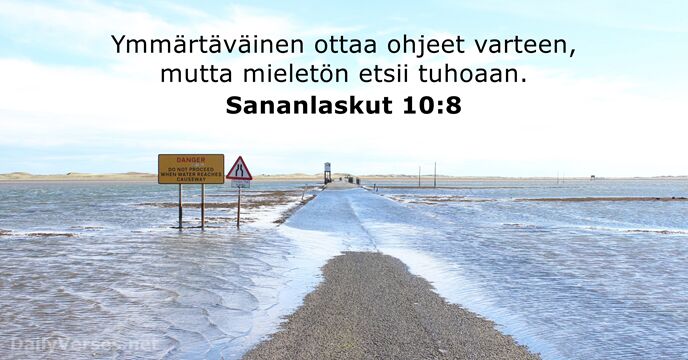 »
A wise son makes a glad father, But a foolish son is the grief of his mother.

Viisas poika on isänsä ilo, tyhmä poika on äitinsä murhe.

Treasures of wickedness profit nothing, But righteousness delivers from death.

Väärintekijää eivät hänen aarteensa auta, mutta oikeamielisyys pelastaa kuolemasta.

Blessings are on the head of the righteous, But violence covers the mouth of the wicked.

Hurskaalla on päänsä päällä siunaus, jumalattoman suussa piilee väkivalta.

The memory of the righteous is blessed, But the name of the wicked will rot.

Vanhurskaan muistoa siunataan, jumalattoman nimikin maatuu.

The wise in heart will receive commands, But a prating fool will fall.

Ymmärtäväinen ottaa ohjeet varteen, mutta mieletön etsii tuhoaan.

He who walks with integrity walks securely, But he who perverts his ways will become known.

Turvassa kulkee, joka vilpittä kulkee, joka poikkeaa polulta, ei salassa pysy.

Hatred stirs up strife, But love covers all sins.

Viha ajaa ihmiset toisiaan vastaan, rakkaus peittää paljotkin rikkomukset.

He who keeps instruction is in the way of life, But he who refuses correction goes astray.

Joka taipuu kuriin, vaeltaa elämän tietä, nuhteista piittaamaton kulkee harhaan.

Whoever hides hatred has lying lips, And whoever spreads slander is a fool.

Joka vihansa salaa, se valheita puhuu, hullu se, joka panettelee ja parjaa.

In the multitude of words sin is not lacking, But he who restrains his lips is wise.

Paljossa puheessa vaanii synti, viisas se, joka kielensä hillitsee.

The tongue of the righteous is choice silver; The heart of the wicked is worth little.

Hurskaan puhe on puhtainta hopeaa, jumalattoman ajatus ei paljoa paina.

The blessing of the L

ord

makes one rich, And He adds no sorrow with it.

Herran siunaus menestyksen antaa, omin voimin sitä ei lisätä.

The hope of the righteous will be gladness, But the expectation of the wicked will perish.

Hurskaan odotus johtaa iloon, jumalattoman toivo pettää.

The way of the L

ord

is strength for the upright, But destruction will come to the workers of iniquity.

Herra on viattoman vahva linna, mutta väärintekijän hän murskaa.

The lips of the righteous know what is acceptable, But the mouth of the wicked what is perverse.

Hurskaan sanat ovat rakkauden sanoja, jumalattoman puhe valhetta ja vimmaa.
Anxiety in the heart of man causes depression, But a good word makes it glad.
Personal Bible reading plan
Create an account to configure your Bible reading plan and you will see your progress and the next chapter to read here!
Read more...