Read this Bible chapter online, click
here
to read.
Bible Verses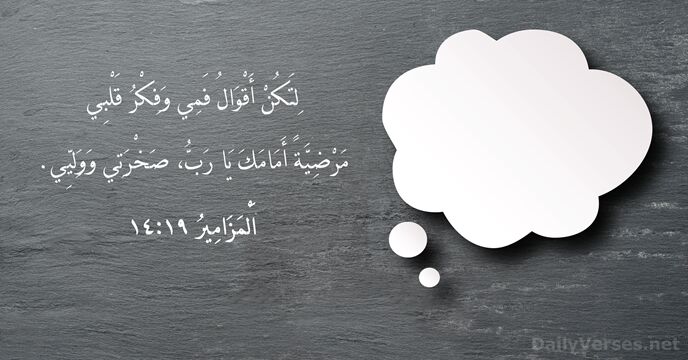 The heavens declare the glory of God, and the sky above proclaims his handiwork. Day to day pours out speech, and night to night reveals knowledge.
اَلسَّمَاوَاتُ تُحَدِّثُ بِمَجْدِ ٱللهِ، وَٱلْفَلَكُ يُخْبِرُ بِعَمَلِ يَدَيْهِ. يَوْمٌ إِلَى يَوْمٍ يُذِيعُ كَلَامًا، وَلَيْلٌ إِلَى لَيْلٍ يُبْدِي عِلْمًا.
The law of the L

ord

is perfect, reviving the soul; the testimony of the L

ord

is sure, making wise the simple.
نَامُوسُ ٱلرَّبِّ كَامِلٌ يَرُدُّ ٱلنَّفْسَ. شَهَادَاتُ ٱلرَّبِّ صَادِقَةٌ تُصَيِّرُ ٱلْجَاهِلَ حَكِيمًا.
Let the words of my mouth and the meditation of my heart be acceptable in your sight, O L

ord

, my rock and my redeemer.
لِتَكُنْ أَقْوَالُ فَمِي وَفِكْرُ قَلْبِي مَرْضِيَّةً أَمَامَكَ يَا رَبُّ، صَخْرَتِي وَوَلِيِّي.
Receive the Daily Bible Verse:
Know that wisdom is such to your soul; if you find it, there will be a future, and your hope will not be cut off.
Create an account to configure your Bible read plan and you will see your progress and the next chapter to read here!
Read more...