Bible Verses about Punishment
«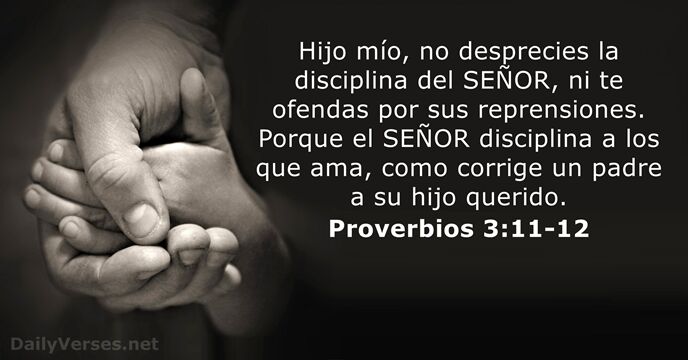 »
My son, do not despise the L

ord

's discipline or be weary of his reproof, for the L

ord

reproves him whom he loves, as a father the son in whom he delights.
Hijo mío, no desprecies la disciplina del S

eñor

, ni te ofendas por sus reprensiones. Porque el S

eñor

disciplina a los que ama, como corrige un padre a su hijo querido.

The prudent sees danger and hides himself, but the simple go on and suffer for it.

El prudente ve el peligro y lo evita; el inexperto sigue adelante y sufre las consecuencias.

Those whom I love, I reprove and discipline, so be zealous and repent.

Yo reprendo y disciplino a todos los que amo. Por lo tanto, sé fervoroso y arrepiéntete.

For all who have sinned without the law will also perish without the law, and all who have sinned under the law will be judged by the law.

Todos los que han pecado sin conocer la ley también perecerán sin la ley; y todos los que han pecado conociendo la ley por la ley serán juzgados.

For the moment all discipline seems painful rather than pleasant, but later it yields the peaceful fruit of righteousness to those who have been trained by it.

Ciertamente, ninguna disciplina, en el momento de recibirla, parece agradable, sino más bien penosa; sin embargo, después produce una cosecha de justicia y paz para quienes han sido entrenados por ella.

If anyone sins, doing any of the things that by the L

ord

's commandments ought not to be done, though he did not know it, then realizes his guilt, he shall bear his iniquity.
Si alguien peca inadvertidamente e incurre en algo que los mandamientos del S

eñor

prohíben, es culpable y sufrirá las consecuencias de su pecado.

But the one who did not know, and did what deserved a beating, will receive a light beating. Everyone to whom much was given, of him much will be required, and from him to whom they entrusted much, they will demand the more.

En cambio, el que no la conoce y hace algo que merezca castigo recibirá pocos golpes. A todo el que se le ha dado mucho, se le exigirá mucho; y al que se le ha confiado mucho, se le pedirá aún más.

There is no fear in love, but perfect love casts out fear. For fear has to do with punishment, and whoever fears has not been perfected in love.

Sino que el amor perfecto echa fuera el temor. El que teme espera el castigo, así que no ha sido perfeccionado en el amor.

Repent and turn from all your transgressions, lest iniquity be your ruin.

Arrepiéntanse y apártense de todas sus maldades, para que el pecado no les acarree la ruina.

Whoever believes and is baptized will be saved, but whoever does not believe will be condemned.

El que crea y sea bautizado será salvo, pero el que no crea será condenado.

Behold, blessed is the one whom God reproves; therefore despise not the discipline of the Almighty.

¡Cuán dichoso es el hombre a quien Dios corrige! No menosprecies la disciplina del Todopoderoso.

You shall not take the name of the L

ord

your God in vain, for the L

ord

will not hold him guiltless who takes his name in vain.
No uses el nombre del S

eñor

tu Dios en falso. Yo, el S

eñor

, no tendré por inocente a quien se atreva a usar mi nombre en falso.

But above all, my brothers, do not swear, either by heaven or by earth or by any other oath, but let your "yes" be yes and your "no" be no, so that you may not fall under condemnation.

Sobre todo, hermanos míos, no juren ni por el cielo ni por la tierra ni por ninguna otra cosa. Que su «sí» sea «sí», y su «no», «no», para que no sean condenados.

Know then in your heart that, as a man disciplines his son, the L

ord

your God disciplines you.
Reconoce en tu corazón que, así como un padre disciplina a su hijo, también el S

eñor

tu Dios te disciplina a ti.

Whoever walks with the wise becomes wise, but the companion of fools will suffer harm.

El que con sabios anda, sabio se vuelve; el que con necios se junta, saldrá mal parado.

There is therefore now no condemnation for those who are in Christ Jesus. For the law of the Spirit of life has set you free in Christ Jesus from the law of sin and death.

Por lo tanto, ya no hay ninguna condenación para los que están unidos a Cristo Jesús, pues por medio de él la ley del Espíritu de vida me ha liberado de la ley del pecado y de la muerte.

Preach the word; be ready in season and out of season; reprove, rebuke, and exhort, with complete patience and teaching.

Predica la Palabra; persiste en hacerlo, sea o no sea oportuno; corrige, reprende y anima con mucha paciencia, sin dejar de enseñar.

No, I tell you; but unless you repent, you will all likewise perish.

¡Les digo que no! De la misma manera, todos ustedes perecerán, a menos que se arrepientan.

God settles the solitary in a home; he leads out the prisoners to prosperity, but the rebellious dwell in a parched land.

Dios da un hogar a los desamparados y libertad a los cautivos; los rebeldes habitarán en el desierto.

Then the Lord knows how to rescue the godly from trials, and to keep the unrighteous under punishment until the day of judgment.

Todo esto demuestra que el Señor sabe librar de la prueba a los que viven como Dios quiere, y reservar a los impíos para castigarlos en el día del juicio.

But the free gift is not like the trespass. For if many died through one man's trespass, much more have the grace of God and the free gift by the grace of that one man Jesus Christ abounded for many.

Pero la transgresión de Adán no puede compararse con la gracia de Dios. Pues, si por la transgresión de un solo hombre murieron todos, ¡cuánto más el don que vino por la gracia de un solo hombre, Jesucristo, abundó para todos!

The L

ord

watches over the sojourners; he upholds the widow and the fatherless, but the way of the wicked he brings to ruin.
El S

eñor

protege al extranjero y sostiene al huérfano y a la viuda, pero frustra los planes de los impíos.

Riches do not profit in the day of wrath, but righteousness delivers from death.

En el día de la ira de nada sirve ser rico, pero la justicia libra de la muerte.

Therefore I tell you, every sin and blasphemy will be forgiven people, but the blasphemy against the Spirit will not be forgiven.

Por eso les digo que a todos se les podrá perdonar todo pecado y toda blasfemia, pero la blasfemia contra el Espíritu no se le perdonará a nadie.
For if the readiness is there, it is acceptable according to what a person has, not according to what he does not have.
Personal Bible reading plan
Create an account to configure your Bible reading plan and you will see your progress and the next chapter to read here!
Read more...