Bible Verses about Punishment
«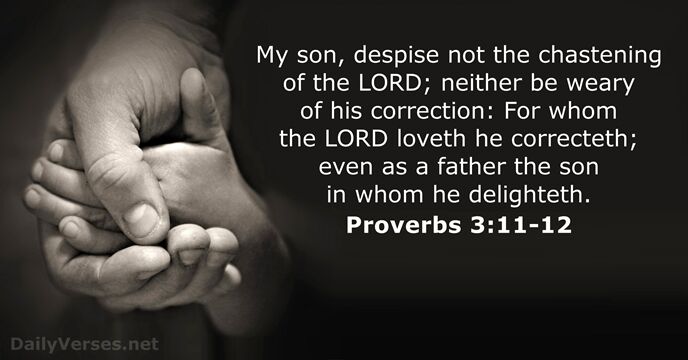 »
My son, despise not the chastening of the L

ord

; neither be weary of his correction: For whom the L

ord

loveth he correcteth; even as a father the son in whom he delighteth.

Gehoorzaam de Heer als Hij je opvoedt. Verzet je niet als Hij je bestraft. Want de Heer bestraft de mensen van wie Hij houdt. Ja, Hij bestraft je zoals een vader zijn zoon bestraft, omdat hij van hem houdt.

A prudent man foreseeth the evil, and hideth himself; but the simple pass on, and are punished.

Een verstandig mens ziet moeilijkheden aankomen en zorgt dat hij in veiligheid komt. Maar slechte mensen gaan maar door en worden gestraft.

As many as I love, I rebuke and chasten: be zealous therefore, and repent.

De mensen van wie Ik houd, voed Ik ook streng op. Wees dus ijverig en ga weer leven zoals Ik het wil.

For as many as have sinned without law shall also perish without law: and as many as have sinned in the law shall be judged by the law.

De niet-Joodse volken kennen de wet niet. Daarom zullen zij zonder deze wet veroordeeld worden als ze slechte dingen doen. De Joden kennen de wet wel. Daarom zullen zij volgens deze wet veroordeeld worden als ze slechte dingen doen.

Now no chastening for the present seemeth to be joyous, but grievous: nevertheless afterward it yieldeth the peaceable fruit of righteousness unto them which are exercised thereby.

Als Hij ons bestraft, is dat op het moment zelf niet fijn, maar pijnlijk. Maar uiteindelijk levert het iets goeds op. Want als we aan de opvoeding van onze Vader gehoorzaam zijn, zal Hij blij met ons zijn.

And if a soul sin, and commit any of these things which are forbidden to be done by the commandments of the L

ord

; though he wist it not, yet is he guilty, and shall bear his iniquity.

Als iemand per ongeluk iets doet wat Ik verboden heb, dan is hij toch schuldig.

There is no fear in love; but perfect love casteth out fear: because fear hath torment. He that feareth is not made perfect in love.

Als je zeker weet dat God van je houdt en je dus vol bent van zijn liefde, hoef je niet bang voor Hem te zijn. Want volmaakte liefde verjaagt alle angst voor God. Want als je bang bent, komt dat omdat je bang bent voor straf. Als je bang bent, ben je nog niet helemaal vol van liefde.

But he that knew not, and did commit things worthy of stripes, shall be beaten with few stripes. For unto whomsoever much is given, of him shall be much required: and to whom men have committed much, of him they will ask the more.

Maar iemand die niet wist wat de wil van zijn heer was en verkeerde dingen heeft gedaan, zal een lichte straf krijgen. Als aan iemand veel is gegeven, zal er veel van hem worden gevraagd. En als aan iemand veel is toevertrouwd, zal er veel van hem worden geëist.

Repent, and turn yourselves from all your transgressions; so iniquity shall not be your ruin.

Stop dus met het doen van slechte dingen! Want anders zal het slecht met jullie aflopen!

He that believeth and is baptized shall be saved; but he that believeth not shall be damned.

Wie het nieuws gelooft en zich laat dopen, zal worden gered. Maar wie het niet gelooft, zal worden veroordeeld.

Behold, happy is the man whom God correcteth: therefore despise not thou the chastening of the Almighty.

Het is goed voor je als God je straft. Daarom moet je je er niet tegen verzetten.

Thou shalt not take the name of the L

ord

thy God in vain: for the L

ord

will not hold him guiltless that taketh his name in vain.

Misbruik mijn naam niet. Iemand die mijn naam misbruikt, is schuldig. Ik zal hem straffen.

But above all things, my brethren, swear not, neither by heaven, neither by the earth, neither by any other oath: but let your yea be yea; and your nay, nay; lest ye fall into condemnation.

Maar jullie moeten vooral niet zweren, broeders en zusters. Niet bij de hemel, niet bij de aarde, en niet bij iets anders. Jullie moeten helemaal niet zweren. Als jullie 'Ja' zeggen, moet dat gewoon 'ja' blijven. En als jullie 'Nee' zeggen, moet het gewoon 'nee' blijven. Zo zullen jullie niet worden veroordeeld.

Thou shalt also consider in thine heart, that, as a man chasteneth his son, so the L

ord

thy God chasteneth thee.

Geef dus met je hele hart toe dat de Heer God jullie opvoedt, zoals een man zijn kind opvoedt.

There is therefore now no condemnation to them which are in Christ Jesus, who walk not after the flesh, but after the Spirit. For the law of the Spirit of life in Christ Jesus hath made me free from the law of sin and death.

Maar als je bij Jezus Christus hoort, word je niet meer veroordeeld. Want dan leef je op de manier die de Geest wil, en niet meer op de manier die je 'ik' wil. Want doordat jullie bij Hem horen, heeft 'de wet van de Geest' die levend maakt, jullie vrijgemaakt van 'de wet van het kwaad' die doodt.

He that walketh with wise men shall be wise: but a companion of fools shall be destroyed.

Als je met wijze mensen omgaat, word je wijs. Maar als je bevriend bent met dwazen, loopt het slecht met je af.

Preach the word; be instant in season, out of season; reprove, rebuke, exhort with all long suffering and doctrine.

Vertel de mensen het woord. Dring bij ze aan, of het nu goed uitkomt of niet. Leg de mensen uit wat ze verkeerd doen. Voed hen met veel geduld op in het geloof.

I tell you, Nay: but, except ye repent, ye shall all likewise perish.

Nee. Maar Ik zeg jullie dat het met jullie óók slecht zal aflopen, als jullie niet gaan leven zoals God het wil.

God setteth the solitary in families: he bringeth out those which are bound with chains: but the rebellious dwell in a dry land.

Aan eenzame mensen geeft Hij een gezin. Gevangenen bevrijdt Hij. Maar mensen die Hem ongehoorzaam zijn, laat Hij wonen in een dor land.

The Lord knoweth how to deliver the godly out of temptations, and to reserve the unjust unto the day of judgment to be punished.

Dus de mensen die leven zoals God het wil, worden door Hem gered uit de moeilijkheden die hun geloof op de proef stellen. Maar de mensen die zich niets van Hem aantrekken, worden door Hem gevangen gehouden tot de dag dat Hij over hen zal rechtspreken. Dan zal Hij hen straffen.

But not as the offence, so also is the free gift. For if through the offence of one many be dead, much more the grace of God, and the gift by grace, which is by one man, Jesus Christ, hath abounded unto many.

Omdat God zoveel van ons houdt, gaf God toen Jezus als geschenk aan ons. En dat Geschenk is véél machtiger dan de ongehoorzaamheid. Want door de ongehoorzaamheid van één mens zijn heel veel mensen gestorven. Maar Gods Geschenk, Jezus Christus, is zó machtig dat heel veel mensen erdoor kunnen worden gered.

The L

ord

preserveth the strangers; he relieveth the fatherless and widow: but the way of the wicked he turneth upside down.

Hij beschermt de vreemdelingen in het land. Hij zorgt voor de weeskinderen en de weduwen. Maar als mensen zich niets van Hem aantrekken, zorgt Hij ervoor dat er van hun plannen niets terecht komt.

Riches profit not in the day of wrath: but righteousness delivereth from death.

Rijkdom helpt je niets als God je gaat straffen. Maar als je leeft zoals Hij het wil, redt dat je van de dood.

Wherefore I say unto you, All manner of sin and blasphemy shall be forgiven unto men: but the blasphemy against the Holy Ghost shall not be forgiven unto men.

Daarom zeg Ik jullie dat de mensen vergeving kunnen krijgen voor alles waarin ze ongehoorzaam zijn geweest aan God. Maar als iemand de Heilige Geest beledigt, zal God hem dat niet vergeven.
Lead me in thy truth, and teach me: for thou art the God of my salvation; on thee do I wait all the day.
Personal Bible reading plan
Create an account to configure your Bible reading plan and you will see your progress and the next chapter to read here!
Read more...