Bible Verses about Punishment
«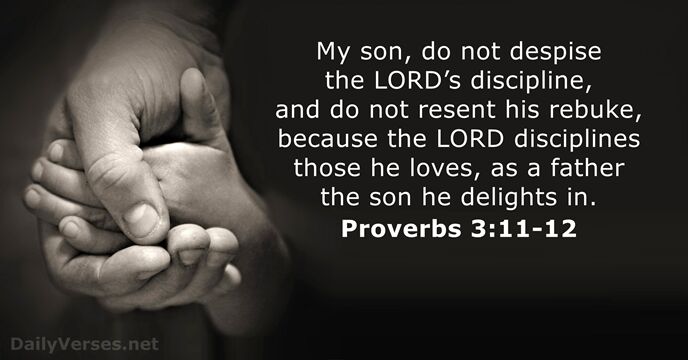 »
My son, do not despise the L

ord

's discipline, and do not resent his rebuke, because the L

ord

disciplines those he loves, as a father the son he delights in.

Gehoorzaam de Heer als Hij je opvoedt. Verzet je niet als Hij je bestraft. Want de Heer bestraft de mensen van wie Hij houdt. Ja, Hij bestraft je zoals een vader zijn zoon bestraft, omdat hij van hem houdt.

The prudent see danger and take refuge, but the simple keep going and pay the penalty.

Een verstandig mens ziet moeilijkheden aankomen en zorgt dat hij in veiligheid komt. Maar slechte mensen gaan maar door en worden gestraft.

Those whom I love I rebuke and discipline. So be earnest and repent.

De mensen van wie Ik houd, voed Ik ook streng op. Wees dus ijverig en ga weer leven zoals Ik het wil.

All who sin apart from the law will also perish apart from the law, and all who sin under the law will be judged by the law.

De niet-Joodse volken kennen de wet niet. Daarom zullen zij zonder deze wet veroordeeld worden als ze slechte dingen doen. De Joden kennen de wet wel. Daarom zullen zij volgens deze wet veroordeeld worden als ze slechte dingen doen.

No discipline seems pleasant at the time, but painful. Later on, however, it produces a harvest of righteousness and peace for those who have been trained by it.

Als Hij ons bestraft, is dat op het moment zelf niet fijn, maar pijnlijk. Maar uiteindelijk levert het iets goeds op. Want als we aan de opvoeding van onze Vader gehoorzaam zijn, zal Hij blij met ons zijn.

If anyone sins and does what is forbidden in any of the L

ord

's commands, even though they do not know it, they are guilty and will be held responsible.

Als iemand per ongeluk iets doet wat Ik verboden heb, dan is hij toch schuldig.

There is no fear in love. But perfect love drives out fear, because fear has to do with punishment. The one who fears is not made perfect in love.

Als je zeker weet dat God van je houdt en je dus vol bent van zijn liefde, hoef je niet bang voor Hem te zijn. Want volmaakte liefde verjaagt alle angst voor God. Want als je bang bent, komt dat omdat je bang bent voor straf. Als je bang bent, ben je nog niet helemaal vol van liefde.

But the one who does not know and does things deserving punishment will be beaten with few blows. From everyone who has been given much, much will be demanded; and from the one who has been entrusted with much, much more will be asked.

Maar iemand die niet wist wat de wil van zijn heer was en verkeerde dingen heeft gedaan, zal een lichte straf krijgen. Als aan iemand veel is gegeven, zal er veel van hem worden gevraagd. En als aan iemand veel is toevertrouwd, zal er veel van hem worden geëist.

Repent! Turn away from all your offenses; then sin will not be your downfall.

Stop dus met het doen van slechte dingen! Want anders zal het slecht met jullie aflopen!

Whoever believes and is baptized will be saved, but whoever does not believe will be condemned.

Wie het nieuws gelooft en zich laat dopen, zal worden gered. Maar wie het niet gelooft, zal worden veroordeeld.

Blessed is the one whom God corrects; so do not despise the discipline of the Almighty.

Het is goed voor je als God je straft. Daarom moet je je er niet tegen verzetten.

You shall not misuse the name of the L

ord

your God, for the L

ord

will not hold anyone guiltless who misuses his name.

Misbruik mijn naam niet. Iemand die mijn naam misbruikt, is schuldig. Ik zal hem straffen.

Above all, my brothers and sisters, do not swear—not by heaven or by earth or by anything else. All you need to say is a simple "Yes" or "No." Otherwise you will be condemned.

Maar jullie moeten vooral niet zweren, broeders en zusters. Niet bij de hemel, niet bij de aarde, en niet bij iets anders. Jullie moeten helemaal niet zweren. Als jullie 'Ja' zeggen, moet dat gewoon 'ja' blijven. En als jullie 'Nee' zeggen, moet het gewoon 'nee' blijven. Zo zullen jullie niet worden veroordeeld.

Know then in your heart that as a man disciplines his son, so the L

ord

your God disciplines you.

Geef dus met je hele hart toe dat de Heer God jullie opvoedt, zoals een man zijn kind opvoedt.

Therefore, there is now no condemnation for those who are in Christ Jesus, because through Christ Jesus the law of the Spirit who gives life has set you free from the law of sin and death.

Maar als je bij Jezus Christus hoort, word je niet meer veroordeeld. Want dan leef je op de manier die de Geest wil, en niet meer op de manier die je 'ik' wil. Want doordat jullie bij Hem horen, heeft 'de wet van de Geest' die levend maakt, jullie vrijgemaakt van 'de wet van het kwaad' die doodt.

Walk with the wise and become wise, for a companion of fools suffers harm.

Als je met wijze mensen omgaat, word je wijs. Maar als je bevriend bent met dwazen, loopt het slecht met je af.

Preach the word; be prepared in season and out of season; correct, rebuke and encourage—with great patience and careful instruction.

Vertel de mensen het woord. Dring bij ze aan, of het nu goed uitkomt of niet. Leg de mensen uit wat ze verkeerd doen. Voed hen met veel geduld op in het geloof.

I tell you, no! But unless you repent, you too will all perish.

Nee. Maar Ik zeg jullie dat het met jullie óók slecht zal aflopen, als jullie niet gaan leven zoals God het wil.

God sets the lonely in families, he leads out the prisoners with singing; but the rebellious live in a sun-scorched land.

Aan eenzame mensen geeft Hij een gezin. Gevangenen bevrijdt Hij. Maar mensen die Hem ongehoorzaam zijn, laat Hij wonen in een dor land.

If this is so, then the Lord knows how to rescue the godly from trials and to hold the unrighteous for punishment on the day of judgment.

Dus de mensen die leven zoals God het wil, worden door Hem gered uit de moeilijkheden die hun geloof op de proef stellen. Maar de mensen die zich niets van Hem aantrekken, worden door Hem gevangen gehouden tot de dag dat Hij over hen zal rechtspreken. Dan zal Hij hen straffen.

But the gift is not like the trespass. For if the many died by the trespass of the one man, how much more did God's grace and the gift that came by the grace of the one man, Jesus Christ, overflow to the many!

Omdat God zoveel van ons houdt, gaf God toen Jezus als geschenk aan ons. En dat Geschenk is véél machtiger dan de ongehoorzaamheid. Want door de ongehoorzaamheid van één mens zijn heel veel mensen gestorven. Maar Gods Geschenk, Jezus Christus, is zó machtig dat heel veel mensen erdoor kunnen worden gered.

The L

ord

watches over the foreigner and sustains the fatherless and the widow, but he frustrates the ways of the wicked.

Hij beschermt de vreemdelingen in het land. Hij zorgt voor de weeskinderen en de weduwen. Maar als mensen zich niets van Hem aantrekken, zorgt Hij ervoor dat er van hun plannen niets terecht komt.

Wealth is worthless in the day of wrath, but righteousness delivers from death.

Rijkdom helpt je niets als God je gaat straffen. Maar als je leeft zoals Hij het wil, redt dat je van de dood.

And so I tell you, every kind of sin and slander can be forgiven, but blasphemy against the Spirit will not be forgiven.

Daarom zeg Ik jullie dat de mensen vergeving kunnen krijgen voor alles waarin ze ongehoorzaam zijn geweest aan God. Maar als iemand de Heilige Geest beledigt, zal God hem dat niet vergeven.
I will exalt you, my God the King; I will praise your name for ever and ever.
Personal Bible reading plan
Create an account to configure your Bible reading plan and you will see your progress and the next chapter to read here!
Read more...