Bible Verses about Purification
«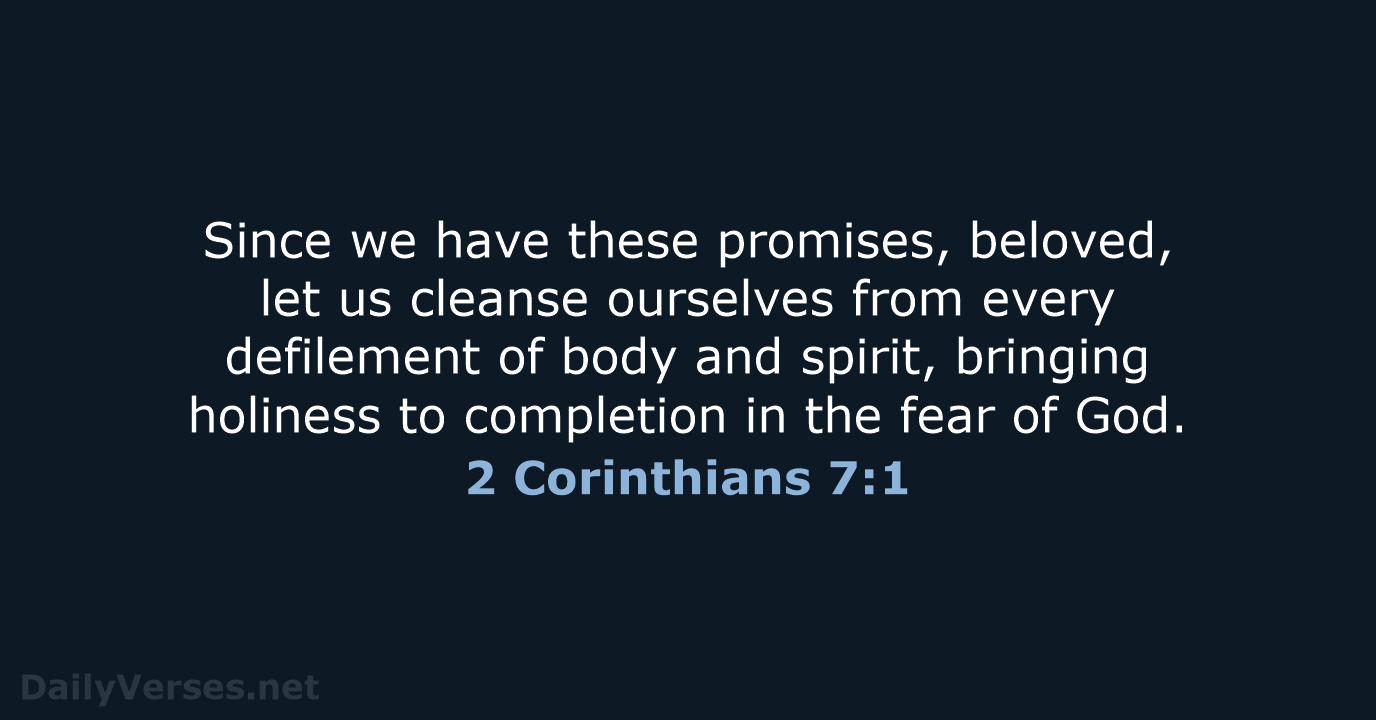 »
Since we have these promises, beloved, let us cleanse ourselves from every defilement of body and spirit, bringing holiness to completion in the fear of God.

Vrienden, die dingen heeft God ons beloofd. Daarom moeten wij alles wat slecht is, achter ons laten. We moeten van binnen en van buiten rein zijn. Uit eerbied voor God moeten we onszelf helemaal heilig maken.

And he said, "What comes out of a person is what defiles him. For from within, out of the heart of man, come evil thoughts, sexual immorality, theft, murder, adultery, coveting, wickedness, deceit, sensuality, envy, slander, pride, foolishness. All these evil things come from within, and they defile a person."

Jezus zei verder: 'Een mens wordt onrein van de dingen die uit hem naar buiten komen. Want alle slechte dingen die een mens doet, komen uit zijn eigen hart: slechte gedachten, verboden seks, moord, belediging, trots en domheid. En ook vreemdgaan, stelen, graaien, liegen, gemeen zijn, jaloers zijn op anderen, en je nergens voor schamen. Al die slechtheid maakt een mens onrein.'

Create in me a clean heart, O God, and renew a right spirit within me.

God, geef mij weer een onschuldig hart. Maak mij van binnen nieuw, zorg dat ik trouw blijf aan u.

Have mercy on me, O God, according to your steadfast love; according to your abundant mercy blot out my transgressions. Wash me thoroughly from my iniquity, and cleanse me from my sin!

God, u bent goed, heb medelijden met mij! Uw liefde is groot. Vergeef me mijn zonden, neem mijn schuld weg, maak mij weer schoon.

If we confess our sins, he is faithful and just to forgive us our sins and to cleanse us from all unrighteousness.

Maar als we onze zonden eerlijk aan God vertellen, zal hij ons vergeven. Hij zal al het kwaad uit ons weghalen, zodat we helemaal rein worden. Want God is trouw en rechtvaardig.

Draw near to God, and he will draw near to you. Cleanse your hands, you sinners, and purify your hearts, you double-minded.

Luister goed, jullie slechte mensen, jullie die twijfelen aan Gods macht! Doe het kwaad weg uit je hart, en ga een heilig leven leiden.

Already you are clean because of the word that I have spoken to you.

Jullie lijken op de goede takken die kort gemaakt zijn. Want door mijn woorden is het slechte uit jullie weggehaald, en zijn jullie rein geworden.

Wash yourselves; make yourselves clean; remove the evil of your deeds from before my eyes; cease to do evil.

De Heer zegt: 'Volk van Israël, was het bloed van je handen, stop met al die misdaden. Ik kan er niet meer tegen. Maak een eind aan het kwaad.'

But if we walk in the light, as he is in the light, we have fellowship with one another, and the blood of Jesus his Son cleanses us from all sin.

Maar als we leven in het licht, net zoals God in het licht is, dan zijn we als gelovigen met elkaar verbonden. Onze zonden worden dan vergeven. En we worden helemaal rein door het bloed van Gods Zoon, die voor ons gestorven is.

Beloved, we are God's children now, and what we will be has not yet appeared; but we know that when he appears we shall be like him, because we shall see him as he is. And everyone who thus hopes in him purifies himself as he is pure.

Lieve vrienden, wij zijn nu al kinderen van God. Wat we later zullen zijn, weten we nog niet. Maar we weten wel dat we op Jezus zullen lijken als hij terugkomt. Dan zullen we hem zien zoals hij is, als de hemelse Christus. We moeten erop vertrouwen dat God die dingen zal laten uitkomen. Wie daarop vertrouwt, is heilig. Net zoals Jezus Christus heilig is.

Husbands, love your wives, as Christ loved the church and gave himself up for her, that he might sanctify her, having cleansed her by the washing of water with the word.

Mannen, jullie moeten van je vrouw houden. Net zo veel als Christus van de kerk houdt. Hij heeft zelfs zijn leven gegeven voor de kerk. Door zijn liefde horen de gelovigen nu bij God. Want ze zijn gedoopt en ze geloven het goede nieuws.

Who gave himself for us to redeem us from all lawlessness and to purify for himself a people for his own possession who are zealous for good works.

Hij gaf zijn leven om ons te redden. Daardoor heeft hij ons bevrijd van alle schuld. Zo maakte hij van ons zijn heilige volk, een volk dat zijn best doet om goed te leven.

And now why do you wait? Rise and be baptized and wash away your sins, calling on his name.

Waarom twijfel je nog? Sta op en laat je dopen. Als je tot Jezus bidt, dan zal het water van je doop je zonden wegwassen.

How much more will the blood of Christ, who through the eternal Spirit offered himself without blemish to God, purify our conscience from dead works to serve the living God.

Maar door dit betere offer, het bloed van Christus, worden we ook diep van binnen rein. Christus had Gods eeuwige Geest in zich. En daarom kon hij zichzelf offeren, terwijl hij zelf niets verkeerds gedaan had. Dankzij dat offer kunnen wij op een goede manier leven en de levende God dienen.

Baptism, which corresponds to this, now saves you, not as a removal of dirt from the body but as an appeal to God for a good conscience, through the resurrection of Jesus Christ.

Nu worden jullie ook uit een slechte wereld gered door water. Want door het water van de doop kun je gaan leven zoals God het wil. Het water van de doop wast niet het vuil van je lichaam, maar laat zien dat je bij Christus hoort.

Many shall purify themselves and make themselves white and be refined, but the wicked shall act wickedly. And none of the wicked shall understand, but those who are wise shall understand.

Veel mensen zullen een moeilijke tijd meemaken. Sommigen zullen dan laten zien dat ze bij Gods volk horen. Anderen niet. Mensen die zich altijd tegen God verzet hebben, zullen niet begrijpen wat God bedoelt. Alleen wijze mensen zullen het begrijpen.

He is the radiance of the glory of God and the exact imprint of his nature, and he upholds the universe by the word of his power. After making purification for sins, he sat down at the right hand of the Majesty on high.

Door Gods Zoon weten we hoe machtig God is. Door hem weten we wie God is. Alleen door de machtige woorden van Gods Zoon kunnen de hemel en de aarde bestaan. En hij heeft ervoor gezorgd dat onze zonden vergeven zijn. Daarom zit hij nu naast God in de hemel, aan Gods rechterkant.

Come now, let us reason together, says the L

ord

: though your sins are like scarlet, they shall be as white as snow; though they are red like crimson, they shall become like wool.

Ik zal jullie vertellen wat jullie verkeerd gedaan hebben. Jullie zijn moordenaars, je handen zijn rood van het bloed. Toch kunnen ze weer zo wit worden als sneeuw, zo wit als witte wol.

For you, O God, have tested us; you have tried us as silver is tried.

God, u keek diep in ons hart. U wilde weten of we goed of slecht waren, en of we u trouw zouden blijven.
Blessed is the man who walks not in the counsel of the wicked, nor stands in the way of sinners, nor sits in the seat of scoffers.
Personal Bible reading plan
Create an account to configure your Bible reading plan and you will see your progress and the next chapter to read here!
Read more...