Bible Verses about Receiving
«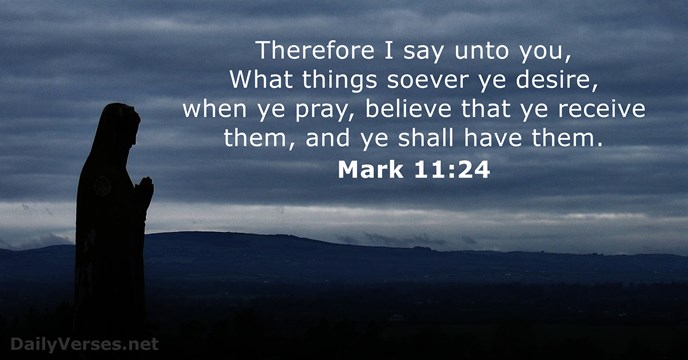 »
Therefore I say unto you, What things soever ye desire, when ye pray, believe that ye receive them, and ye shall have them.

Daarom zeg ik: Als je iets aan God vraagt, geloof dan dat je het al gekregen hebt. Dan krijg je het ook.

And whatsoever ye do, do it heartily, as to the Lord, and not unto men; Knowing that of the Lord ye shall receive the reward of the inheritance: for ye serve the Lord Christ.

Doe alles wat je doet, zo goed mogelijk. Doe alsof je voor Christus werkt, en niet voor mensen. Want Christus is je echte meester. Als jullie je zo gedragen, dan zullen jullie als beloning door hem gered worden. Dat is zeker!

Hitherto have ye asked nothing in my name: ask, and ye shall receive, that your joy may be full.

Vanaf nu moeten jullie dus tot de Vader bidden als mensen die bij mij horen. Dan zullen jullie alles krijgen waar je om vraagt. En dan zal jullie vreugde volmaakt zijn.

Ask, and it shall be given you; seek, and ye shall find; knock, and it shall be opened unto you.

Als je iets vraagt, zul je het krijgen. Als je iets zoekt, zul je het vinden. Als je op de deur klopt, wordt er voor je opengedaan.

And God is able to make all grace abound toward you; that ye, always having all sufficiency in all things, may abound to every good work.

God heeft de macht om jullie al het goede te schenken. Hij kan jullie alles geven wat je nodig hebt. Zelfs zo veel dat jullie altijd meer dan genoeg hebben, en veel overhouden om andere mensen te steunen.

Give, and it shall be given unto you; good measure, pressed down, and shaken together, and running over, shall men give into your bosom. For with the same measure that ye mete withal it shall be measured to you again.

Geef, en je zult krijgen, meer dan je vast kunt houden! Want zo veel als jij aan anderen geeft, zo veel geeft God aan jou.

If any of you lack wisdom, let him ask of God, that giveth to all men liberally, and upbraideth not; and it shall be given him.

Heeft iemand van jullie niet de wijsheid om te leven zoals God het wil? Dan moet je God om die wijsheid vragen. Hij zal je die zeker geven. Want God geeft de mensen allerlei goede dingen, zomaar, zonder er iets voor terug te vragen.

I stretch forth my hands unto thee: my soul thirsteth after thee, as a thirsty land. Selah.

Ik wil bij u zijn, ik verlang naar u, zoals droog land verlangt naar regen.

Heal the sick, cleanse the lepers, raise the dead, cast out devils: freely ye have received, freely give.

Maak zieke mensen beter en maak dode mensen weer levend. Maak mensen met een huidziekte beter en jaag kwade geesten weg. Jullie krijgen die macht van God. Help daarmee andere mensen en vraag er niets voor terug.

But the anointing which ye have received of him abideth in you, and ye need not that any man teach you: but as the same anointing teacheth you of all things, and is truth, and is no lie, and even as it hath taught you, ye shall abide in him.

Maar jullie hebben van Christus de heilige Geest gekregen, en die zal in jullie blijven. De Geest zelf zal jullie alles leren. Daarom hoeft niemand anders iets aan jullie te leren. Wat de Geest zegt, is waar. Hij bedriegt jullie niet. Blijf daarom verbonden met Christus, zoals de Geest jullie geleerd heeft.

For which cause we faint not; but though our outward man perish, yet the inward man is renewed day by day.

Ik ga dus door met mijn werk, ik geef niet op. Dat kan me mijn leven kosten, maar dat is niet erg. Want het belangrijkste is dat ik van binnen een nieuw mens word, elke dag meer.

He that spared not his own Son, but delivered him up for us all, how shall he not with him also freely give us all things?

God liet toe dat zijn eigen Zoon gedood werd. Hij leverde hem uit aan slechte mensen. Dat deed God voor ons allemaal. Maar dan is het zeker dat hij ons ook het eeuwige leven zal geven, het eeuwige leven dat zijn Zoon al gekregen heeft.

Blessed are they which do hunger and thirst after righteousness: for they shall be filled.

Het echte geluk is voor mensen die doen wat God wil, en die dat het allerbelangrijkste vinden. Want God zal hun moeite belonen.

I know that there is no good in them, but for a man to rejoice, and to do good in his life. And also that every man should eat and drink, and enjoy the good of all his labour, it is the gift of God.

Daarom zeg ik: Je kunt maar het beste vrolijk zijn en van het leven genieten. Als je lekker eet en drinkt en geniet van al je bezit, dan is dat een geschenk van God.

Every man also to whom God hath given riches and wealth, and hath given him power to eat thereof, and to take his portion, and to rejoice in his labour; this is the gift of God.

God geeft je misschien rijkdom en bezit. En hij zorgt ervoor dat je kunt genieten van alles wat je hebt. Je hebt er hard voor gewerkt, en het is een geschenk van God.

But whosoever drinketh of the water that I shall give him shall never thirst; but the water that I shall give him shall be in him a well of water springing up into everlasting life.

Maar als je drinkt van het water dat ik geef, krijg je nooit meer dorst. Want het water dat ik geef, blijft altijd in je. Het geeft je het eeuwige leven.

And we are his witnesses of these things; and so is also the Holy Ghost, whom God hath given to them that obey him.

Over die dingen vertellen wij, met hulp van de heilige Geest, die in ons is. Want God geeft de heilige Geest aan de mensen die naar hem luisteren.

And hope maketh not ashamed; because the love of God is shed abroad in our hearts by the Holy Ghost which is given unto us.

Dat zal zeker gebeuren, want God heeft ons zijn heilige Geest nu al gegeven.

According as his divine power hath given unto us all things that pertain unto life and godliness, through the knowledge of him that hath called us to glory and virtue.

De machtige God heeft aan jullie en mij alles gegeven wat nodig is om te leven zoals hij het wil. Hij heeft ons uitgekozen om bij hem te horen, en hij heeft ervoor gezorgd dat wij hem kennen. Daardoor weten we hoe machtig en hoe volmaakt hij is.

The eyes of your understanding being enlightened; that ye may know what is the hope of his calling, and what the riches of the glory of his inheritance in the saints.

Ik vraag God of hij jullie inzicht wil geven. Dan zullen jullie begrijpen dat jullie door hem uitgekozen zijn om gered te worden. Dat jullie allemaal bij hem horen omdat jullie christenen zijn, en hoe geweldig dat is.

And the L

ord

said unto Moses, Come up to me into the mount, and be there: and I will give thee tables of stone, and a law, and commandments which I have written; that thou mayest teach them.

Opnieuw zei de Heer tegen Mozes: 'Kom naar mij toe op de berg, en blijf daar wachten. Dan zal ik je twee stenen platen geven, waarop ik mijn wetten en regels geschreven heb. Jij moet het volk leren dat ze zich daaraan moeten houden.'

Behold that which I have seen: it is good and comely for one to eat and to drink, and to enjoy the good of all his labour that he taketh under the sun all the days of his life, which God giveth him: for it is his portion.

Daarom denk ik dat het voor een mens het beste is om te genieten. Ook al duurt het leven dat God hem geeft, maar kort. Laat hij maar eten en drinken. Laat hij maar genieten van alles wat hij bezit. Hij heeft er altijd hard voor gewerkt.

Nevertheless I tell you the truth; It is expedient for you that I go away: for if I go not away, the Comforter will not come unto you; but if I depart, I will send him unto you.

Luister, dit is de waarheid: het is alleen maar goed voor jullie dat ik wegga. Want anders kan jullie helper, de heilige Geest, niet komen. Ik zal hem naar jullie toe sturen als ik bij God ben.
Beware of false prophets, which come to you in sheep's clothing, but inwardly they are ravening wolves.
Personal Bible reading plan
Create an account to configure your Bible reading plan and you will see your progress and the next chapter to read here!
Read more...