Bible Verses about Receiving
«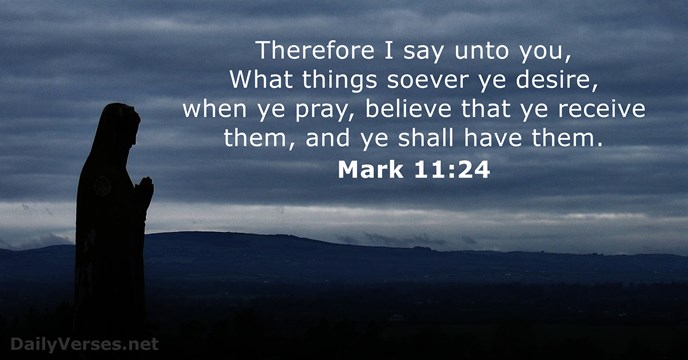 »
Therefore I say unto you, What things soever ye desire, when ye pray, believe that ye receive them, and ye shall have them.

Niinpä minä sanon teille: Mitä ikinä te rukouksessa pyydätte, uskokaa, että olette sen jo saaneet, ja se on teidän.

And whatsoever ye do, do it heartily, as to the Lord, and not unto men; Knowing that of the Lord ye shall receive the reward of the inheritance: for ye serve the Lord Christ.

Mitä teettekin, tehkää se täydestä sydämestä, niin kuin tekisitte sen Herralle ettekä ihmisille. Muistakaa, että saatte Herralta palkan, osuutenne perinnöstä. Palvelkaa Herraa Kristusta.

Hitherto have ye asked nothing in my name: ask, and ye shall receive, that your joy may be full.

Tähän asti te ette ole pyytäneet mitään minun nimessäni. Pyytäkää, niin te saatte, ja teidän ilonne on täydellinen.

Ask, and it shall be given you; seek, and ye shall find; knock, and it shall be opened unto you.

Pyytäkää, niin teille annetaan. Etsikää, niin te löydätte. Kolkuttakaa, niin teille avataan.

And God is able to make all grace abound toward you; that ye, always having all sufficiency in all things, may abound to every good work.

Hänellä on teille annettavana runsaasti kaikkia lahjoja, niin että teillä on aina kaikki mitä tarvitsette ja voitte tehdä runsaasti kaikkea hyvää.

Give, and it shall be given unto you; good measure, pressed down, and shaken together, and running over, shall men give into your bosom. For with the same measure that ye mete withal it shall be measured to you again.

Antakaa, niin teille annetaan. Runsas mitta, tiiviiksi paineltu, ravisteltu ja kukkurainen, annetaan teidän syliinne. Niin kuin te mittaatte, niin teille mitataan.

If any of you lack wisdom, let him ask of God, that giveth to all men liberally, and upbraideth not; and it shall be given him.

Jos kuitenkin joltakulta teistä puuttuu viisautta, pyytäköön sitä Jumalalta. Hän on saava pyytämänsä, sillä Jumala antaa auliisti kaikille, ketään soimaamatta.

I stretch forth my hands unto thee: my soul thirsteth after thee, as a thirsty land. Selah.
Minä kohotan käteni sinun puoleesi, sieluni janoaa sinua kuin kuivunut maa. (sela)

Heal the sick, cleanse the lepers, raise the dead, cast out devils: freely ye have received, freely give.

Parantakaa sairaita, herättäkää kuolleita, puhdistakaa spitaalisia ja ajakaa pois pahoja henkiä. Lahjaksi olette saaneet, lahjaksi antakaa.

But the anointing which ye have received of him abideth in you, and ye need not that any man teach you: but as the same anointing teacheth you of all things, and is truth, and is no lie, and even as it hath taught you, ye shall abide in him.

Teissä kyllä pysyy se voitelu, jonka olette Pyhältä saaneet, ettekä te tarvitse kenenkään opetusta. Hänen Henkensä opettaa teitä kaikessa ja on tosi, hänessä ei ole petosta. Niin kuin hän on teitä opettanut, niin pysykää hänessä.

For which cause we faint not; but though our outward man perish, yet the inward man is renewed day by day.

Sen tähden me emme lannistu. Vaikka ulkonainen ihmisemme murtuukin, niin sisäinen ihmisemme uudistuu päivä päivältä.

He that spared not his own Son, but delivered him up for us all, how shall he not with him also freely give us all things?

Kun hän ei säästänyt omaa Poikaansakaan vaan antoi hänet kuolemaan kaikkien meidän puolestamme, kuinka hän ei lahjoittaisi Poikansa mukana meille kaikkea muutakin?

Blessed are they which do hunger and thirst after righteousness: for they shall be filled.

Autuaita ne, joilla on vanhurskauden nälkä ja jano: heidät ravitaan.

I know that there is no good in them, but for a man to rejoice, and to do good in his life. And also that every man should eat and drink, and enjoy the good of all his labour, it is the gift of God.

Minä oivalsin, ettei ihmisellä ole muuta onnea kuin iloita ja nauttia elämän hyvyydestä. Mutta Jumalan lahja on sekin, että ihminen saa vaivannäkönsä keskellä syödä ja juoda ja nauttia elämän antimista.

Every man also to whom God hath given riches and wealth, and hath given him power to eat thereof, and to take his portion, and to rejoice in his labour; this is the gift of God.

Jumalan lahja on sekin, että hän antaa rikkautta ja omaisuutta ja sallii ihmisen käyttää sitä ja saada siitä osansa ja iloita kaiken vaivannäön keskellä.

But whosoever drinketh of the water that I shall give him shall never thirst; but the water that I shall give him shall be in him a well of water springing up into everlasting life.

Mutta joka juo minun antamaani vettä, ei enää koskaan ole janoissaan. Siitä vedestä, jota minä annan, tulee hänessä lähde, joka kumpuaa ikuisen elämän vettä.

And we are his witnesses of these things; and so is also the Holy Ghost, whom God hath given to them that obey him.

Me olemme kaiken tämän todistajat – samoin Pyhä Henki, jonka Jumala on antanut niille jotka häntä tottelevat.

And hope maketh not ashamed; because the love of God is shed abroad in our hearts by the Holy Ghost which is given unto us.

Eikä toivo ole turha, sillä Jumala on vuodattanut rakkautensa meidän sydämiimme antamalla meille Pyhän Hengen.

According as his divine power hath given unto us all things that pertain unto life and godliness, through the knowledge of him that hath called us to glory and virtue.

Hänen jumalallinen voimansa on antanut meille lahjaksi kaiken, mikä kuuluu tosi elämään ja jumalanpelkoon. Olemmehan päässeet tuntemaan hänet, joka on kutsunut meidät kirkkaudellaan ja voimallaan.

The eyes of your understanding being enlightened; that ye may know what is the hope of his calling, and what the riches of the glory of his inheritance in the saints.

Ja että hän valaisisi teidän sisäiset silmänne näkemään, millaiseen toivoon hän on meidät kutsunut, miten äärettömän rikkaan perintöosan hän antaa meille pyhien joukossa.

And the L

ord

said unto Moses, Come up to me into the mount, and be there: and I will give thee tables of stone, and a law, and commandments which I have written; that thou mayest teach them.

Herra sanoi Moosekselle: »Nouse tälle vuorelle minun luokseni ja odota täällä. Minä annan sinulle kivitaulut, joihin olen kirjoittanut lain ja käskyt, että voisit opettaa ne kansalle.»

Behold that which I have seen: it is good and comely for one to eat and to drink, and to enjoy the good of all his labour that he taketh under the sun all the days of his life, which God giveth him: for it is his portion.

Niinpä olenkin havainnut, että on oikein ja paikallaan syödä ja juoda ja nauttia elämästä kaiken sen vaivan keskellä, jota ihminen näkee vähinä Jumalan antamina elinpäivinään auringon alla; sellainen on hänen osansa.

Nevertheless I tell you the truth; It is expedient for you that I go away: for if I go not away, the Comforter will not come unto you; but if I depart, I will send him unto you.

Mutta minä sanon teille totuuden: teille on hyödyksi, että minä menen pois. Ellen mene, ei Puolustaja voi tulla luoksenne. Mutta mentyäni pois minä lähetän hänet luoksenne.
Greater love hath no man than this, that a man lay down his life for his friends.
Personal Bible reading plan
Create an account to configure your Bible reading plan and you will see your progress and the next chapter to read here!
Read more...