Read this Bible chapter online, click
here
to read.
Bible Verses
«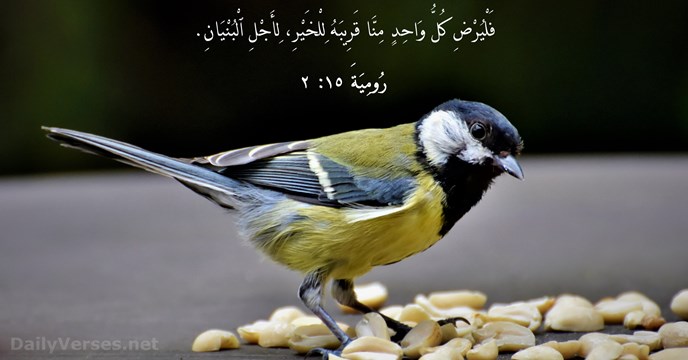 »
| | |
| --- | --- |
| Let each of us please his neighbor for his good, leading to edification. | فَلْيُرْضِ كُلُّ وَاحِدٍ مِنَّا قَرِيبَهُ لِلْخَيْرِ، لِأَجْلِ ٱلْبُنْيَانِ. |
| Now may the God of patience and comfort grant you to be like-minded toward one another, according to Christ Jesus. | وَلْيُعْطِكُمْ إِلَهُ ٱلصَّبْرِ وَٱلتَّعْزِيَةِ أَنْ تَهْتَمُّوا ٱهْتِمَامًا وَاحِدًا فِيمَا بَيْنَكُمْ، بِحَسَبِ ٱلْمَسِيحِ يَسُوعَ. |
| Therefore receive one another, just as Christ also received us, to the glory of God. | لِذَلِكَ ٱقْبَلُوا بَعْضُكُمْ بَعْضًا كَمَا أَنَّ ٱلْمَسِيحَ أَيْضًا قَبِلَنَا، لِمَجْدِ ٱللهِ. |
| Now may the God of hope fill you with all joy and peace in believing, that you may abound in hope by the power of the Holy Spirit. | وَلْيَمْلَأْكُمْ إِلَهُ ٱلرَّجَاءِ كُلَّ سُرُورٍ وَسَلَامٍ فِي ٱلْإِيمَانِ، لِتَزْدَادُوا فِي ٱلرَّجَاءِ بِقُوَّةِ ٱلرُّوحِ ٱلْقُدُسِ. |
| That I may come to you with joy by the will of God, and may be refreshed together with you. | حَتَّى أَجِيءَ إِلَيْكُمْ بِفَرَحٍ بِإِرَادَةِ ٱللهِ، وَأَسْتَرِيحَ مَعَكُمْ. |
So he answered and said, " 'You shall love the Lord your God with all your heart, with all your soul, with all your strength, and with all your mind,' and 'your neighbor as yourself.' "
Create an account to configure your Bible read plan and you will see your progress and the next chapter to read here!
Read more...