Bible Verses about Sacrifice
«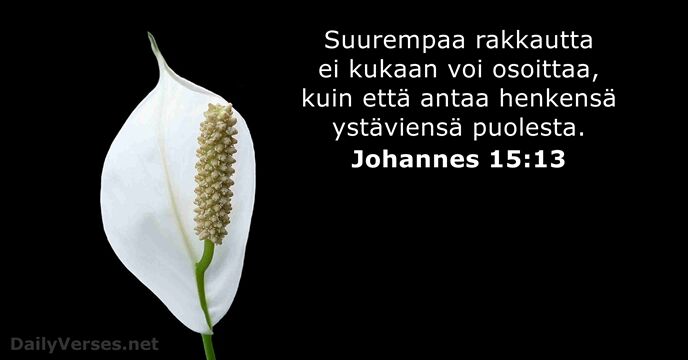 »
Greater love has no one than this, than to lay down one's life for his friends.

Suurempaa rakkautta ei kukaan voi osoittaa, kuin että antaa henkensä ystäviensä puolesta.

And walk in love, as Christ also has loved us and given Himself for us, an offering and a sacrifice to God for a sweet-smelling aroma.

Rakkaus ohjatkoon elämäänne, onhan Kristuskin rakastanut meitä ja antanut meidän tähtemme itsensä lahjaksi, hyvältä tuoksuvaksi uhriksi Jumalalle.

So Christ was offered once to bear the sins of many. To those who eagerly wait for Him He will appear a second time, apart from sin, for salvation.

Samoin on Kristus kerran uhrattu, jotta hän ottaisi pois kaikkien synnit, ja hän ilmestyy vielä kerran, mutta ei enää synnin tähden vaan pelastaakseen ne, jotka häntä odottavat.

For whoever desires to save his life will lose it, but whoever loses his life for My sake will save it.

Sillä se, joka tahtoo pelastaa elämänsä, kadottaa sen, mutta joka sen minun tähteni kadottaa, on sen pelastava.

To do righteousness and justice Is more acceptable to the L

ord

than sacrifice.

Noudata oikeutta ja vanhurskautta, se on Herralle enemmän kuin teurasuhri.

For I delivered to you first of all that which I also received: that Christ died for our sins according to the Scriptures, and that He was buried, and that He rose again the third day according to the Scriptures.

Ennen muuta annoin teille tiedoksi tämän, minkä itse olin saanut vastaanottaa: – Kristus kuoli meidän syntiemme vuoksi, niin kuin oli kirjoitettu, hänet haudattiin, hänet herätettiin kuolleista kolmantena päivänä, niin kuin oli kirjoitettu.

But go and learn what this means: 'I desire mercy and not sacrifice.' For I did not come to call the righteous, but sinners, to repentance.

Menkää ja tutkikaa, mitä tämä tarkoittaa: 'Armahtavaisuutta minä tahdon, en uhrimenoja.' En minä ole tullut kutsumaan hurskaita, vaan syntisiä.

For even the Son of Man did not come to be served, but to serve, and to give His life a ransom for many.

Ei Ihmisen Poikakaan tullut palveltavaksi, vaan palvelemaan ja antamaan henkensä lunnaiksi kaikkien puolesta.

Who gave Himself for us, that He might redeem us from every lawless deed and purify for Himself His own special people, zealous for good works.

Hän antoi itsensä alttiiksi meidän puolestamme lunastaakseen meidät vapaiksi kaikesta vääryydestä ja puhdistaakseen meidät omaksi kansakseen, joka kaikin voimin tekee hyvää.

And they stripped Him and put a scarlet robe on Him. When they had twisted a crown of thorns, they put it on His head, and a reed in His right hand. And they bowed the knee before Him and mocked Him, saying, "Hail, King of the Jews!"

He riisuivat Jeesuksen ja pukivat hänet punaiseen viittaan, väänsivät orjantappuroista kruunun hänen päähänsä ja panivat ruokokepin hänen oikeaan käteensä. He polvistuivat hänen eteensä ja sanoivat hänelle pilkaten: »Ole tervehditty, juutalaisten kuningas!»

He who did not spare His own Son, but delivered Him up for us all, how shall He not with Him also freely give us all things?

Kun hän ei säästänyt omaa Poikaansakaan vaan antoi hänet kuolemaan kaikkien meidän puolestamme, kuinka hän ei lahjoittaisi Poikansa mukana meille kaikkea muutakin?

Honor the L

ord

with your possessions, And with the firstfruits of all your increase.

Siitä, mitä omistat, anna Herran kunniaksi uhrit, kaikesta sadostasi paras osa.

And do not present your members as instruments of unrighteousness to sin, but present yourselves to God as being alive from the dead, and your members as instruments of righteousness to God.

Älkää antako ruumiinne jäseniä synnin käyttöön vääryyden aseiksi! Kun nyt kerran olette siirtyneet kuolemasta elämään, antakaa itsenne Jumalalle ja ruumiinne jäsenet hänelle vanhurskauden aseiksi!

For when we were still without strength, in due time Christ died for the ungodly.

Meistä ei ollut itseämme auttamaan, mutta Kristus kuoli jumalattomien puolesta, kun aika koitti.

But I will sacrifice to You With the voice of thanksgiving; I will pay what I have vowed. Salvation is of the L

ord

.

Mutta minä saan uhrata ja laulaa kiitosta sinulle. Minkä olen luvannut, sen minä täytän. Vain Herra voi pelastaa.

But if we walk in the light as He is in the light, we have fellowship with one another, and the blood of Jesus Christ His Son cleanses us from all sin.

Mutta jos me vaellamme valossa, niin kuin hän itse on valossa, meillä on yhteys toisiimme ja Jeesuksen, hänen Poikansa, veri puhdistaa meidät kaikesta synnistä.

Just as the Son of Man did not come to be served, but to serve, and to give His life a ransom for many.

Ei Ihmisen Poikakaan tullut palveltavaksi, vaan palvelemaan ja antamaan henkensä lunnaiksi kaikkien puolesta.

How much more shall the blood of Christ, who through the eternal Spirit offered Himself without spot to God, cleanse your conscience from dead works to serve the living God?

Kuinka paljon paremmin puhdistaakaan Kristuksen veri! Ikuisen henkensä voimalla hän on antanut itsensä virheettömänä uhrina Jumalalle, ja hänen verensä puhdistaa meidän omantuntomme kuoleman teoista, niin että voimme palvella elävää Jumalaa.

And He said, "Abba, Father, all things are possible for You. Take this cup away from Me; nevertheless, not what I will, but what You will."

Hän sanoi: »Abba, Isä, kaikki on sinulle mahdollista. Ota tämä malja minulta pois. Ei kuitenkaan minun tahtoni mukaan, vaan sinun.»

And when Jesus had cried out with a loud voice, He said, "Father, 'into Your hands I commit My spirit.' " Having said this, He breathed His last.

Ja Jeesus huusi kovalla äänellä: »Isä, sinun käsiisi minä uskon henkeni.» Tämän sanottuaan hän henkäisi viimeisen kerran.

Behold, we are going up to Jerusalem, and the Son of Man will be betrayed to the chief priests and to the scribes; and they will condemn Him to death, and deliver Him to the Gentiles to mock and to scourge and to crucify. And the third day He will rise again.

Me menemme nyt Jerusalemiin, ja Ihmisen Poika annetaan ylipappien ja lainopettajien käsiin. He tuomitsevat hänet kuolemaan ja luovuttavat hänet pakanoille pilkattavaksi, ruoskittavaksi ja ristiinnaulittavaksi. Mutta kolmantena päivänä hän nousee kuolleista.
As a father pities his children, So the Lord pities those who fear Him.
Personal Bible reading plan
Create an account to configure your Bible reading plan and you will see your progress and the next chapter to read here!
Read more...