Bible Verses about Sadness
«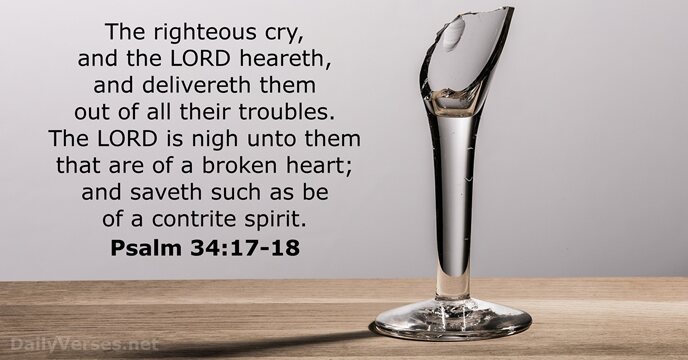 »
The righteous cry, and the L

ord

heareth, and delivereth them out of all their troubles. The L

ord

is nigh unto them that are of a broken heart; and saveth such as be of a contrite spirit.

Kun vanhurskaat huutavat apua, Herra kuulee ja pelastaa heidät kaikesta hädästä. Herra on lähellä niitä, joilla on särkynyt sydän, hän pelastaa ne, joilla on murtunut mieli.

And the L

ord

, he it is that doth go before thee; he will be with thee, he will not fail thee, neither forsake thee: fear not, neither be dismayed.

Herra itse kulkee sinun edelläsi. Hän on sinun kanssasi, hän ei jätä sinua yksin eikä hylkää sinua. Älä lannistu, älä pelkää.

Blessed are they that mourn: for they shall be comforted.

Autuaita murheelliset: he saavat lohdutuksen.

Casting all your care upon him; for he careth for you.

Heittäkää kaikki murheenne hänen kannettavakseen, sillä hän pitää teistä huolen.

For his anger endureth but a moment; in his favour is life: weeping may endure for a night, but joy cometh in the morning.

Hänen vihansa kestää vain hetken, hänen hyvyytensä läpi elämän. Illalla on vieraana itku mutta aamulla ilo.

For in much wisdom is much grief: and he that increaseth knowledge increaseth sorrow.

Sillä missä on paljon viisautta, siellä on paljon huolta, ja joka tietoa lisää, lisää tuskaa.

Lord, all my desire is before thee; and my groaning is not hid from thee.

Herra, sinä tiedät, mitä minä kaipaan, huokaukseni ovat tulleet sinun korviisi.

And I heard a great voice out of heaven saying, Behold, the tabernacle of God is with men, and he will dwell with them, and they shall be his people, and God himself shall be with them, and be their God. And God shall wipe away all tears from their eyes; and there shall be no more death, neither sorrow, nor crying, neither shall there be any more pain: for the former things are passed away.

Ja minä kuulin valtaistuimen luota voimakkaan äänen, joka sanoi: »Katso, Jumalan asuinsija ihmisten keskellä! Hän asuu heidän luonaan, ja heistä tulee hänen kansansa. Jumala itse on heidän luonaan, ja hän pyyhkii heidän silmistään joka ainoan kyyneleen. Kuolemaa ei enää ole, ei murhetta, valitusta eikä vaivaa, sillä kaikki entinen on kadonnut.»

As sorrowful, yet alway rejoicing; as poor, yet making many rich; as having nothing, and yet possessing all things.

Murheellisia mutta aina iloisia. Olemme köyhiä, mutta teemme monia rikkaiksi; meillä ei ole mitään, mutta omistamme kaiken.

Therefore remove sorrow from thy heart, and put away evil from thy flesh: for childhood and youth are vanity.

Karkota suru sydämestäsi ja torju kärsimys ruumiistasi – silti myös nuoruus, elämän aamu, on turhuutta.

Rejoice with them that do rejoice, and weep with them that weep.

Iloitkaa iloitsevien kanssa, itkekää itkevien kanssa.

They shall hunger no more, neither thirst any more; neither shall the sun light on them, nor any heat. For the Lamb which is in the midst of the throne shall feed them, and shall lead them unto living fountains of waters: and God shall wipe away all tears from their eyes.

Nälkä ei heitä enää vaivaa, ei jano, enää ei heitä polta aurinko eikä paahtava helle. Karitsa, joka on valtaistuimen edessä, kaitsee heitä ja vie heidät elämän veden lähteille, ja Jumala pyyhkii heidän silmistään kaikki kyyneleet.

Therefore also now, saith the L

ord

, turn ye even to me with all your heart, and with fasting, and with weeping, and with mourning.

Vielä nytkin Herra sanoo: – Kääntykää minun puoleeni, tehkää niin koko sydämestänne, paastotkaa, itkekää ja valittakaa.

Then Job arose, and rent his mantle, and shaved his head, and fell down upon the ground, and worshipped, And said, Naked came I out of my mother's womb, and naked shall I return thither: the L

ord

gave, and the L

ord

hath taken away; blessed be the name of the L

ord

.

Silloin Job nousi ja repäisi viittansa. Hän ajoi päänsä paljaaksi, kumartui maahan ja sanoi: – Alastomana minä tulin äitini kohdusta, alastomana palaan täältä. Herra antoi, Herra otti, kiitetty olkoon Herran nimi!

Turn again, and tell Hezekiah the captain of my people, Thus saith the L

ord

, the God of David thy father, I have heard thy prayer, I have seen thy tears: behold, I will heal thee: on the third day thou shalt go up unto the house of the L

ord

.

Mene takaisin ja sano Hiskialle, kansani hallitsijalle: Näin sanoo Herra, isäsi Daavidin Jumala: 'Minä olen kuullut rukouksesi, olen nähnyt kyyneleesi. Minä parannan sinut. Kahden päivän päästä voit astua Herran temppeliin.'

A wise son maketh a glad father: but a foolish son is the heaviness of his mother.

Viisas poika on isänsä ilo, tyhmä poika on äitinsä murhe.

Hear my prayer, O L

ord

, and give ear unto my cry; hold not thy peace at my tears: for I am a stranger with thee, and a sojourner, as all my fathers were.

Kuule rukoukseni, Herra, ota vastaan avunhuutoni. Älä ole kuuro minun itkulleni! Minä olen muukalainen, etsin sinulta turvaa, olen koditon niin kuin olivat isänikin.

The L

ord

openeth the eyes of the blind: the L

ord

raiseth them that are bowed down: the L

ord

loveth the righteous.

Hän antaa sokeille näön ja nostaa maahan painetut jaloilleen. Herra rakastaa oikeamielisiä.

The vine is dried up, and the fig tree languisheth; the pomegranate tree, the palm tree also, and the apple tree, even all the trees of the field, are withered: because joy is withered away from the sons of men.

Viiniköynnös kuihtuu, viikunapuu lakastuu. Lakastuu granaattiomenapuu, omenapuu ja taatelipalmu ja jokainen metsän puu. Ilo on ihmisiltä kadonnut.

And grieve not the holy Spirit of God, whereby ye are sealed unto the day of redemption.

Älkää tuottako surua Jumalan Pyhälle Hengelle, jonka olette saaneet sinetiksi lunastuksen päivää varten.

For godly sorrow worketh repentance to salvation not to be repented of: but the sorrow of the world worketh death.

Jumalan mielen mukainen murhe saa aikaan parannuksen, jota ei tarvitse katua, sillä se johtaa pelastukseen. Maallinen murhe sen sijaan tuottaa kuoleman.

Deep calleth unto deep at the noise of thy waterspouts: all thy waves and thy billows are gone over me.

Syvyys huutaa syvyydelle, kun sinun koskesi pauhaavat – kaikki sinun tyrskysi ja aaltosi ovat vyöryneet ylitseni.
Finally, brethren, farewell. Be perfect, be of good comfort, be of one mind, live in peace; and the God of love and peace shall be with you.
Personal Bible reading plan
Create an account to configure your Bible reading plan and you will see your progress and the next chapter to read here!
Read more...