Bible Verses about Salvation
«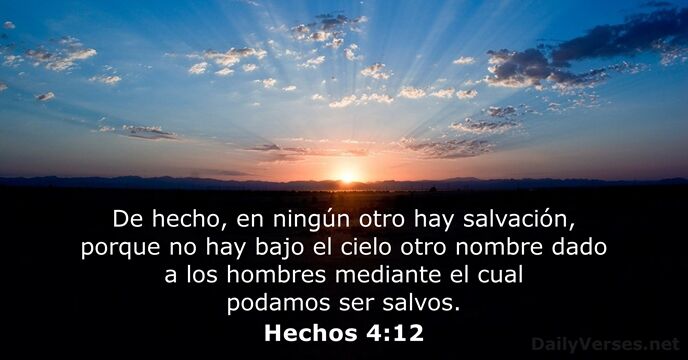 »
And there is salvation in no one else, for there is no other name under heaven given among men by which we must be saved.

De hecho, en ningún otro hay salvación, porque no hay bajo el cielo otro nombre dado a los hombres mediante el cual podamos ser salvos.

And they said, "Believe in the Lord Jesus, and you will be saved, you and your household."

—Cree en el Señor Jesús; así tú y tu familia serán salvos —le contestaron.

Who saved us and called us to a holy calling, not because of our works but because of his own purpose and grace, which he gave us in Christ Jesus before the ages began.

Pues Dios nos salvó y nos llamó a una vida santa, no por nuestras propias obras, sino por su propia determinación y gracia. Nos concedió este favor en Cristo Jesús antes del comienzo del tiempo.

For God alone my soul waits in silence; from him comes my salvation.

Solo en Dios halla descanso mi alma; de él viene mi salvación.

And it shall come to pass that everyone who calls upon the name of the Lord shall be saved.

Y todo el que invoque el nombre del Señor será salvo.

Or do you not know that the unrighteous will not inherit the kingdom of God? Do not be deceived: neither the sexually immoral, nor idolaters, nor adulterers, nor men who practice homosexuality, nor thieves, nor the greedy, nor drunkards, nor revilers, nor swindlers will inherit the kingdom of God.

¿No saben que los malvados no heredarán el reino de Dios? ¡No se dejen engañar! Ni los fornicarios, ni los idólatras, ni los adúlteros, ni los sodomitas, ni los pervertidos sexuales, ni los ladrones, ni los avaros, ni los borrachos, ni los calumniadores, ni los estafadores heredarán el reino de Dios.

For with the heart one believes and is justified, and with the mouth one confesses and is saved.

Porque con el corazón se cree para ser justificado, pero con la boca se confiesa para ser salvo.

For the grace of God has appeared, bringing salvation for all people, training us to renounce ungodliness and worldly passions, and to live self-controlled, upright, and godly lives in the present age.

En verdad, Dios ha manifestado a toda la humanidad su gracia, la cual trae salvación y nos enseña a rechazar la impiedad y las pasiones mundanas. Así podremos vivir en este mundo con justicia, piedad y dominio propio.

For the Son of Man came to seek and to save the lost.

Porque el Hijo del hombre vino a buscar y a salvar lo que se había perdido.

The Lord is not slow to fulfill his promise as some count slowness, but is patient toward you, not wishing that any should perish, but that all should reach repentance.

El Señor no tarda en cumplir su promesa, según entienden algunos la tardanza. Más bien, él tiene paciencia con ustedes, porque no quiere que nadie perezca, sino que todos se arrepientan.

But he said, "What is impossible with man is possible with God."

—Lo que es imposible para los hombres es posible para Dios —aclaró Jesús.

Whoever believes and is baptized will be saved, but whoever does not believe will be condemned.

El que crea y sea bautizado será salvo, pero el que no crea será condenado.

Enter by the narrow gate. For the gate is wide and the way is easy that leads to destruction, and those who enter by it are many. For the gate is narrow and the way is hard that leads to life, and those who find it are few.

Entren por la puerta estrecha. Porque es ancha la puerta y espacioso el camino que conduce a la destrucción, y muchos entran por ella. Pero estrecha es la puerta y angosto el camino que conduce a la vida, y son pocos los que la encuentran.

Though you have not seen him, you love him. Though you do not now see him, you believe in him and rejoice with joy that is inexpressible and filled with glory, obtaining the outcome of your faith, the salvation of your souls.

Ustedes lo aman a pesar de no haberlo visto; y, aunque no lo ven ahora, creen en él y se alegran con un gozo indescriptible y glorioso, pues están obteniendo la meta de su fe, que es su salvación.

So Christ, having been offered once to bear the sins of many, will appear a second time, not to deal with sin but to save those who are eagerly waiting for him.

También Cristo fue ofrecido en sacrificio una sola vez para quitar los pecados de muchos; y aparecerá por segunda vez, ya no para cargar con pecado alguno, sino para traer salvación a quienes lo esperan.

For so the Lord has commanded us, saying, "I have made you a light for the Gentiles, that you may bring salvation to the ends of the earth."

Así nos lo ha mandado el Señor: "Te he puesto por luz para las naciones, a fin de que lleves mi salvación hasta los confines de la tierra."

For as in Adam all die, so also in Christ shall all be made alive.

Pues así como en Adán todos mueren, también en Cristo todos volverán a vivir.

For I am not ashamed of the gospel, for it is the power of God for salvation to everyone who believes, to the Jew first and also to the Greek.

A la verdad, no me avergüenzo del evangelio, pues es poder de Dios para la salvación de todos los que creen: de los judíos primeramente, pero también de los gentiles.

For one will scarcely die for a righteous person—though perhaps for a good person one would dare even to die— but God shows his love for us in that while we were still sinners, Christ died for us.

Difícilmente habrá quien muera por un justo, aunque tal vez haya quien se atreva a morir por una persona buena. Pero Dios demuestra su amor por nosotros en esto: en que cuando todavía éramos pecadores, Cristo murió por nosotros.

For if while we were enemies we were reconciled to God by the death of his Son, much more, now that we are reconciled, shall we be saved by his life.

Porque si, cuando éramos enemigos de Dios, fuimos reconciliados con él mediante la muerte de su Hijo, ¡con cuánta más razón, habiendo sido reconciliados, seremos salvados por su vida!

Jesus looked at them and said, "With man it is impossible, but not with God. For all things are possible with God."

Para los hombres es imposible —aclaró Jesús, mirándolos fijamente—, pero no para Dios; de hecho, para Dios todo es posible.

Though the fig tree should not blossom, nor fruit be on the vines, the produce of the olive fail and the fields yield no food, the flock be cut off from the fold and there be no herd in the stalls, yet I will rejoice in the L

ord

; I will take joy in the God of my salvation.
Aunque la higuera no florezca, ni haya frutos en las vides; aunque falle la cosecha del olivo, y los campos no produzcan alimentos; aunque en el aprisco no haya ovejas, ni ganado alguno en los establos; aun así, yo me regocijaré en el S

eñor

, ¡me alegraré en Dios, mi libertador!

You have given me the shield of your salvation, and your right hand supported me, and your gentleness made me great. You gave a wide place for my steps under me, and my feet did not slip.

Tú me cubres con el escudo de tu salvación, y con tu diestra me sostienes; tu bondad me ha hecho prosperar. Me has despejado el camino, así que mis tobillos no flaquean.

And Jesus said to him, "Go your way; your faith has made you well." And immediately he recovered his sight and followed him on the way.

Puedes irte —le dijo Jesús—; tu fe te ha sanado. Al momento recobró la vista y empezó a seguir a Jesús por el camino.

Because you are precious in my eyes, and honored, and I love you, I give men in return for you, peoples in exchange for your life.

A cambio de ti entregaré hombres; ¡a cambio de tu vida entregaré pueblos! Porque te amo y eres ante mis ojos precioso y digno de honra.
But let justice roll down like waters, and righteousness like an ever-flowing stream.
Personal Bible reading plan
Create an account to configure your Bible reading plan and you will see your progress and the next chapter to read here!
Read more...