Bible Verses about Salvation
«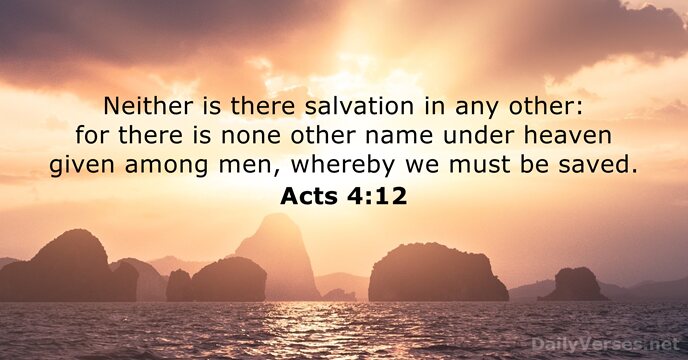 »
Neither is there salvation in any other: for there is none other name under heaven given among men, whereby we must be saved.

Ei kukaan muu voi pelastaa kuin hän. Mitään muuta nimeä, joka meidät pelastaisi, ei ole ihmisille annettu koko taivaankannen alla.

And they said, Believe on the Lord Jesus Christ, and thou shalt be saved, and thy house.

He vastasivat: »Usko Herraan Jeesukseen, niin pelastut, sinä ja sinun perhekuntasi.»

Who hath saved us, and called us with an holy calling, not according to our works, but according to his own purpose and grace, which was given us in Christ Jesus before the world began.

Hän on meidät pelastanut ja kutsunut pyhällä kutsullaan, ei meidän tekojemme perusteella vaan oman päätöksensä ja armonsa mukaisesti, jonka hän jo ennen aikojen alkua soi meille antamalla meille Kristuksen Jeesuksen.

Truly my soul waiteth upon God: from him cometh my salvation.

Jumalan edessä mieleni hiljenee, hän antaa minulle avun.

And it shall come to pass, that whosoever shall call on the name of the Lord shall be saved.

Mutta joka huutaa avuksi Herran nimeä, se pelastuu.

Know ye not that the unrighteous shall not inherit the kingdom of God? Be not deceived: neither fornicators, nor idolaters, nor adulterers, nor effeminate, nor abusers of themselves with mankind, Nor thieves, nor covetous, nor drunkards, nor revilers, nor extortioners, shall inherit the kingdom of God.

Ettekö tiedä, että vääryydentekijät eivät saa omakseen Jumalan valtakuntaa? Älkää eksykö! Jumalan valtakunnan perillisiä eivät ole siveettömyyden harjoittajat eivätkä epäjumalien palvelijat, eivät avionrikkojat, eivät miesten kanssa makaavat miehet, eivät varkaat eivätkä ahneet, eivät juomarit, pilkkaajat eivätkä riistäjät.

For with the heart man believeth unto righteousness; and with the mouth confession is made unto salvation.

Sydämen usko tuo vanhurskauden, suun tunnustus pelastuksen.

For the grace of God that bringeth salvation hath appeared to all men, Teaching us that, denying ungodliness and worldly lusts, we should live soberly, righteously, and godly, in this present world.

Jumalan armo on näet ilmestynyt pelastukseksi kaikille ihmisille, ja se kasvattaa meitä hylkäämään jumalattomuuden ja maailmalliset himot ja elämään hillitysti, oikeamielisesti ja Jumalaa kunnioittaen tässä maailmassa.

For the Son of man is come to seek and to save that which was lost.

Juuri sitä, mikä on kadonnut, Ihmisen Poika on tullut etsimään ja pelastamaan.

The Lord is not slack concerning his promise, as some men count slackness; but is longsuffering to us-ward, not willing that any should perish, but that all should come to repentance.

Ei Herra vitkastele täyttäessään lupaustaan, vaikka hän joidenkin mielestä on myöhässä. Päinvastoin: hän on kärsivällinen teitä kohtaan, koska ei halua kenenkään tuhoutuvan vaan tahtoo, että kaikki kääntyisivät.

And he said, The things which are impossible with men are possible with God.

Jeesus vastasi: »Mikä on ihmiselle mahdotonta, se on mahdollista Jumalalle.»

He that believeth and is baptized shall be saved; but he that believeth not shall be damned.

Joka sen uskoo ja saa kasteen, on pelastuva. Joka ei usko, se tuomitaan kadotukseen.

Enter ye in at the strait gate: for wide is the gate, and broad is the way, that leadeth to destruction, and many there be which go in thereat: Because strait is the gate, and narrow is the way, which leadeth unto life, and few there be that find it.

Menkää sisään ahtaasta portista. Monet menevät avarasta portista ja laveaa tietä, mutta se vie kadotukseen. Miten ahdas onkaan se portti ja kapea se tie, joka vie elämään, ja vain harvat löytävät sen!

So Christ was once offered to bear the sins of many; and unto them that look for him shall he appear the second time without sin unto salvation.

Samoin on Kristus kerran uhrattu, jotta hän ottaisi pois kaikkien synnit, ja hän ilmestyy vielä kerran, mutta ei enää synnin tähden vaan pelastaakseen ne, jotka häntä odottavat.

Whom having not seen, ye love; in whom, though now ye see him not, yet believing, ye rejoice with joy unspeakable and full of glory: Receiving the end of your faith, even the salvation of your souls.

Häntä te rakastatte, vaikka ette ole häntä nähneet, häneen te uskotte, vaikka ette häntä nyt näe, ja te riemuitsette sanoin kuvaamattoman, kirkastuneen ilon vallassa, sillä te saavutatte uskon päämäärän, sielujen pelastuksen.

For so hath the Lord commanded us, saying, I have set thee to be a light of the Gentiles, that thou shouldest be for salvation unto the ends of the earth.

Herra on näet antanut meille tämän käskyn: – Minä panen sinut valoksi kansoille, pelastukseksi maan ääriin saakka.

For as in Adam all die, even so in Christ shall all be made alive.

Sillä niin kuin kaikki ihmiset Aadamista osallisina kuolevat, niin myös kaikki Kristuksesta osallisina tehdään eläviksi.

For I am not ashamed of the gospel of Christ: for it is the power of God unto salvation to every one that believeth; to the Jew first, and also to the Greek.

Minä en häpeä evankeliumia, sillä se on Jumalan voima ja se tuo pelastuksen kaikille, jotka sen uskovat, ensin juutalaisille, sitten myös kreikkalaisille.

For scarcely for a righteous man will one die: yet peradventure for a good man some would even dare to die. But God commendeth his love toward us, in that, while we were yet sinners, Christ died for us.

Tuskin kukaan haluaa kuolla edes nuhteettoman ihmisen puolesta; hyvän ihmisen puolesta joku ehkä on valmis antamaan henkensä. Mutta Jumala osoittaa rakkautensa meitä kohtaan siinä, että Kristus kuoli meidän puolestamme, kun vielä olimme syntisiä.

For by grace are ye saved through faith; and that not of yourselves: it is the gift of God: Not of works, lest any man should boast.

Armosta Jumala on teidät pelastanut antamalla teille uskon. Pelastus ei ole lähtöisin teistä, vaan se on Jumalan lahja. Se ei perustu ihmisen tekoihin, jottei kukaan voisi ylpeillä.

For if, when we were enemies, we were reconciled to God by the death of his Son, much more, being reconciled, we shall be saved by his life.

Jos kerran Jumalan Pojan kuolema sovitti meidät Jumalan kanssa, kun olimme hänen vihollisiaan, paljon varmemmin on Jumalan Pojan elämä pelastava meidät nyt, kun sovinto on tehty.

Thou hast also given me the shield of thy salvation: and thy right hand hath holden me up, and thy gentleness hath made me great. Thou hast enlarged my steps under me, that my feet did not slip.

Herra, sinä asetut kilveksi eteeni, sinun oikea kätesi tukee minua, sinun apusi tekee minut vahvaksi. Sinä teet varmoiksi askeleeni, polveni eivät horju.

Although the fig tree shall not blossom, neither shall fruit be in the vines; the labour of the olive shall fail, and the fields shall yield no meat; the flock shall be cut off from the fold, and there shall be no herd in the stalls: Yet I will rejoice in the L

ord

, I will joy in the God of my salvation.

Vielä ei viikunapuu ole kukassa, viiniköynnöksissä ei ole rypäleitä, vielä ei oliivipuu kanna hedelmää eikä pelloilla kypsy vilja, vielä ei aitauksessa ole lampaita eikä karjaa tarhassa. Mutta jo nyt minä riemuitsen Herrasta, iloitsen Jumalastani, joka pelastaa.

And Jesus looking upon them saith, With men it is impossible, but not with God: for with God all things are possible.

Jeesus katsoi heihin ja sanoi: »Ihmiselle se on mahdotonta, mutta ei Jumalalle. Jumalalle on kaikki mahdollista.»

And Jesus said unto him, Go thy way; thy faith hath made thee whole. And immediately he received his sight, and followed Jesus in the way.

Silloin Jeesus sanoi hänelle: »Mene, uskosi on parantanut sinut.» Samassa mies sai näkönsä takaisin, ja hän lähti kulkemaan Jeesuksen mukana.
The steps of a good man are ordered by the Lord: and he delighteth in his way.
Personal Bible reading plan
Create an account to configure your Bible reading plan and you will see your progress and the next chapter to read here!
Read more...