«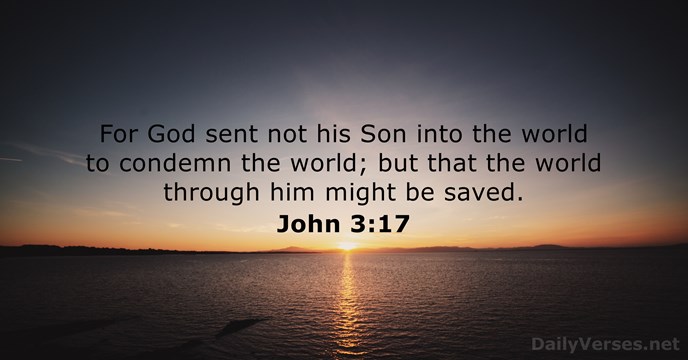 »
For God sent not his Son into the world to condemn the world; but that the world through him might be saved.

God heeft zijn Zoon niet naar de wereld gestuurd om een oordeel over haar te vellen, maar om de wereld door hem te redden.

For by grace are ye saved through faith; and that not of yourselves: it is the gift of God: Not of works, lest any man should boast.

Door zijn genade bent u nu immers gered, dankzij uw geloof. Maar dat dankt u niet aan uzelf; het is een geschenk van God en geen gevolg van uw daden, dus niemand kan zich erop laten voorstaan.

In God is my salvation and my glory: the rock of my strength, and my refuge, is in God.

Bij God is mijn redding en eer, mijn machtige rots, mijn schuilplaats is God.

For whosoever shall call upon the name of the Lord shall be saved.

Want er staat: 'Ieder die de naam van de Heer aanroept, zal worden gered.'

For the Lord himself shall descend from heaven with a shout, with the voice of the archangel, and with the trump of God: and the dead in Christ shall rise first: Then we which are alive and remain shall be caught up together with them in the clouds, to meet the Lord in the air: and so shall we ever be with the Lord.

Wanneer het signaal gegeven wordt, de aartsengel zijn stem verheft en de bazuin van God weerklinkt, zal de Heer zelf uit de hemel neerdalen. Dan zullen eerst de doden die Christus toebehoren opstaan, en daarna zullen wij, die nog in leven zijn, samen met hen op de wolken worden weggevoerd en gaan we in de lucht de Heer tegemoet. Dan zullen we altijd bij hem zijn.

I am the door: by me if any man enter in, he shall be saved, and shall go in and out, and find pasture.

Ik ben de deur: wanneer iemand door mij binnenkomt zal hij gered worden; hij zal in en uit lopen, en hij zal weidegrond vinden.

He that hath the Son hath life; and he that hath not the Son of God hath not life.

Wie de Zoon heeft, heeft het leven. Wie de Zoon van God niet heeft, heeft het leven niet.

For the preaching of the cross is to them that perish foolishness; but unto us which are saved it is the power of God.

De boodschap over het kruis is dwaasheid voor wie verloren gaan, maar voor ons die worden gered is het de kracht van God.

For God so loved the world, that he gave his only begotten Son, that whosoever believeth in him should not perish, but have everlasting life.

Want God had de wereld zo lief dat hij zijn enige Zoon heeft gegeven, opdat iedereen die in hem gelooft niet verloren gaat, maar eeuwig leven heeft.

I will love thee, O L

ord

, my strength. The L

ord

is my rock, and my fortress, and my deliverer; my God, my strength, in whom I will trust; my buckler, and the horn of my salvation, and my high tower.
Ik heb u lief,

HEER

, mijn sterkte,

HEER

, mijn rots, mijn vesting, mijn bevrijder, God, mijn steenrots, bij u kan ik schuilen, mijn schild, kracht die mij redt, mijn burcht.

For whosoever will save his life shall lose it: and whosoever will lose his life for my sake shall find it.

Want ieder die zijn leven wil behouden, zal het verliezen, maar wie zijn leven verliest omwille van mij, zal het behouden.

Wherefore he is able also to save them to the uttermost that come unto God by him, seeing he ever liveth to make intercession for them.

Zo kan hij ieder die door hem tot God komt volkomen redden, omdat hij voor altijd leeft en zo voor hen kan pleiten.

To wit, that God was in Christ, reconciling the world unto himself, not imputing their trespasses unto them; and hath committed unto us the word of reconciliation.

Het is God die door Christus de wereld met zich heeft verzoend: hij heeft de wereld haar overtredingen niet aangerekend. En ons heeft hij de verkondiging van de verzoening toevertrouwd.

Moreover, brethren, I declare unto you the gospel which I preached unto you, which also ye have received, and wherein ye stand; By which also ye are saved, if ye keep in memory what I preached unto you, unless ye have believed in vain.

Broeders en zusters, ik herinner u aan het evangelie dat ik u verkondigd heb, dat u ook hebt aangenomen, dat uw fundament is en uw redding, als u tenminste vasthoudt aan de boodschap die ik u verkondigd heb. Anders bent u tevergeefs tot geloof gekomen.

The righteous cry, and the L

ord

heareth, and delivereth them out of all their troubles. The L

ord

is nigh unto them that are of a broken heart; and saveth such as be of a contrite spirit.
De

HEER

hoort de kreten van de rechtvaardigen, hij bevrijdt hen uit de nood, gebroken mensen is de

HEER

nabij, hij redt wie zwaar wordt getroffen.

But he that shall endure unto the end, the same shall be saved.

Maar wie standhoudt tot het einde, zal worden gered.

For our conversation is in heaven; from whence also we look for the Saviour, the Lord Jesus Christ.

Maar wij hebben ons burgerrecht in de hemel, en van daar verwachten wij onze redder, de Heer Jezus Christus.

Wherefore lay apart all filthiness and superfluity of naughtiness, and receive with meekness the engrafted word, which is able to save your souls.

Wees daarom zachtmoedig en leg alle verdorvenheid en elk denkbaar wangedrag af. En aanvaard zo de boodschap die in u is geplant en die u kan redden.

The thief cometh not, but for to steal, and to kill, and to destroy: I am come that they might have life, and that they might have it more abundantly.

Een dief komt alleen om te roven, te slachten en te vernietigen, maar ik ben gekomen om hun het leven te geven in al zijn volheid.

A new heart also will I give you, and a new spirit will I put within you: and I will take away the stony heart out of your flesh, and I will give you an heart of flesh.

Ik zal jullie een nieuw hart en een nieuwe geest geven, ik zal je versteende hart uit je lichaam halen en je er een levend hart voor in de plaats geven.

The L

ord

redeemeth the soul of his servants: and none of them that trust in him shall be desolate.
De

HEER

redt het leven van zijn dienaren, nooit zal boeten wie schuilt bij hem.
For the L

ord

is our judge, the L

ord

is our lawgiver, the L

ord

is our king; he will save us.
Want de

HEER

is onze rechter, de

HEER

is onze wetgever, de

HEER

is onze koning, hij zal ons redden.

For therein is the righteousness of God revealed from faith to faith: as it is written, The just shall live by faith.

In het evangelie openbaart zich dat God enkel en alleen wie gelooft als rechtvaardige aanneemt, zoals ook geschreven staat: 'De rechtvaardige zal leven door geloof.'

For I know that this shall turn to my salvation through your prayer, and the supply of the Spirit of Jesus Christ.

Omdat ik weet dat dit alles door uw gebed en de hulp van de Geest van Jezus Christus tot mijn redding leidt.

For as by one man's disobedience many were made sinners, so by the obedience of one shall many be made righteous.

Zoals door de ongehoorzaamheid van één mens alle mensen zondaars werden, zo zullen door de gehoorzaamheid van één mens alle mensen rechtvaardigen worden.
Now I beseech you, brethren, by the name of our Lord Jesus Christ, that ye all speak the same thing, and that there be no divisions among you; but that ye be perfectly joined together in the same mind and in the same judgment.
Personal Bible reading plan
Create an account to configure your Bible reading plan and you will see your progress and the next chapter to read here!
Read more...